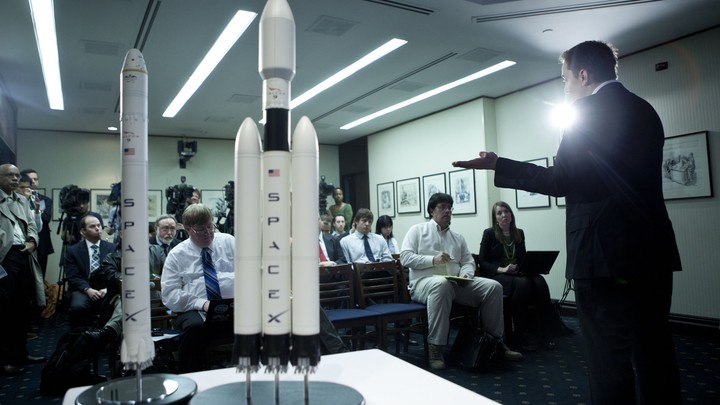 The dress rehearsal is a critical part of any performance. The often nerve-wracking event requires a seamless run-through, a check of every detail, assurances that everyone knows the script by heart. The jitters, oh, the jitters. If you bungle the preparations for opening night, there's a good chance you're not ready for the big show.
The cast at SpaceX may be feeling some of those jitters now as they approach their own dress rehearsal: A major test of the Falcon Heavy that will determine whether the rocket is ready to launch later this month.
This key milestone—the static-fire test—will take place next week, Elon Musk said Thursday in a post on Instagram, setting up the massive rocket for its maiden flight at the end of the month at Cape Canaveral in Florida.
SpaceX is currently getting ready for its first launch of the new year, of a supersecret U.S. government payload known as Zuma, on one of its Falcon 9 rockets, scheduled for Saturday from the same site.
After that, all eyes will turn to the Falcon Heavy, a monster of a rocket consisting of three Falcon 9 first-stage cores. The Heavy has 27 engines to the Falcon 9's nine, capable of producing a maximum thrust at liftoff of more than 5 million pounds. SpaceX has said the thrust is equivalent to about 18 Boeing 747 airplanes all taking off at the same time. All three cores will return to Earth, with two touching down on land and one landing on a drone ship at sea. SpaceX hopes that the Heavy will someday launch astronauts and hefty payloads to the moon and Mars.
But first, the dress rehearsal. When it's time, engineers will stand the 230-foot-tall rocket upright on the launchpad, make sure it's strapped down tight, fuel up, and then ignite all 27 of its engines for a few seconds.
Static-fire tests are customary checks designed to ensure launch vehicles are ready to fly. As is common in rocket science, test-firing is considered pretty boring until something blows up. In September 2016, a Falcon 9 rocket exploded on the launchpad while it was being fueled for the test. The explosion destroyed the rocket and its $200 million payload, an Israeli communications satellite, and the resulting fire damaged one of the launchpads at Cape Canaveral. While SpaceX investigated the cause, Musk described it as "the most difficult and complex failure we have ever had in 14 years." The company eventually determined the problem stemmed from a breach in the rocket's second-stage liquid-oxygen tank.
If the Heavy test-fires without a hitch, SpaceX will likely set a target launch date for its maiden voyage—which Musk actually isn't sure will go well, or at least he wasn't back in July, when he talked about the Heavy at a space-research conference. "There is a lot of risk associated with the Falcon Heavy. There is a real good chance that the vehicle does not make it to orbit," he said. "I hope it makes it far enough away from the pad that it does not cause pad damage. I would consider even that a win, to be honest."
Musk unveiled his design for the Falcon Heavy at a press conference in Washington, D.C., in 2011. The plan was to launch the reusable rocket about 10 times a year, he said. He set the target launch year at 2013. The actual development took much longer, which Musk acknowledged during the July conference. "It actually ended up being way harder to do Falcon Heavy than we thought," he said. "At first it sounds real easy. You just stick two first stages on as strap-on boosters. How hard can that be? But then everything changes."
The Heavy will blast off from Cape Canaveral's launchpad 39A, the site of many historic launches in American spaceflight history, including the Apollo and Space Shuttle programs. NASA stopped using the pad after the Space Shuttle program's final flight in 2011. The space agency started leasing it to SpaceX in 2014, a business move that carried a hefty amount of symbolism about the future of American spaceflight. NASA's next heavy rocket, the Space Launch System, is still in the works. The SLS will be more powerful than the Falcon Heavy, but will not be reusable.
The Falcon Heavy flight comes after a record-breaking year for SpaceX. The company finished 2017 with 18 successful rocket launches, more than double that of the previous year. There were no major malfunctions, save for a rocket-engine explosion in their facility in Texas, far from a launchpad. SpaceX launches accounted for nearly two-thirds of orbital launches from U.S. soil last year, and helped put the country ahead of Russia and China, its main competitors in this field, in the annual tally, according to a comprehensive database maintained by Gunter Krebs, a spaceflight historian in Germany.
Over the last few weeks, Musk has shared photos and video footage of the Falcon Heavy being assembled in a warehouse, and then standing tall on the launchpad, as it undergoes various tests. All the set pieces are slowly coming together. The stage is nearly ready. "If you liked tonight's launch, you will really like Falcon Heavy next month," Musk tweeted in December, in response to some people's reaction to a Falcon 9 launch that lit up the night sky over California.
It's almost showtime.
We want to hear what you think about this article. Submit a letter to the editor or write to letters@theatlantic.com.