It's More Than Just a Monument
Trump's decision to cut more than 1 million acres from Bears Ears could permanently crimp the presidency's ability to protect public land.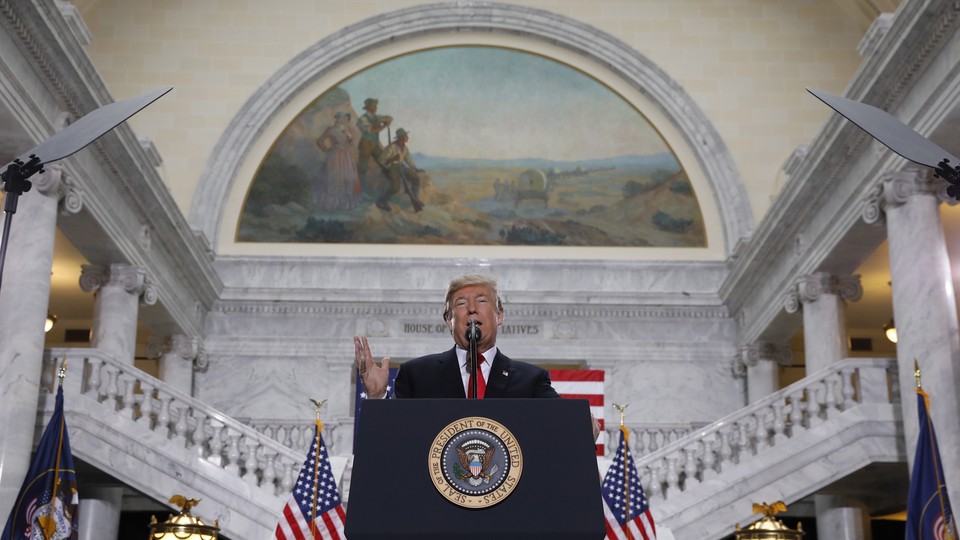 They are known, in almost every local indigenous language, as "Bears Ears," and when you look at photos, you can see why. The two buttes, ruddy and gentle-sloped, rise above the scrub and canyon land that surrounds them.
Thousands of years ago, now-forgotten indigenous peoples scribbled pictograms of men and animals on their rusty walls. A century and a half ago, Navajo leaders took refuge in those same caves and canyons as the U.S. government forcibly evicted them from their territory.
On Monday, their history gained another chapter. President Donald Trump has significantly shrunk the size of two national monuments in Utah, completing the largest rollback of public-land protections in U.S. history and opening a legal battle that could determine the fate of conservation in the United States.
One of these monuments includes the land surrounding Bears Ears, which President Barack Obama protected in a poetic and immediately controversial declaration during the final days of his administration. Obama extended federal protection to 1.3 million acres of land, roughly the area of Delaware; Trump has shrunk that to 220,000 acres, roughly the size of Dallas.
Grand Staircase–Escalante, another large monument created by President Bill Clinton in 1996, will be nearly halved in size.
"Some people think that the natural resources of Utah should be controlled by a small handful of very distant bureaucrats located in Washington. And guess what? They're wrong," said Trump, speaking in front of the Utah state capitol building.
Bears Ears was created after half a decade of lobbying by five indigenous tribes: the Hopi, the Navajo, the Ute, the Ute Mountain Tribe, and the Zuni. The nations had long sought special status for the land, which all five consider sacred. But when talks broke down with Utah lawmakers several years ago, they pressed Obama to protect the buttes through a national monument.
The five tribes have promised to sue the Trump administration, asserting that the president does not have the right to shrink national monuments. Environmental groups, united in anger at the president's actions, have also said they will sue to preserve Grand Staircase–Escalante at its current size.
National monuments make for a strange kind of federal land designation. Locals can generally hike, camp, hunt, and fish on national monuments. They cannot mine coal or drill for oil. Grand Staircase–Escalante is known to contain coal reserves. Ryan Zinke, the secretary of the interior, said before the speech that that didn't play into the president's decision.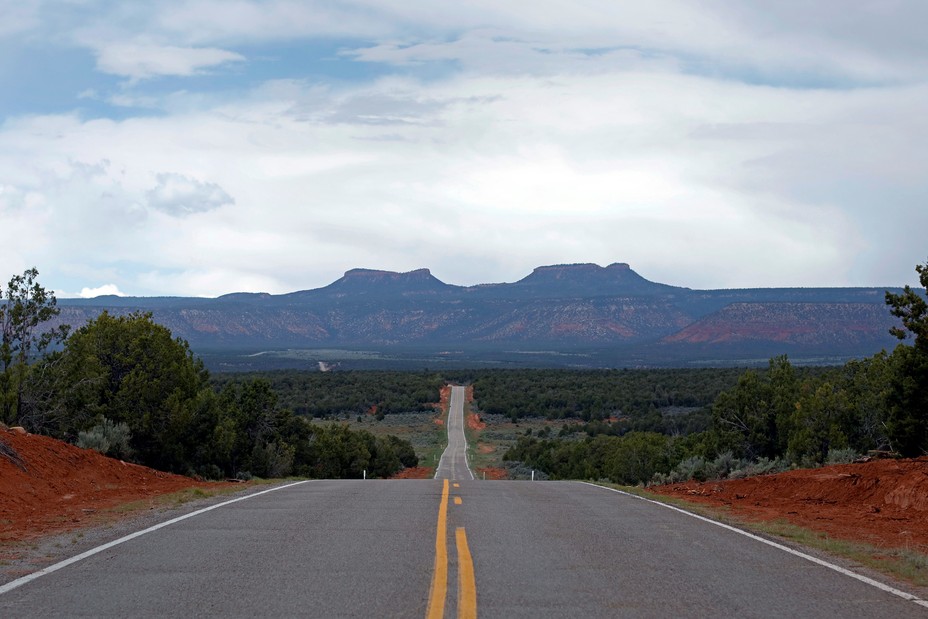 The Antiquities Act was passed in 1906 to enable presidents to protect indigenous archaeological or cultural sites. The law clearly grants the president the right to create new national monuments. But some conservative legal scholars argue that it also contains an implicit right to revoke or revise the size of national monuments.
Presidents have slashed the size of national monuments twice before. During World War I, Woodrow Wilson slashed land from Mount Olympus National Monument to secure lumber rights. The monument was later returned to its largest size and protected as a national park. Franklin Roosevelt also cut the size of Grand Canyon National Monument to open up more land for ranching.
But neither of those reductions were tested in court—and neither occurred during the modern era of environmental law.
Since its passage last century, presidents have activated the law 157 times to protect Native sites, natural wonders, historical landmarks, and vast stretches of seafloor. Congress later enshrined dozens of those monuments—including Grand Canyon, Bryce, Zion, Acadia, and Grand Teton—as national parks, which have an added level of protection.
"This law requires that only the smallest necessary area be set aside for special protection as national monuments," said Trump, referring to the Antiquities Act.
"Unfortunately, previous administrations have ignored the standard and used the law to lock up hundreds of millions of acres of land under government control. It did so over the loud objections of the people of this state and their elected representatives," he said.
Polling on the issue is conflicted. A slim majority of Utahans think Bears Ears is too big, according to a recent poll conducted by The Salt Lake Tribune and the University of Utah. But about the same number of Utahans also oppose changing the size of Grand Staircase–Escalante, which President Bill Clinton created in 1996.
Environmental groups fear that the president's undoing of public-land protections would add public-land protection to the standard back-and-forth that accompanies every partisan changeover of the White House. If Trump wins in court, a future president could undo any swath of national monument, no matter how long ago it had been protected. A strong court precedent could strip the presidency of its powers to confidently and permanently protect public land.
"As a matter of public policy, it does not make sense for protective public-lands designations to be subject to partisan uncertainty every presidential election cycle. That is a poor management strategy," said Sarah Krakoff, a professor of law at the University of Colorado Boulder, in an email.
"The president's authority to act unilaterally is appropriately narrow—to act to increase federal lands protection. Otherwise, Congress retains the constitutional authority to make a broader range of decisions about the nation's lands," she added.
"When a monument is used to prevent, rather than protect, the president is right to take action," Zinke told a reporter before the president's speech. The state's governor and its full Congressional delegation supported the size reduction, as did a public-land commissioner who represents some Navajo districts, Zinke said.
Indigenous nations had previously celebrated Bears Ears as a historic occasion because it represented a change in the history of the Antiquities Act. Where the act had once been written to paternalistically protect abandoned Native sites, it had now been extended at their behest.
"It actually brought tears to my face," said Eric Descheenie, a Navajo leader who had fought for protection for Bears Ears and a Democratic member of the Arizona House of Representatives. "It's so hard to even try to add up what this really means. At the end of the day, there's only a certain place in this entire world, on earth, where we as indigenous peoples belong."
"The regulators thousands and thousands of miles away—they don't know your land and truly they don't care about your land like you do," said Trump. After he signed the two proclamations—above intermittent chants of "four more years!"—a Rolling Stones song that had often played at the president's campaign rallies came on the AV. "You can't always get what you want," it said.