Private-Public Partnership for Conservation: Examples From Oregon, Hawaii, and Maine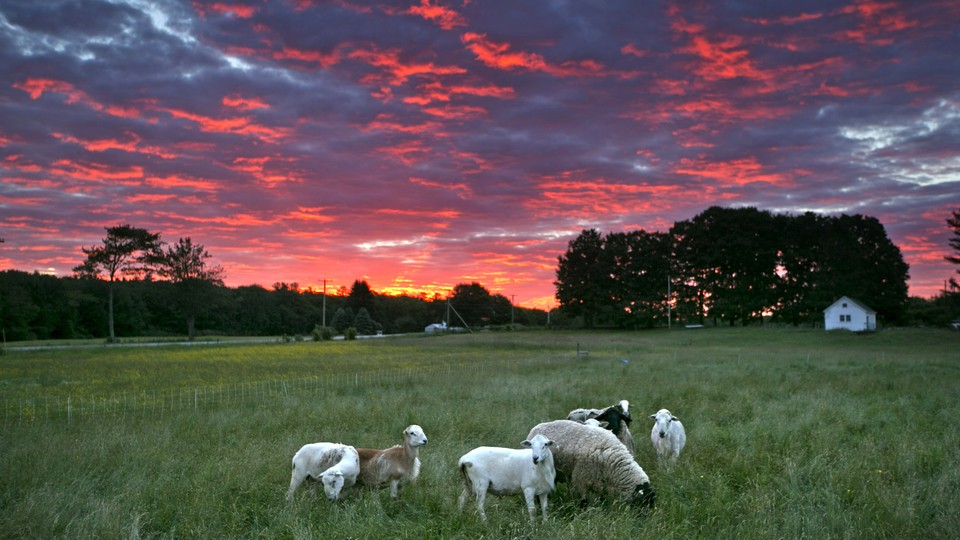 Editor's Note:
This article previously appeared in a different format as part of The Atlantic's Notes section, retired in 2021.
Yesterday I mentioned a land-conservation scheme in Europe that a Swiss farmer was helping publicize. This followed news of a major donation of coastal land in California to The Nature Conservancy, for permanent preservation.
Jack Dangermond, who with his wife, Laura, has donated $165 million to make the California purchase possible, said that he wanted to set an example of increased public-private partnership for conservation at all levels, from the grand donation to the small-scale civic project. Here's a brief report from Oregon about an effort already underway:
I live at a place called Kailash Ecovillage in Portland, Oregon. We are an all-rental co-housing community in the middle of the city and we have about an acre of farming here. You can read about us at http://www.kailashecovillage.org.
And a report from Hawaii:
Great private/public partnerships in preservation taking place all over. Here is an example from the County of Hawai'i:

County of Hawai'i

Public Access, Open Space and Natural Resources Preservation Commission (PONC)

This Commission develops two prioritized lists of lands for potential acquisition funding from the Public Access, Open Space, and Natural Resources Preservation Fund. It ranks potential county acquisitions and possible partnerships with the State or nonprofit organizations.

PONC Fund (aka Open Space or 2 percent Fund) 2 percent of Hawai'i County real property tax revenues collected annually; fund to be used for acquiring lands or property entitlements in the County of Hawai'i for the following purposes:

Public outdoor recreation and education, including access to beaches and mountains.
Preservation of historic or culturally important land areas and sites. Protection of natural resources, including buffer zones;
Preservation of forests, beaches, coastal areas, natural beauty and agricultural lands; and
Protection of watershed lands to preserve water quality and water supply.
The flyer [below] is a bit outdated, but lists a few past successes. The 2 percent PONC fund, derived from real property tax revenues, is noteworthy.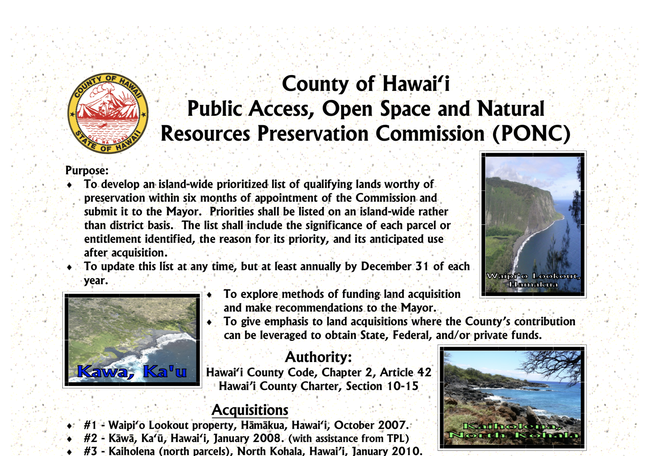 * * *
And another reader from Maine:
I'm sure you will hear from many readers who are active in local land trusts. I'm one more. There is a great story to be told in the hundreds of land trusts across the United States that are exactly what you are looking for: small-scale, community based, modest-asset efforts.

There are broad similarities among them, but also some very important differences in their purposes and in how they are supported. I'm on the Board (and Treasurer) of the Brunswick-Topsham Land Trust, one of many in Maine. We're about 30 years old and we've grown in staff size from one to about four FTE over the past decade.

One thing that makes us a little unusual is that we put an emphasis (not the only emphasis) on conserving farmland. About two decades ago we bought—through a broad-based community effort—Crystal Spring Farm, a centrally-located farm in our this area that seemed to the many who participated in the effort to keep it a working farm an essential property to preserve the character of our community. Today it is a working farm leased to a farm family through an innovative, longterm lease. It is the site of our farmer's market (largest in Maine), the site of a community garden that includes a section that provides food to a food pantry. There's even an outdoor labyrinth.

This is not the only farm we've conserved, but it was the first, and anchored work on local farms/local foods as a central purpose. Also in recent years we've added an emphasis on insuring diverse community uses of our lands—well beyond the original, simple purpose of conserving the land. These uses include hiking trails, soon a mountain biking trail, agriculture, clamming, and educational programs of all kinds.

Over the years we've grown much more disciplined about making wise choices regarding which lands to preserve. We have a strategic land conservation document that helps us assess which properties are most valuable to conserve. We work close with the local town governments and with local businesses. But our principal base of support is about 1,000 member families—an unusually broad base for a land trust. We are conserving land; conserving community.
Thanks for these updates; more ahead.