What It's Like to Evacuate a Museum in a Natural Disaster
One hour, dozens of artifacts, and looters—a drill at the Smithsonian teaches museums how to plan for the worst.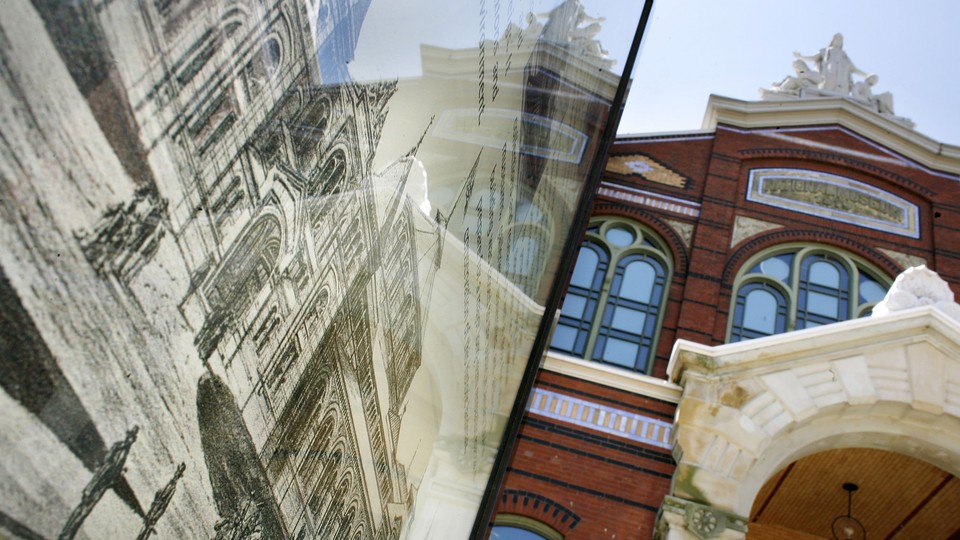 The journalist was not having it. He tailed the museum director out the door. "Are you looting the museum for your own personal means?" he demanded. "I totally saw you slip something into your car earlier today."
Obviously, the emergency evacuation of the state museum of "Smithsonia" was not going according to plan.
This scene played out at the Smithsonian on a recent Wednesday afternoon, during an exercise in which a group of cultural-heritage professionals and emergency responders tried to evacuate the fictional Smithsonia museum after a pretend cyclone. They had all come to Washington, D.C., for the weeklong Heritage Emergency and Response Training, or HEART, hoping to learn how museums can plan for natural disasters or even war.
The HEART organizers did not make it easy: The museum's collection was scattered and uncatalogued, the staff were largely absent, the aforementioned reporter was snooping around for dirt, and the museum's director was, well, you already know. To successfully evacuate the museum, the team would have to navigate egos, bureaucracies, and public opinion—plus move dozens of fragile objects.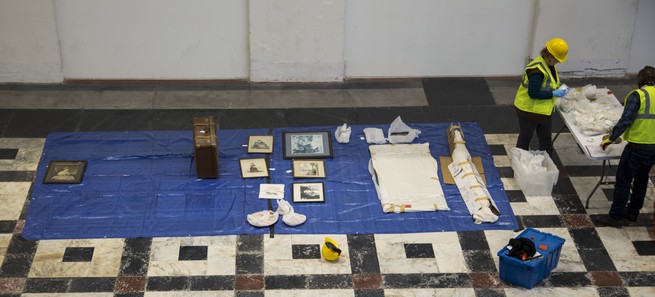 These included a cabinet of ceramics (to be individually Bubble Wrapped), several framed drawings (also to be Bubble Wrapped), and a giant, crumbling flag (to be carefully rolled up and supported atop a bed of cut-up boxes). All of these had to be lifted down a set of stairs, through a narrow tunnel, back up the stairs, out the door, down an outdoor path, and back into another building. All in an hour.
"I would do 200 things differently," Megan Salazar-Walsh, one of the HEART participants, later said.
HEART is a program of the Smithsonian's Cultural Rescue Initiative, which deploys experts to sites of conflict or natural disaster around the world. Corine Wegener, one of the organizers of HEART, previously recovered artifacts looted from museums during Operation Iraqi Freedom. In 2010, she went to Haiti after the earthquake and worked on restorations at the Centre d'Art and the Holy Trinity Episcopal Cathedral's historic murals—that project eventually led to the formal creation of the Cultural Rescue Initiative.
Since then, the group has worked to preserve heritage sites and museums in Iraq, Syria, post-earthquake Nepal, and most recently Puerto Rico.
Large museums have detailed emergency-response plans—in some cases, built in their very architecture. The Getty Museum, recently threatened by wildfires around LA, has a million-gallon water tank and an air-filtration system that keeps out smoke. The Whitney Museum in New York City is protected by a 15,500-pound flood door "designed by engineers who build watertight latches for the U.S. Navy's destroyers."
Not all museums are impenetrable fortresses, though, and the state museum of Smithsonia was considerably more modest. In fact, it was woefully understaffed, which is why it had to rely on volunteers, played by the HEART participants, to evacuate it. They had divided into five teams of five, each with a team leader who in turn reported to the incident commander, Megan Salazar-Walsh.
In their real lives, the participants were geographically diverse, spanning Alaska to Puerto Rico. Salazar-Walsh is an art conservator at the John and Mable Ringling Museum of Art in Florida.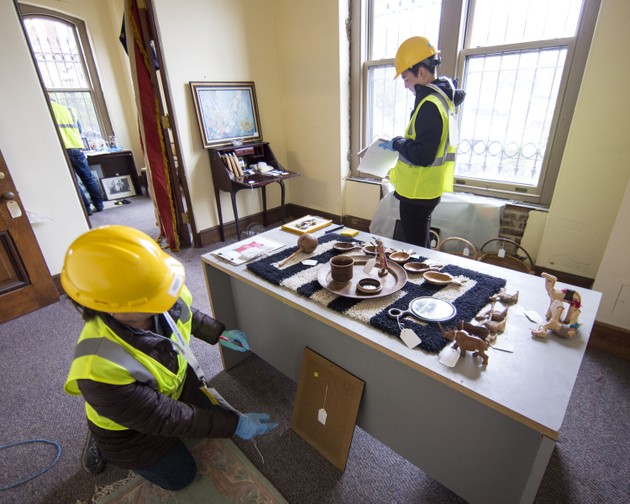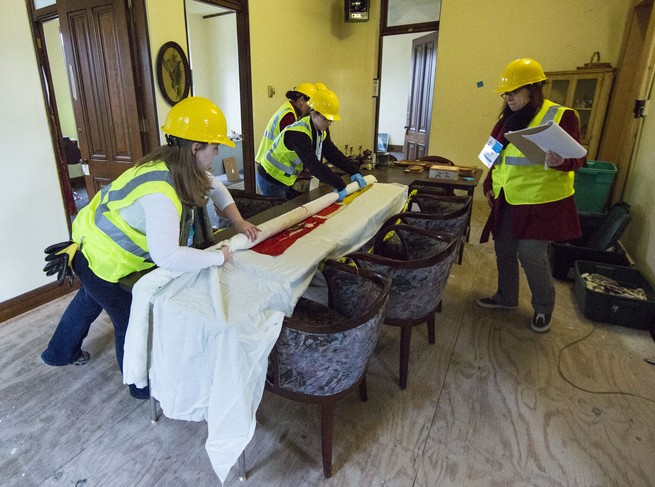 The 25 of them met at the beginning of the week, so they were not quite strangers by the evacuation exercise Wednesday afternoon, but not yet at ease, either. Inevitably, when their careful plans to label items A through D and pack them up in a specific box gave way to improvisation, that lack of underlying trust showed. "Different people are giving out different directions, commander," one woman said, clearly exasperated, as Salazar-Walsh made her way through the museum's rooms.
It did not help that the museum's director had waltzed in and was issuing his own orders. Brian Daniels is a director at the Penn Cultural Heritage Center, but for the scenario, he had donned a blue suit and pink bowtie to play the aloof director of the Smithsonia state museum—the kind of director prone to digressions about collection items even in the middle of an emergency evacuation. (In last year's evacuation exercise, Daniels wore a black suit and played an irate politician. "It was very out of character," he says. "For the rest of the class everyone was in fear of me.")
Daniels strode over to the cabinet and plucked a ceramic poodle off the shelf. "Fifi!" he exclaimed, before launching into the story of the beloved white poodle who belonged to the children of Smithsonia's governor. Salazar-Walsh gently tried to move him along. "If only you'd grown up on the island ..." Daniels continued. He implored the evacuators to wrap Fifi with care.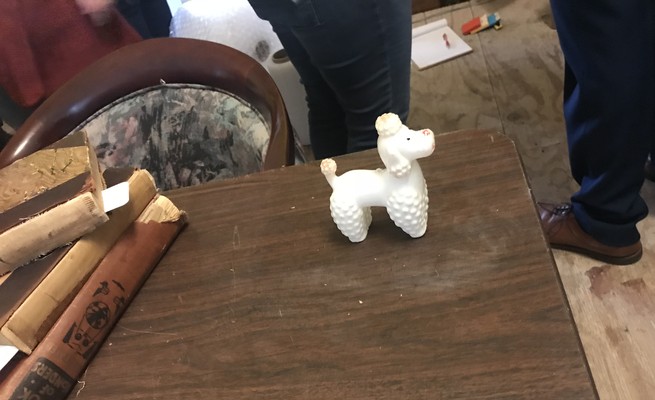 Fifi the ceramic poodle had come from a garage or estate sale—like all the other items that made up the mock museum. ("No museum artifacts are put at risk in the course of this exercise," Wegener clarified.) But the mock artifacts had to be treated as real ones, and even as Daniels hammed it up, he was getting at something fundamental: Why save museums in war or natural disaster?
"I always liken it to your own home," Wegener later said. Of course, you want to get your family out first, but as soon as it's safe, the fire department is authorized to salvage personal belongings, too. "For people going back in their own homes after disasters, they're looking for those irreplaceable items that stand for their personal and their family's identities, their memories, their hope for recovery in the future. Scale that up to whole communities and countries," she says. One of her colleagues in Haiti had summed it up this way: "The dead are dead, we know that. But without our culture, the rest of us can't go on living." For Smithsonia, one had to remember, Fifi represented far more than a random dog.
In the next room, Daniels found a team starting to pack an old, crumbling flag laid out on the floor. "I don't want it to be rolled crooked," he said. He strode over, almost stepping on the flag in several places. The team exchanged nervous glances. But Daniels soon found a mug that he said was his personal mug, and they told him to take it, relieved to have finally dispatched him. ("They're doing really well despite me trying my best to distract them," Daniels said.)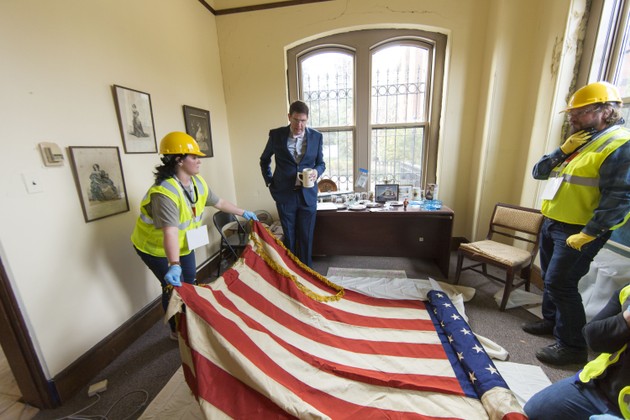 What the team did not all realize, though, is that while Daniels was wandering around, so was the keen-eyed journalist—played by Wegener's husband, Paul. (Naturally, he wore a flak jacket.) And when the journalist saw Daniels putting the mug in his car, he confronted him. The resulting make-believe headline: "Objects Looted From Museum."
The point was not to make everyone suspicious of each other, but to inject the kind of unexpected situation that always comes up in emergencies. "If you can do it here, where you just met these people, etcetera, and you're under time constraint, think how much better you'll be able to do it when you get back to your institution when you have a plan," says Wegener. "And that's the aha moment people have. Yeah, it'll be lot easier." Later in the week, HEART had a whole session on planning for the media during emergencies.
Most of all, HEART's goal over the week was getting museums and emergency planners to talk to one each other. "Those two universes do not coincide very much," says Wegener. The goal is to get more cities and towns to integrate cultural heritage in emergency planning. "We're miles ahead of where we were several years ago, miles ahead with Hurricane Katrina," she adds.
At times during the evacuation, the gap between these two worlds was on display. The group got stuck in a debate over what to do with several pieces of furniture they would not have time to evacuate. In the scenario, the evacuated museum was being turned into an emergency-operations center, or EOC—not exactly a place where protecting antique furniture would be a top priority. Someone suggested telling the EOC people to keep away from the museum furniture because it might be unsafe.
One of the emergency planners balked. "I can't in good conscience tell them it's not safe if I think it is," he said.
"Can we just tell them not to use the collection items?"
"EOC will use everything," another emergency planner said.
Okay, what about shrink-wrapping the furniture, which would at least give them some protection?
This time Salazar-Walsh, a conservator, hesitated. "It also could create a microclimate in that space," she said, referring to how the plastic could trap humidity inside wooden furniture and cause mold. But she reconsidered: The furniture didn't look wet.
The EOC people were marching up the steps, Wegener said. It was time to make a decision.
They decided to shrink-wrap.