What It's Like to Get Caught in a Wildfire
It's a predicament Americans on the West Coast are increasingly likely to face.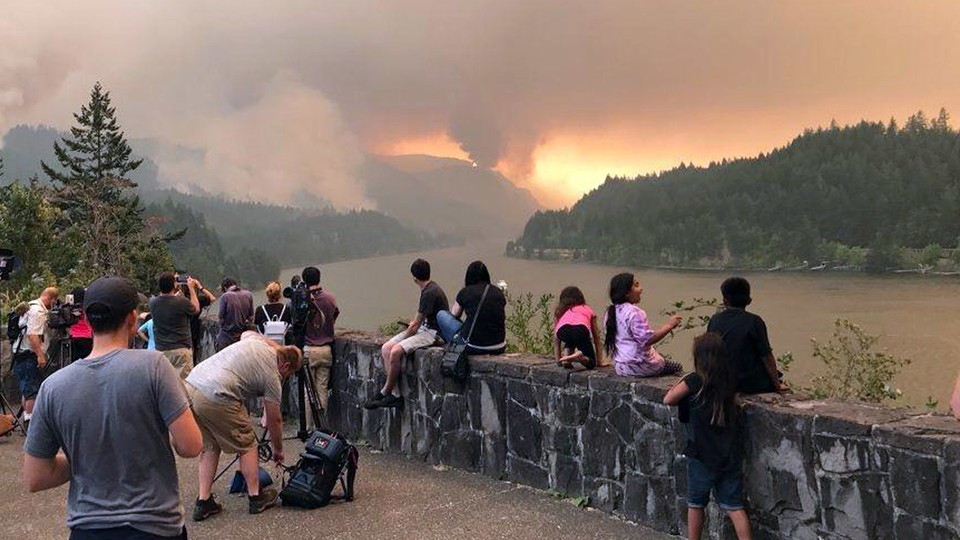 I never thought we were going to die. Even when the canyon air filled with smoke, when the flames came rushing up, when darkness fell and the sky glowed red both behind and ahead of us. So, okay, it was a little scary. But we were just a short drive from Portland, Oregon, on a well-traveled trail my family had hiked a dozen times in the last 10 years. No one dies in a forest fire when they're that close to home. We weren't outdoorsy enough to die in a forest anywhere. Or so it seemed to me.
On the West Coast, the 2017 onslaught of forest fires has been widespread and relentless—a char stretching from South Cariboo, British Columbia, last summer to the Caravaggio exhibit in the Getty Center just above west Los Angeles Thursday. Blazes are striking with growing regularity in the region, sparked in part by drought and record-breaking heat. Seven of California's 10 largest modern wildfires have come in past 14 years.
The news coverage of these fires plays like a disaster movie. Forested hills wrapped in a devil's fiery cloak. Well-tended homes reduced to scorched concrete and melted bikes. By this point, Americans are used to watching with a mix of horror and curiosity. But as the frequency of wildfires increases, it's also more likely for people on the West Coast to find themselves in their paths—and not always because they're away from home.
My experience began on a sunny Saturday afternoon in early September. Labor Day was the first time my wife and I had all three of our busy, nearly grown kids with us since Christmas. Figuring we'd spend the day together romping around Oregon's natural playground, we drove 40 miles east to the Eagle Creek Trail, a path that follows a waterfall-clotted river on an uphill climb toward the richly forested Bull Run watershed.
When we arrived just after noon, the parking lot was so crowded that we had to double back and bootleg a spot on the side of the road. Setting out through a thicket of multigenerational tourist families, taut hikers, cooler-toting beer dudes, toddler-chasing couples, and dozens of other Oregon types, we continued for three breezy miles, had a shady lunch at the High Bridge, and after an hour or so headed to the Punch Bowl Falls swimming area for a cooling dip. We were back on the trail at 4 p.m. for the gentle two-mile stroll down to the car. A sweet end to a lovely afternoon, right until one of my sons, Teddy, came sprinting back from walking a few hundred feet ahead of us.
The trail was on fire, he shouted. In fact, the entire hillside was ablaze.
Thinking dad thoughts, I made a few steps forward to check it out, but Teddy put his hand up to my chest. You do not want to get closer.
Twenty minutes earlier, a few feckless teenagers had tossed a smoke bomb from the trail, and hell had been unleashed. Our cheerful family outing had sent us into the maw of a deadly siege. But that was absurd. So I sighed and girded myself for something more reasonable: an unexpected pain in the ass.
Back at Punch Bowl Falls, we spread the word among the 100-plus hikers, swimmers, and out-of-town visitors and joined them all in standing meekly on the riverbank watching the thin yellow haze of smoke grow into a seething black curtain. Forest Service choppers buzzed in to drop water on the blaze, made no impact, went off to reload. A smaller helicopter fluttered in to drop a note, but the instructions were vague: WE SEE YOU ... STAY PUT ... DANGER! Then that chopper was gone for good.
We stayed put on the riverside. Some teenagers tossed a Frisbee. Parents played with their kids. A few well-put-together women stood together and fretted. One asked me: Is this one of those fires that sucks the oxygen away and suffocates us right here?
I made a face. Of course not.
How do you know?
Because it just isn't.
Denial is definitely not a smoke-wreathed river in Oregon, but I had to maintain some level of control of the situation. Not far away a ball of fire shot through the dense black smoke.
I kept peering past the tree line, waiting for some kind of cavalry to come galloping in. Instead, a 30-ish fellow with short dark curls and a beard climbed up on a boulder and called out for attention. He was Technical Sergeant Robert Dones of the U.S. Air Force, a veteran of two tours in Afghanistan. After scoping out the movement of the fire, he had some ideas. The flames were too close for us to stay on the riverbank. We needed to get out now, and no matter how fast, how slow, how young or old, we were all going together. We would stay together until we were all safe.
The cavalry, it turned out, had been among us the whole time.
Off we went, away from one fire and bound for another trail that the map said would lead to a road where rescuers would be waiting. There was one problem: The path would lead us to the hem of the Indian Creek Fire, a blaze that had been burning out of control since July. There was no way of knowing if the fire would consume the trail before we got there, but given no other options, we crossed our fingers and kept moving.
Through the gloaming and into the darkness, we trooped lit by cellphones across vertiginous shelves of cliffside scree. Five, eight, a dozen miles. Eventually, the canyon air thickened with smoke and the sky just above the western trees went red. The Indian Creek Fire was just over the hill, so close that its embers drifted around us—some tickling new flames from the underbrush. A Forest Service ranger hiked down to help us, and when she came near me, I pointed to a fresh blaze taking hold 100 feet from where we had stopped. "That doesn't matter," she replied in a taut monotone.
Two miles beyond the embers, we stopped again to rest for a few hours. My family had no clothes beyond our T-shirts and shorts, and only 10 carrot sticks left over from lunch. Hungry and exhausted, we huddled together in the dirt and tried to sleep. The plan was to stay until dawn, but the Eagle Creek fire picked up speed in the night, and the Indian Creek blaze was closing in, too. We were rousted an hour before dawn into a thick, scratchy fog of smoke. After an hour or two of hiking, we started to meet Forest Service firefighters carrying their axes and water jugs to the front of the Indian Creek fire.
Three hours later, we got to Wahtum Lake and trudged up the officially named Stairway to Heaven, a long, steep set of wood-and-dirt stairs, to find two dozen rescuers, a table full of military MREs, and school buses bound for safety.
Too exhausted to feel much of anything beyond relief, we located places on the bus and sat numbly through the hour-long ride back to where we'd left our cars less than 24 hours earlier. We were home 90 minutes after that, finding everything just as we had left the morning before. I took off my boots and hosed them down, trying to wash the smoke and ash and filth, and left them on the back porch to dry.
The next morning, I woke up to see smoke hanging above our yard. Taking my cup of coffee out to the back porch, I found my boots where I'd left them, just as ash-covered as they'd been before I'd hosed them out the day before. The winds had changed direction. We'd made it home, but the fire was still coming for us.