Rick Perry Wants to Bail Out the Coal Industry
Meanwhile, coal's enemies are counting on the free market.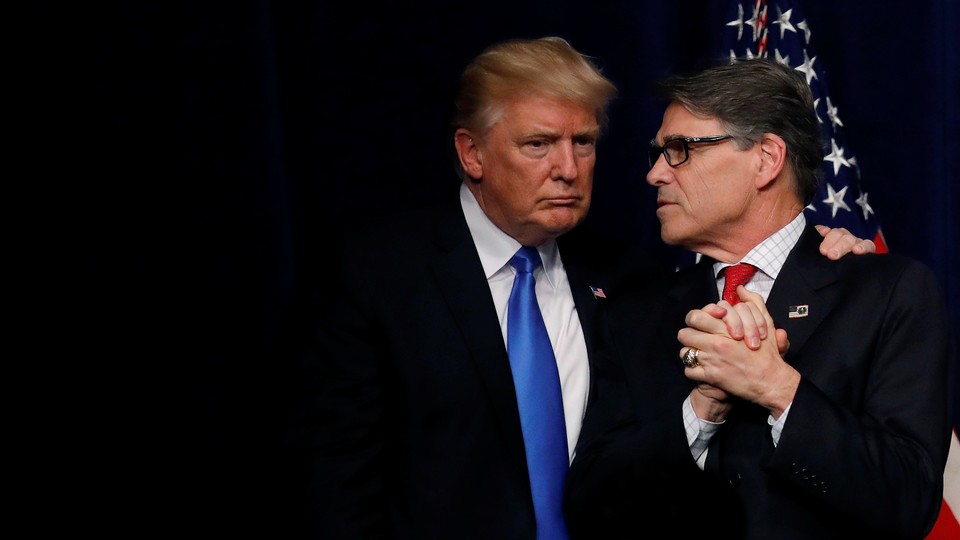 WASHINGTON, D.C.—If the United States is going to have even a chance of meeting its climate-change goals under the Paris Agreement, there are few actions more pressing than taking coal plants offline. Coal-burning power plants emit more heat-trapping carbon dioxide into the atmosphere than any other part of the electricity sector.
It's been widely reported that coal is inexorably on its way out—that cheap natural gas, made available by fracking, is eroding coal's dominance in the U.S. grid. But the speed of that transition matters immensely to the planet, as the United States is currently not on track to slow its emissions fast enough to avert catastrophic climate change.
This week, two powerful men set up on Capitol Hill to fight over the speed of that transition. One of them vied to keep up the pressure on coal retirements in a press conference on Wednesday; the other threw his support behind still-surviving plants in a congressional hearing on Thursday. The two were inhabiting unusual roles: The environmentalist billionaire said he was fighting for the free market, while the long-time Republican and former Texas governor asked for emergency government subsidies.
The first of the men is Michael Bloomberg, the former mayor of New York and the UN special envoy on climate change and cities. In this latter role, Bloomberg has put together an "America's Pledge" from cities, states, companies, and universities who will continue to track their greenhouse-gas emissions under the Paris Agreement, even though Donald Trump has removed the federal government from that accord.
Bloomberg, one of the world's richest men, is also a philanthropist—and Wednesday, he gave an additional $30 million to the Sierra Club's Beyond Coal campaign. The Beyond Coal campaign is a targeted activism organization that uses public pressure and environmental litigation to force coal plants to close across the country.
The Beyond Coal campaign is widely considered one of the most successful environmental activist pushes of the post–Cold War period. In the past decade, it has closed or secured the retirement of nearly half of the country's 523 coal plants. Eleven of those plants have announced plans to shutter since President Donald Trump's inauguration.
"Coal's share of the energy mix is at a record low," said Michael Brune, the executive director of the Sierra Club, at the press conference. "In fact, coal plants are retiring at the exact same rate under President Trump as they were under President Obama."
Bloomberg's funding will keep the Beyond Coal campaign running until 2020. He also announced $34 million to support the League of Conservation Voters and job-retraining and economic-development programs in Appalachia.
"The war on coal has never been led by Washington," said Bloomberg. "It has been led by market forces that are providing cleaner and cheaper sources of energy, and by communities, cities, and states that want to protect public health."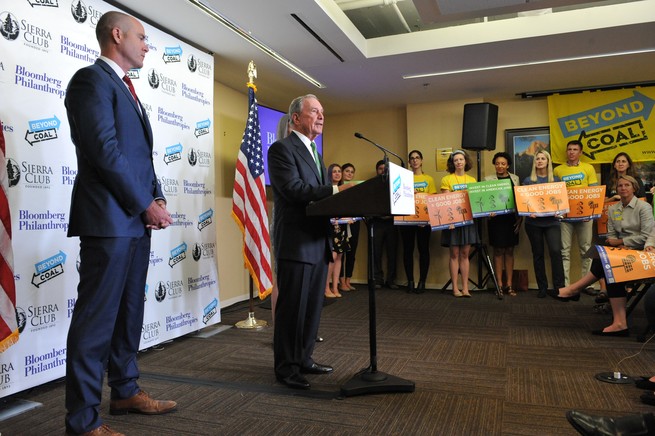 The second of the men is Secretary of Energy Rick Perry. In a fractious age, in a polarized country, Perry has pulled off a rare feat: He has proposed an emergency policy that just about everyone hates—except, that is, for the coal and nuclear industry.
On Thursday, Perry sat before the House Energy and Commerce Committee and defended his "grid reliability" plan, which his department is trying to hustle through the Federal Energy Regulatory Commission, or FERC, in the next 60 days. FERC creates the rules that govern some of the nation's power grid.
Perry's proposed rule would pay coal and nuclear plants to remain on the electrical grid in the name of resilience, financially rewarding them for keeping three-month supplies of fuel on premises.
Experts say it would virtually assure that coal and nuclear plants—nearly all of which have been squeezed by the availability of cheaper natural gas and solar and wind power—remain profitable. It could also create a brief boom in the coal market, as plants snap up three months of fuel.
To build support for the rule, Perry has cited the polar vortex of 2014, when frigid weather descended across much of the continental United States. Though the power grid stayed intact through that episode, the largest grid operators saw roughly 20 percent of their power plants shut down. Natural gas plants, in particular, suffered in the weather, but some coal stacks froze as well.
Some experts also worry that as solar and wind power play a larger role in the electricity mix, power generation will become more unreliable, as the sun doesn't shine and the wind doesn't blow all the time. (Many technology companies are working on large batteries that could solve this problem.) Combined with the historical anecdote that natural-gas plants sometimes shut down in the cold, Perry says the grid is suffering a "reliability crisis."
Some economists have worried that the proposed rule could spike rates for electricity customers. The energy-consulting firm ICF has estimated it will cost power customers $800 million to $3.8 billion every year through 2030. Asked about those concerns Wednesday, Perry replied: "I think you take costs into account, but what's the cost of freedom? What's the cost to keep America free? I'm not sure I want to leave that up to the free market."
Perry has ordered FERC to make a decision about his proposed rule in the next 60 days. But when pressed by lawmakers, he said he was just "starting a conversation" about grid resiliency.
His plan has found barely any support from either side of the political spectrum. Multiple Republicans declined to endorse the plan Thursday. Congressman Greg Walden, a Republican of Oregon and the chairman of the House subcommittee on energy, didn't even mention the plan in his statement introducing Perry.
A large and bizarre alliance of environmental groups, renewable-energy advocates, and natural-gas suppliers oppose the plan and will try to block it in court, according to the energy trade publication E&E News.
Economic experts from both the right and the left have also opposed the plan. Josiah Neeley, the director of energy policy at the conservative R Street Institute, said he found Perry's remarks at the hearing "a little strange."
"Secretary Perry didn't sound very much like Governor Perry that I remember back here in Texas, because Governor Perry, of course, was a big fan of free markets in electricity," he told me.
The R Street Institute has been "very critical" of the proposal, he said, which he said was also "pretty vague."
"There's certainly not a reliability crisis. And even if there was, the proposed rule doesn't address any of the issues with reliability that are out there," he said. "To the extent that there is an issue here with reliability, the principled way to deal with it is to create some sort of market product ... and not have the Department of Energy pick winners and losers."
Those thoughts were echoed by Michael Greenstone, a professor of economics at the University of Chicago and a former chief economist to the White House Council of Advisers under President Barack Obama.
"The first question you always want to ask yourself is, is there some imperfection in the market that needs solving?" he said.
The biggest market failure in energy markets is climate change, he told me: Power plants can emit carbon dioxide for free, even though it's a greenhouse gas that worsens climate change and imposes high indirect costs on people today. Therefore, it should be more expensive to release greenhouse gases into the atmosphere, he said, not cheaper. "Doing nothing is already not merited by economics," he said. "This is like doubling down."
Greenstone agreed with Neeley that insofar as there is a potential failure to plan for grid reliability, it should be solved with market mechanisms. He didn't think it constituted a crisis either, though.
"In many respects it reminds me of what we just saw with the Clean Power Plan," he said, referring to the landmark Obama climate policy that the Environmental Protection Agency repealed this week. Environmental advocates and public-health groups have alleged that the math used to justify repealing the Clean Power Plan distorts the well-documented benefits of clean-air regulation.
Greenstone continued: "The high-level political goal is set—and then poor Secretary Perry and poor [EPA] Administrator Pruitt, having received high-level political direction, have to do the plumbing to make it work. And I think this is kind of ugly plumbing precisely because it does not efficiently address any of the two potential market failures floating around—and in fact makes one of them worse."
"Coal's real problem, nuclear's real problem, and—by the way—renewable's real problem is natural gas. We're swimming in it," he said.
As for Bloomberg's opinion of the plan, he did not make his views a secret. "The Trump administration wants taxpayers to pay more for an earlier death," he told journalists Wednesday. "This is one of the worst ideas Washington has ever come up with, which is saying a lot."