The Slack Chat That Changed Astronomy
The groundbreaking discovery of a neutron-star collision unfolded in a flurry of online messages.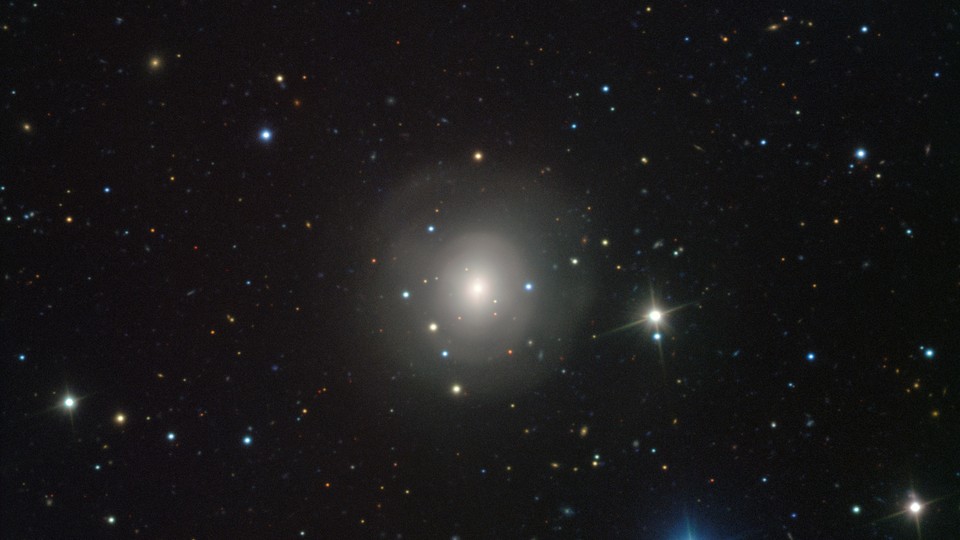 In between its silly chatrooms and custom emojis, Slack is a place where real work gets done. But in some offices—no offense—the projects managed on the messaging platform are way cooler than others. Some even have cosmic significance.
On August 17, observatories in the United States and Italy detected gravitational waves, forces that bend the fabric of the universe, as they washed over Earth. Space telescopes observed a short gamma-ray burst, a powerful beam of radiation, coming from about the same part of the sky about two seconds later. Astronomers around the world quickly jumped into action, mobilizing dozens of ground-based and space telescopes to search for the source of these mysterious events.
There were calls and emails and, in the case of a few scientists who work for the University of California, Santa Cruz, and their associates, there were Slack messages. Ryan Foley, an astronomer at the university, was in Copenhagen when the alert went out. He started giving orders at 8:51 a.m. Pacific Time, then jumped on a bike and headed to his office at the city's Dark Cosmology Center, where Dave Coulter and his fellow astronomers were already working.
A few hours later, they would find the source of the mysterious observations: a massive collision of neutron stars in a galaxy 130 million light-years from Earth. The discovery, announced Monday, would produce the first-ever image of a cosmic merger powerful enough to generate gravitational waves, spawn scientific reports from some 3,500 scientists, and open a new chapter in astronomy.
But Foley, Coulter, and their colleagues didn't know that yet.
The team drew up a list of galaxies in the region of sky where the near-simultaneous events were detected and started looking for the source. Screenshots of their messages, which they published along with their paper in Science, show a cascade of real-time coordination and information. Several people were typing. (The full exchange starts on page 26 here.) The astronomers searched images from the Carnegie Institution's Swope telescope in Chile, looking for a "transient," an object that hadn't been observed in the data before.
The first few images didn't turn up anything, said Charles Kilpatrick, a postdoctoral researcher at UC Santa Cruz, who was in California at the time.
Then, in their ninth photo, they found something.
There it was, the spectacular afterglow of a cosmic explosion.
The Swope telescope was the first to capture the light from the merger. In the coming days, dozens of observatories would study the event at every wavelength of light, from gamma rays to radio waves.
Chat services like Slack have become ubiquitous in many offices in the last several years, tethering modern workers to their jobs in new ways that, by now, seem pretty standard. There's nothing special these days about real-time, and often nonstop, communication among coworkers, whether they're down the hall or across the pond. But there's something particularly interesting, even mesmerizing, about watching extraordinary moments unfold in an ordinary space. When all is said and done, the participants can return to this strange day in their chat history and look at the exact moment when things started to change.
Michele Bannister, an astronomer at Queen's University Belfast, has a similar record, from January 2016. Back then, Bannister and a small group of researchers, spread out in locations in Canada, the United States, France, and Taiwan, were working on the Outer Solar System Origins Survey, a search for objects beyond the orbit of Neptune. Bannister's colleague was processing images from the Canada-France-Hawaii Telescope in Hawaii when he noticed something unusual and pinged her on Flowdock, a group-chat client.

Bannister headed to J.J. Kavelaars's office, which was two floors down from hers, and examined the picture. There was a tiny spot of bright light. "We found ourselves our very own dwarf planet," Bannister said. The dwarf planet, they eventually determined, is among the 20 largest worlds that have been discovered so far beyond Neptune.
Bannister said she enjoyed seeing the messages that preceded UC Santa Cruz's big find. Before they knew what they had, the chat seemed to resemble just another day at the office.
"It's so much a typical workday for all of us," she said. "And most of the time, it's something that you expect to get in your data. And every so often, it'll be something like, oh, okay. That's fun."