How Domestication Ruined Dogs' Pack Instincts
Wolves dramatically outperform pooches at a task that requires them to work together.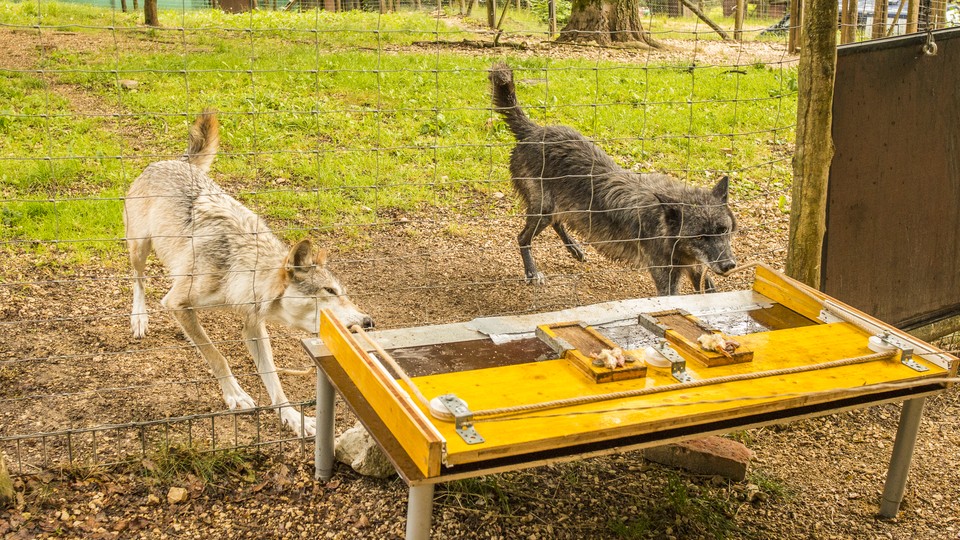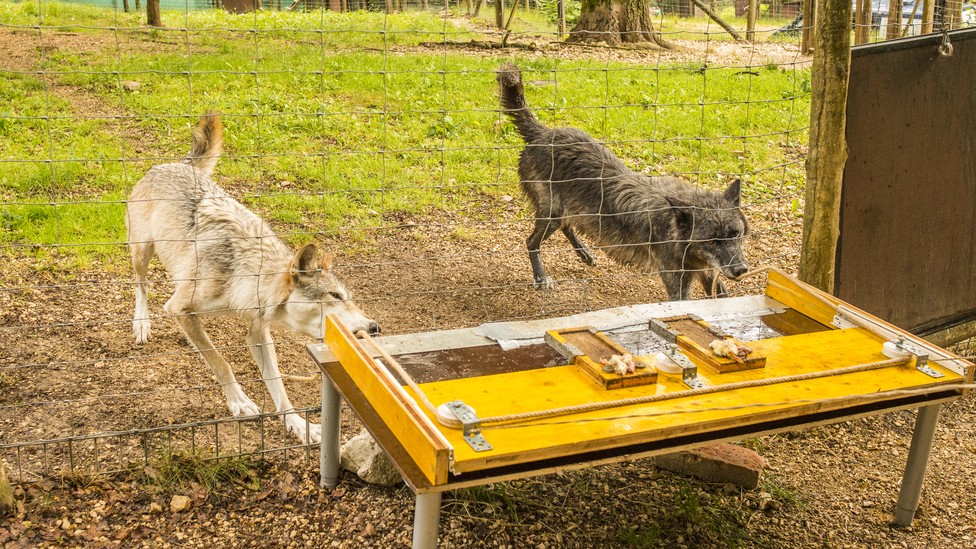 The origin of humanity's best friend is still murky, but here's a likely scenario. In the distant past, wolves started skulking around human campsites, scavenging the carcasses left behind by hunters. Perhaps, to make the most of these opportunities, they evolved to be more docile. They transformed in both physique and temperament, and eventually became domestic dogs.
As they changed, they gained the ability to interact with humans, becoming increasingly attuned to our gestures, expressions, and emotions. But they lost something, too.
Sarah Marshall-Pescini, from the University of Vienna, has now found that dogs are terrible at a simple task that requires them to cooperate. Working together, they have to pull on two pieces of rope to bring a piece of distant food within reach—and they mostly fail. Wolves, however, are far more successful, dramatically outperforming their domestic peers.
This simple experiment contradicts the common belief that dogs are just friendlier wolves. "The idea is that we've changed their psychology to make them into super-cooperative beings," says Marshall-Pescini. But that's only true for their relationships with us. By domesticating dogs (or rather, providing the conditions for them to domesticate themselves), humans ruined the pack instinct that makes wolves some of the most gregarious and cooperative hunters on four legs. "They adapted to the niche we provided for them and it changed their sociality," Marshall-Pescini says.
"The assumption that dogs are a tamer version of wolves is an oversimplification," says Anindita Bhadra, from the Indian Institute of Science Education and Research in Kolkata. "This is all the more reason why we need to carry out similar studies on free-ranging dogs."
Around 80 percent of dogs, in fact, are free-ranging, and their behavior shows just how different they are to wolves. They're mostly solitary, scavenging alone on human garbage. When they do form packs, these groups are usually small and loose-knit. They might hunt together, but they mostly congregate to defend their territory. By contrast, wolves live in extremely tight-knit family groups. They rely on their pack-mates to bring down large prey, and they work together to rear each other's pups. The strength of the pack is the wolf, and the strength of the wolf is the pack, as Rudyard Kipling's poem goes.
Fifteen wolves currently live in Vienna's Wolf-Science Center, along with 15 dogs. "The center was established to look at the differences between wolves and dogs in as fair a way as possible," says Marshall-Pescini. "They're raised in exactly the same way, with a lot of human contact. This allows us to test a lot of different things without the confounding variables of wolves not being used to humans and pet dogs being super-used to humans."
She and her colleagues challenged their canines to a simple task, which other scientists have used on all kinds of brainy animals—chimps, monkeys, parrots, ravens, and even elephants. There's a food-bearing tray that lies on the other side of their cage, tempting and inaccessible. A string is threaded through rings on the tray, and both of its ends lie within reach of the animals. If an individual grabs an end and pulls, it would just yank the string out and end up with a mouthful of fibers—not food. But if two animals pull on the ends together, the tray slides close, and they get to eat.
All in all, the dogs did terribly. Just one out of eight pairs managed to pull the tray across, and only once out of dozens of trials. By contrast, five out of seven wolf pairs succeeded, on anywhere between 3 and 56 percent of their attempts. Even after the team trained the animals, the dogs still failed, and the wolves still outshone them. "We imagined that we would find some differences but we didn't expect them to be quite so strong," Marshall-Pescini says.
It's not that the dogs were uninterested: They explored the strings as frequently as the wolves did. But the wolves would explore the apparatus together—biting, pawing, scratching, and eventually pulling on it. The dogs did not. They tolerated each other's presence, but they were much less likely to engage with the task at the same time, which is why they almost never succeeded.
"The dogs are really trying to avoid conflict over what they see as a resource," says Marshall-Pescini. "This is what we found in food-sharing studies, where the dominant animal would take the food and the subordinate wouldn't even try to approach. With wolves, there's a lot of arguing and it sounds aggressive, but they end up sharing. They have really different strategies in situations of potential conflict. [With the dogs], you see that if you avoid the other individual, you avoid conflict, but you can't cooperate either."
"Amazingly, no one had ever studied whether carnivores could solve this type of cooperative task, and it's fun to see that the wolves coordinated," says Brian Hare from Duke University, who studies dog behavior and the influence of domestication. He has argued that during the domestication process, dogs began using their traditional inherited mental skills with a new social partner: humans.
Simultaneously, dogs perhaps became less attentive to each other, adds Marshall-Pescini. After all, wolves need to work together to kill large prey, and sharing food helps to keep their social bonds intact. But when they started scavenging on human refuse, they could feed themselves on smaller portions by working alone. If they encountered another forager, "maybe the best strategy was to continue searching rather than to get into conflict with another dog," she says.
But dogs can be trained. When owners raise dogs in the same household, and train them not to fight over resources, the animals start to tolerate each other, and unlock their ancient wolflike skills. This might be why, in 2014, Ljerka Ostojić, from the University of Cambridge, found that pet dogs, which had been trained in search and rescue, had no trouble with the string-pulling task that flummoxed Marshall-Pescini's dogs.
"It speaks to the fact that living among other dogs, without interaction with humans, is arguably less natural for dogs—as if domestication both refined attention, coordination, and even pro-sociality between species, and weakened social skills within the species," says Alexandra Horowitz, who studies dog cognition at Barnard College. "A pack of dogs living together, without human intervention, is impaired compared to dogs living with humans."
But Laurie Santos, from Yale University, says that there's growing evidence that dogs also differ from wolves in their physical understanding of the world. "Maybe dogs are just as good at cooperating as wolves, but they don't get that the only way to solve the task is to pull at the same time," she says. "They just don't get it in terms of the physics. The cool things is that both of these interpretations have exciting implications for the evolution of dog intelligence."
"If I ask people to close their eyes and think of a dog, everyone thinks of a pet dog," Marshall-Pescini says. "But pet dogs are a really recent invention and free-ranging dogs are more representative of the earlier stages of domestication. We need to base our theories on a different understanding of what a dog is."