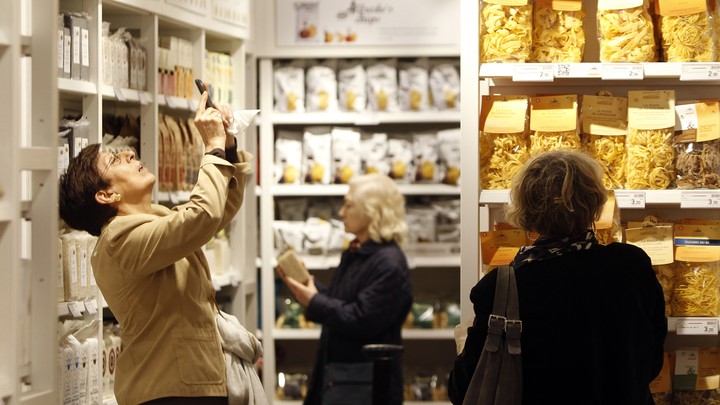 In just over a month, the world's first theme park devoted entirely to Italian food will open its doors—and Gastropod has the scoop! Among Eataly World's delights will be hunt-your-own truffles, baby lambs, beach volleyball, and custom Bianchi shopping bike-carts. But there's a bigger story, and it's that Oscar Farinetti, the founder of the Eataly empire, has somehow managed to make money by merging two businesses—grocery stores and restaurants—that are both incredibly challenging when it comes to turning a profit. In the process, he's transforming the way we shop for food. Join us this episode as we tell the story behind the life and death of the great American supermarket—and take a trip to Italy for a sneak peek at its future.
The supermarket is such a mainstay of daily life throughout most of the developed world that it's hard to imagine that someone invented it. But that is exactly what Michael Cullen did when he opened King Kullen in Queens, New York, on August 4, 1930. Before that, as Michael Ruhlman, the author of Grocery: The Buying and Selling of Food in America, explained, a grocery store was simply a dry-goods store, selling boxed and canned goods. To get their hands on perishable goods like meat, produce, and dairy, Americans had to either grow their own, await delivery (remember the milkman?), or visit one of the specialist shops that started appearing in cities in the late 1800s and early 1900s—butchers, greengrocers, and creameries.
The supermarket of today is many, many times bigger than the first King Kullen: It stocks 200 times as many products, and is often surrounded by a vast car park. But as impressive as it seems, the supermarket is in trouble. As Ruhlman explained, the typical grocery-store chain operates on a tiny 1 percent margin. "It's a crazy business model," he told us. "Nobody in their right mind would get into it." On every front, the supermarket is under attack: It is losing the price wars against Walmart, and the battle for convenience against Amazon, Instacart, and meal-delivery services. And yet Farinetti, the founder of the Eataly chain of grocery mega-stores, has somehow managed to make selling food profitable again. How?
To find out, this episode we speak with Sunil Gupta, a Harvard Business School professor and the author of a recent case study on the Eataly chain, as well as CEO Farinetti himself. The secret? It lies in a blend of good, old-fashioned synergy—combining the best of the restaurant and retail business models to overcome the weaknesses of both—and Farinetti's own creativity and passion for experiential storytelling. "I'd call him a maverick or a visionary," said Gupta, who sees the lesson of Eataly as "how you can take an old, traditional industry and completely reimagine that." Listen in as we tease apart Eataly-nomics, experience its ultimate expression at Eataly World, and discover what Farinetti's example can tell us about the future of shopping for food.
---
This post appears courtesy of Gastropod, a podcast cohosted by Cynthia Graber and Nicola Twilley that looks at food through the lens of science and history.
We want to hear what you think about this article. Submit a letter to the editor or write to letters@theatlantic.com.
Nicola Twilley is a co-host of the podcast Gastropod and a contributor to The New Yorker.
She is at work on two books: one about refrigeration and the other about quarantine.
Cynthia Graber is a writer and audio journalist based in Somerville, Massachusetts, and
a co-host of the podcast Gastropod. H
er work has appeared in
Scientific American
and
The New Yorker
.
Gastropod
is a podcast that covers food through the lens of science and history.