Climate Change Will Bring Major Flooding to New York Every 5 Years
And that's only counting the floods caused by hurricanes and tropical storms.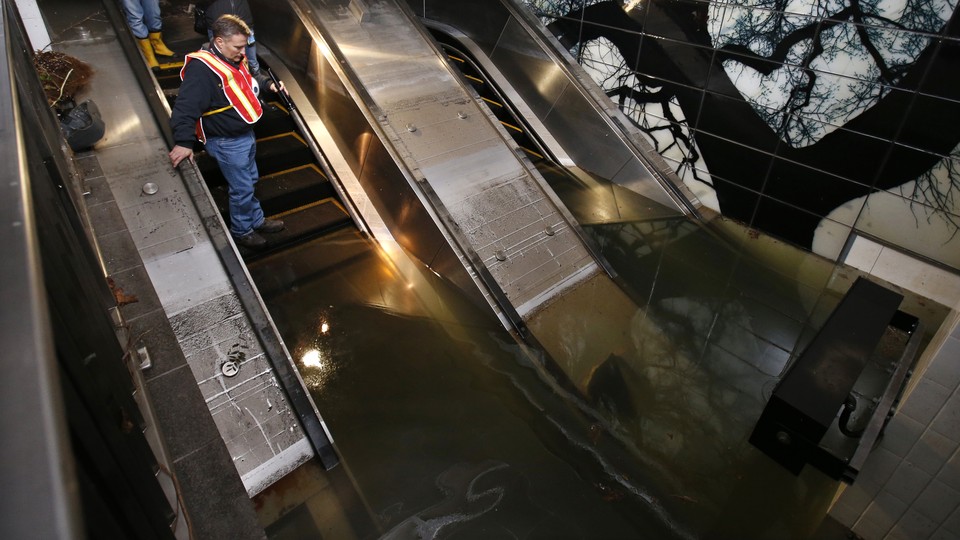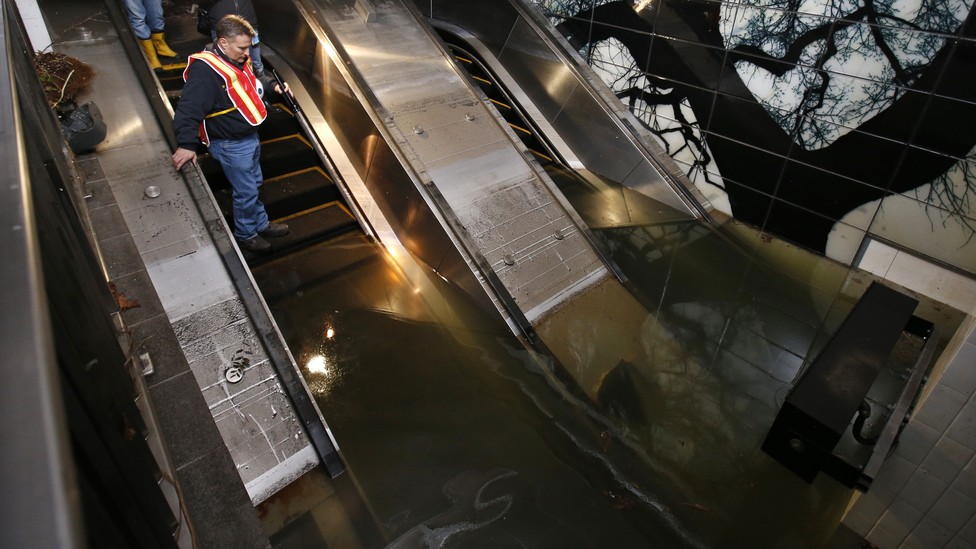 New York is a city on the water. For hundreds of years, its rivers and harbor have worked to its advantage, bringing it speedy transportation and pleasant temperatures.
The next couple hundred years may not be as smooth sailing. Global warming, caused by the release of carbon-dioxide pollution into the atmosphere, will cause the seas to rise and the storms to intensify around the city. A new study from an all-star list of climate scientists attempts to estimate how a few of climate change's symptoms—higher seas, large storm surge, and more intense hurricanes—will intersect in New York over the next 300 years.
It isn't pretty. Sea-level rise will make every tropical cyclone that hits New York more likely to release damaging floods. For instance, storm floods of nearly seven-and-a-half feet once occurred only a couple times per millennium. In today's somewhat warmed climate, 7.5-foot floods are projected to happen every 25 years. By 2030, these floods will occur every five years.
New York City has experienced 7.5-foot floods several times in the past decade. Superstorm Sandy loosed 10- or 11-foot floods on much of Manhattan, Brooklyn, and Staten Island, killing 43 people and inundating more than 88,000 buildings.
Not all of the news from the study's estimates was bad. In a climate-changed world, the effects of storm surge on New York may remain about the same. Even though future hurricanes are likely to be more intense—and thus more likely to "push" more water in front of them, as storm surge—the hurricane models also showed the same storms avoiding New York Harbor. In other words, global warming seems to redirect some of the largest hurricanes eastward. It's unclear why this may be the case.
Andra Garner, a climate scientist at Rutgers University and the first author of the paper, described the shift as "the biggest surprise from this work."
"The eastward shift in storm tracks at the latitude of NYC in future simulations [was] a result that we did not expect to find, and something that we hope to investigate further with future research," she told me in an email.
The study is the first to compare data from three sources: models of storm surge in New York City; probabilistic projections of sea-level rise; and advanced climate models that include high-resolution hurricane simulations. Its coauthors include Kerry Emanuel, a hurricane researcher at the Massachusetts Institute of Technology; Bob Kopp, a climate economist at Rutgers University; and Michael Mann and Richard Alley, two geoscientists at Pennsylvania State University.
The study also investigates how hurricane flooding will be affected by the possible collapse of the West Antarctic Ice Sheet. The timing of the ice sheet's collapse remains debated: While some models suggest that a warmed world will erode the ice sheet between the years 2200 and 3000, newer and more aggressive studies argue it could collapse within decades. Its collapse will have profound consequences for the U.S. Eastern Seaboard, as its powerful gravitational pull currently keeps sea levels on that coast unusually low.
If it does begin to fall into the sea, ocean levels worldwide could rise five to six feet by 2100. "To our knowledge, this is the first study of its kind, looking at flood risk associated with tropical cyclones, to incorporate such 'worst-case scenario' sea-level rise projections," said Garner.
The study doesn't capture every kind of flooding event that New York will experience—only spinning tropical storms. It doesn't account for systems like Superstorm Sandy, for instance, which became a more disorganized "extratropical cyclone" before it made landfall.