How Hurricane Irma Is Sucking Florida's Beaches Dry
The hurricane is leaving flat expanses of land where ocean used to be, but all that water will rush back as storm surge.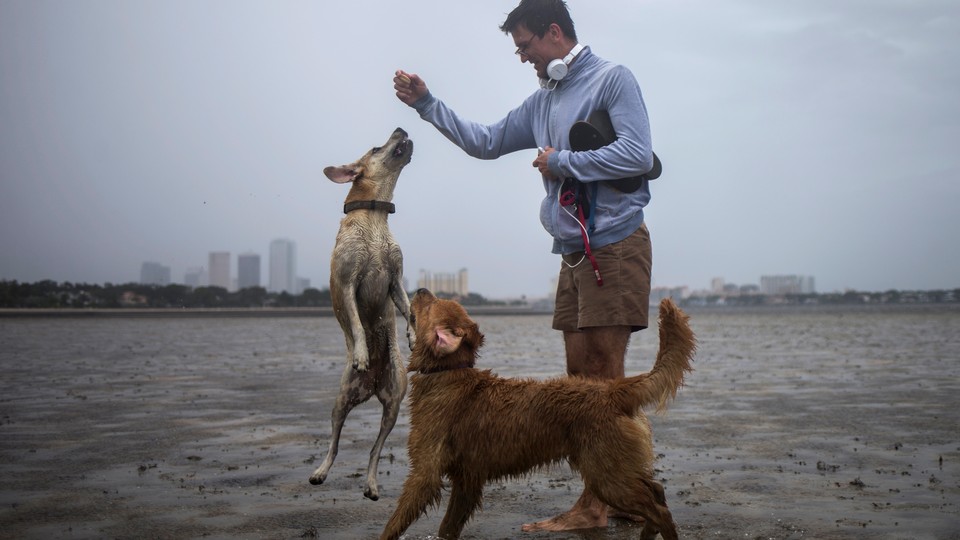 One of the most dangerous effects of a major hurricane is storm surge: a kind of temporary, localized sea-level rise caused by high winds and low atmospheric pressure. Storm surge is what made Hurricane Sandy and Hurricane Katrina, the two most expensive tropical cyclones in American history, so damaging and deadly.
Storm surge is one of the most famous symptoms of hurricanes—so much so that it's easy to forget what it is: the movement of billions of gallons of ocean water. It's a hurricane exerting so much power that it sucks up water from one place and moves it hundreds of miles away.
We got an extraordinary look at the physical reality of storm surge this weekend as Hurricane Irma seethed across the Straits of Florida. Storm surge doesn't just mean there's an excess of water in one place; it also mean there's water missing from somewhere else. All that water didn't come from nowhere, after all. And on Saturday, a Twitter user named @Kaydi_K posted a video from the Bahamas that showed a vast and barren plain where the ocean used to be:
Angela Fritz, an atmospheric scientist and the deputy weather editor at The Washington Post, immediately certified the video as depicting a real phenomenon.
"I knew right away that even though it seemed impossible, it was absolutely legit," she wrote. "As a meteorologist, there are things you learn in textbooks that you may never see in person. You know they happen theoretically, but the chances of seeing the most extraordinary weather phenomena are slim to none."
Yet here was this most extraordinary of phenomena—on camera, going viral, and appearing across the Gulf.
It was not limited to the islands. Soon, beaches across the Florida peninsula began reporting the strange sight. In Naples, and then in Tampa Bay, people described staggeringly low sea levels. In Sarasota, a manatee became stranded in the low tide.
What's causing the seas to drain? Irma's shockingly low pressure is literally drawing water into the center of the storm and out of the ocean beds around it. You can think of a hurricane as a kind of vast engine that extracts energy and water from the seas and air and expels it as rain and wind. Here was an unmistakable example of how material that extraction can be.
On the coast of Florida, press photographers captured similar scenes of a virtually drained Hillsborough Bay near Tampa: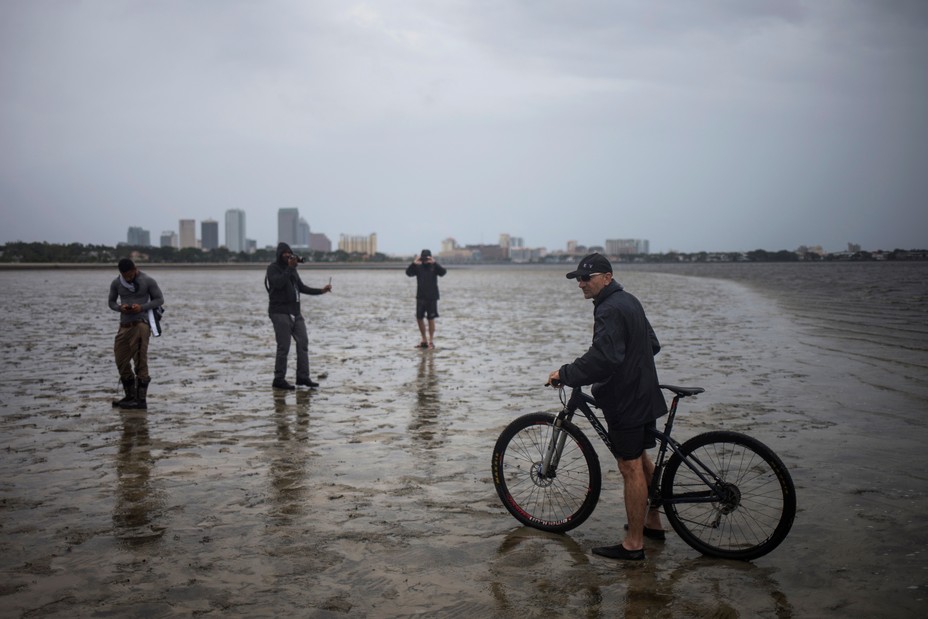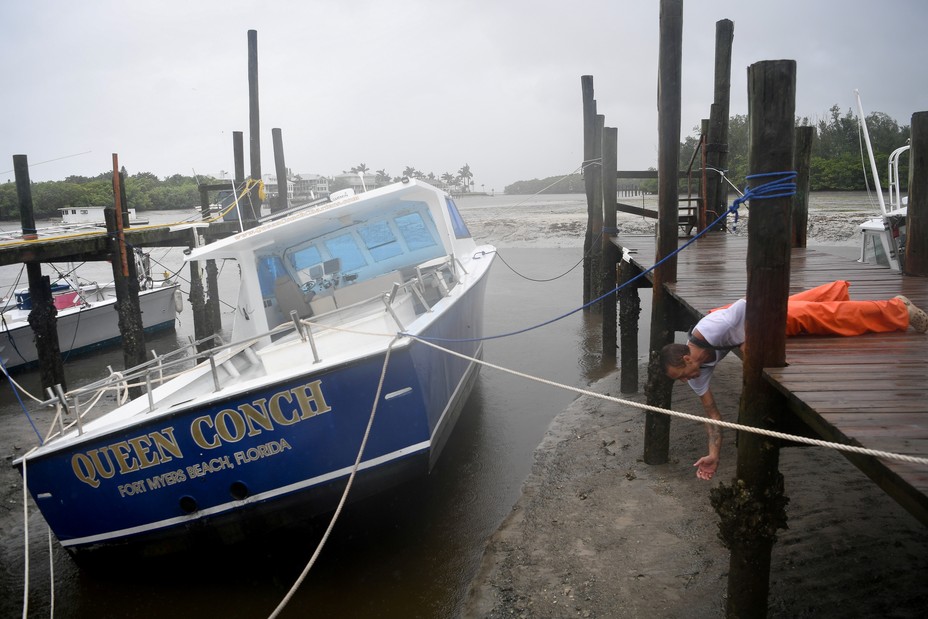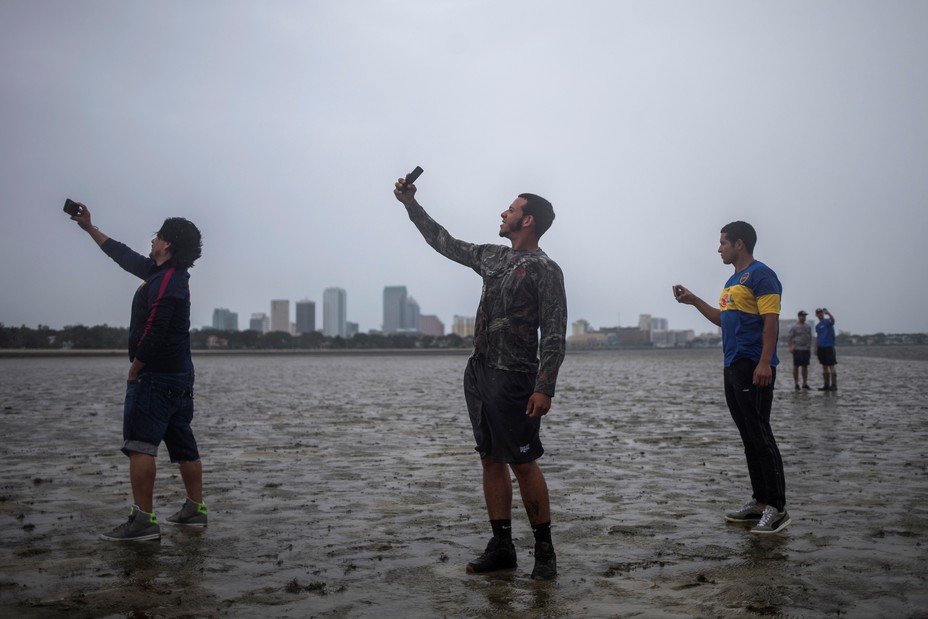 All that water is about to come rushing back, however—it will follow in the wake of Irma's eyewall, a line of super-intense storms that surround the calm at the center of the hurricane.
On Sunday afternoon, the National Weather Service tried to communicate the urgency of getting out of the drained seabed for residents of Ft. Myers and Naples. Around 3 p.m., it took an unusual step, declaring a flash-flood emergency for the part of the Florida coastline about to receive a direct hit from Hurricane Irma's eye.
"This is an extremely dangerous and life-threatening situation," said the bulletin. "EVACUATE VERTICALLY NOW!"
Taylor Trogdon, a senior scientist with the storm-surge unit of the National Hurricane Center, said that the warning was issued "in a profound attempt to convey severity of impending storm surge."
The storm surge has already followed the bizarre beach draining farther south in Florida. In the hour after the eye passed over Naples, Florida, the storm surge followed. The Gulf of Mexico rose a shocking six feet, or more than one inch per minute, inundating the city's downtown. This is fast—but it's not as rapid as a tsunami would be, which is the other natural phenomenon that can drain a beach. Tampa may soon see something similar.
How high Irma's storm surge continues to rise will determine whether the tropical cyclone is a catastrophic disaster for the region or merely a lasting testament to nature's power.