The Rescue Networks That Save Cats and Dogs From Hurricanes
"Today marks day 37 without a day off."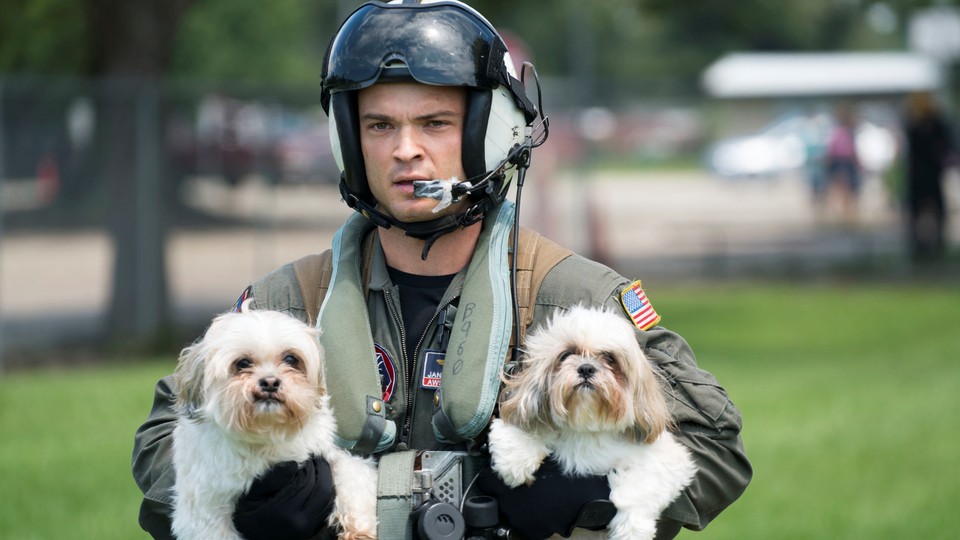 The mass cat and dog migration out of Texas started before Harvey even hit.
The Humane Society of the United States, anticipating a deluge of lost and abandoned pets after the recent natural disaster, began coordinating flights of animals already in Texas shelters to other parts of the country. Eventually, they relocated hundreds of adoptable cats and dogs in the days before and after the storm. The same happened with Irma in Florida and the Virgin Islands. The same is happening after Maria in Puerto Rico.
"I cannot remember a time where I have had to work back-to-back-to-back disasters like this," says Wanda Merling, the deputy director of operations for the Humane Society's Animal Cruelty, Rescue, and Response Team. "Today marks day 37 without a day off," she told me on Tuesday.
The recent pace of work has been unusual, but the type of work is not. Whether through formal networks like the Humane Society's emergency-placement partners or through informal relationships between shelters, rescue animals often move around the country before finding a home.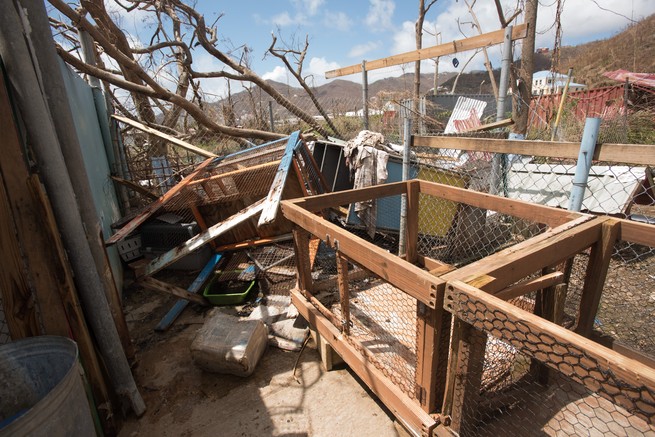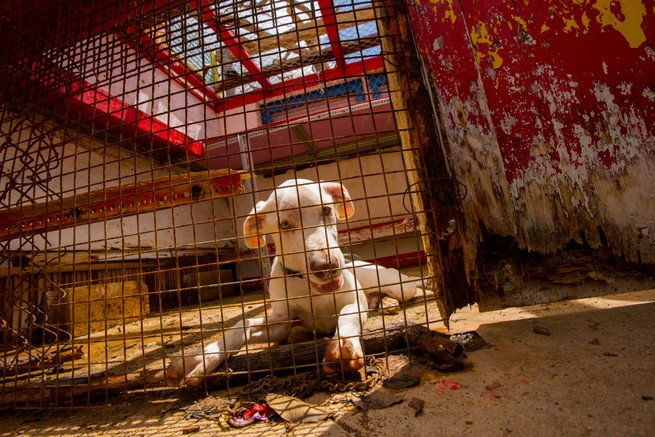 In non-disaster times, it's usually driving animals from rural areas, where there are many animals and few people, to cities where there are fewer animals and many more people. Supply and demand is even more mismatched after a disaster: Shelters become inundated with lost and abandoned pets, while people who've recently lost their homes in the area are unlikely to adopt. So in times of emergency, the logistics get more complicated. For Irma, for example, the Humane Society cleared out a shelter in South Carolina just to use as a hub for animals rescued from Florida.
After relocating the first wave of animals that were already in shelters, next come the lost and abandoned ones that turn up after a disaster. As with many areas of disaster response, Katrina provided lessons on what not to do back in 2005. Emergency shelters at the time turned away pets, in some cases forcing owners to abandon them. A single spare paragraph from an Associated Press dispatch during the Louisiana Superdome evacuation captured the chaos and the distress of it all:
At the back end of the line, people jammed against police barricades in the rain. Refugees passed out and had to be lifted hand-over-hand overhead to medics. Pets were not allowed on the bus, and when a police officer confiscated a little boy's dog, the child cried until he vomited. "Snowball, Snowball," he cried.
Soon people all around the country were helping search for Snowball. Dedicated websites sprung up. Strangers offered rewards for information. The story of Snowball and other abandoned pets of Katrina inspired Congress to pass the Pets Evacuation and Transportation Standards Act in 2006, which required rescuers to accommodate pets and service animals. During Harvey, the George R. Brown Convention Center in downtown Houston indeed allowed people to bring their pets.
"Of the many things people learned [from Katrina], number one is people don't want to leave their pets. And if they do, it's highly traumatic for the people and the pets. And they want them back," says Colleen Learch, an advisor for the Lost Dog and Cat Rescue Foundation in Virginia, which is taking in animals from the recent hurricanes. After Katrina, stories emerged about people who recently adopted pets from Louisiana clashing with previous owners who wanted them back. (Most infamously, perhaps, Pam Bondi, who later became Florida's attorney general, settled a lawsuit with a family after adopting their St. Bernard.) Merling says that local shelters try to keep cats and dogs for 30 days, but it can simply be impossible if shelters become overcrowded.
The Humane Society has tried other models, like fostering rather than adopting out pets after Hurricane Sandy. After Harvey, the organization also relocated dogs from an overcrowded shelter in Rockport to Houston and advertised the move online. Several dogs and their families have been reunited since.
In Puerto Rico, where the situation after Maria has been incredibly dire, the response for pets has also been slower, too. "Puerto Rico is going to be a long project," says Merling.
The Humane Society was unable to evacuate shelter animals from the island before the hurricane, in part because they did not have all the necessary health paperwork on hand. Now that the road to the local Puerto Rican airport has finally been cleared, the organizations will be flying out its first plane full of animals this Friday to New Jersey. The Puerto Rico shelter currently housing the animals was flooded on the first floor, and it's running low on food.
Learch anticipates that her foundation, which has also worked closely with Puerto Rican partners in the past, will be taking in animals for several months on. After so many hurricanes back to back, there is one bit of good timing: Fall is a very popular adoption season.