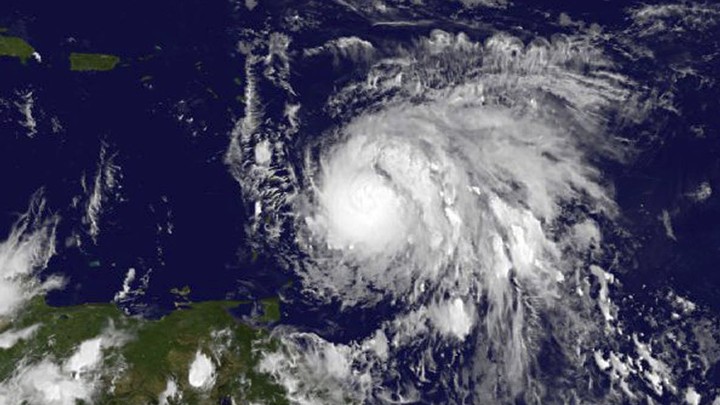 Updated on September 18 at 6:03 p.m. EDT
The Caribbean is preparing for an "extremely dangerous" major hurricane less than two weeks after Irma struck the region, devastating entire islands, flattening homes and buildings, and killing more than 30 people.
The National Hurricane Center on Monday night upgraded Hurricane Maria to a Category 4 storm packing 130-mile-per-hour winds with stronger gusts. "Additional strengthening is forecast during the next 24 to 36 hours, and Maria is expected to be an extremely dangerous major hurricane during the next couple of days," the center said in its latest advisory.
The eye of the hurricane is expected to reach the Leeward Islands and Puerto Rico Monday night, according to the latest forecasts. The Leeward Islands include the U.S. and British Virgin Islands, the two-island state of Antigua and Barbuda, the British territory of Anguilla, and other islands. Many are still assessing the damage of Hurricane Irma, which hit as a Category 5 earlier this month.
Hurricane #Maria is expected to continue intensifying as it approaches #Martinique. Winds sustained at 110 MPH with higher gusts. #GOES16 pic.twitter.com/r2VLNifSOj

— NASA SPoRT (@NASA_SPoRT) September 18, 2017
Storm advisories are in effect around the region. Hurricane Maria will bring storm surge "accompanied by large and destructive waves" that will raise water levels by as much as six feet to nine feet. The storm is expected to drop six inches to 12 inches of rain in the central and southern Leeward Islands with some spots getting as much as 20 inches. Between two and four inches are expected in the rest of the islands, including Barbuda and Anguilla, according to the National Hurricane Center. "Rainfall on all of these islands could cause life-threatening flash floods and mudslides," the center said.
Irma's effects on the region have been catastrophic. The hurricane has left hundreds of people homeless and thousands without food and other supplies. In the U.S. Virgin Islands and elsewhere, some residents wait in line for hours for water. On the Dutch side of St. Martin, 90 percent of buildings were damaged. The entire population of Barbuda, about 1,700, has been evacuated to Antigua, which was spared the hurricane's wrath, about 30 miles away.
Hurricane Maria arrives just over halfway through a hurricane season that has produced multiple devastating, record-breaking storms. Hurricanes Harvey, Irma, and Jose all reached Category 3 strength or higher. Harvey spent several days dumping torrential rains over southeastern Texas, leading to unprecedented levels of flooding that turned highways into rivers and homes into islands. Irma's 185-mile-per-hour winds broke the record for Atlantic Ocean storms. Jose, a Category 1 hurricane, is currently churning north from the Caribbean toward the east coast of the United States. Meteorologists predict the hurricane will stay mostly offshore, but it's expected to produce "dangerous surf and rip currents" along the coast, from Massachusetts to Delaware, the National Hurricane Center said Monday.
The storms also come during a period of the Atlantic hurricane season that the National Ocean and Atmospheric Administration calls a "season within the season." The season lasts from June to November, but between mid-August and mid-October, wind, temperature, and other conditions that are favorable for storm formation arise, leading to increased activity. More storms could still be on the way, even as residents of the Caribbean and parts of the United States are still preparing to handle the ones they've got.
We want to hear what you think about this article. Submit a letter to the editor or write to letters@theatlantic.com.