Hurricane Irma: 'Everything Is Under Water, I Mean Everything'
"I have little doubt Irma will go down as one of the most infamous in Atlantic hurricane history."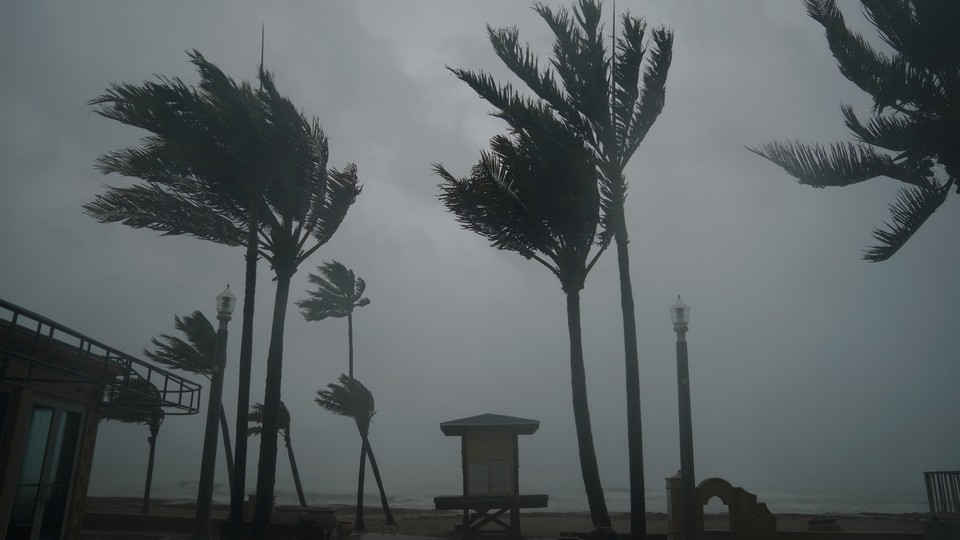 Updated on September 10 at 10:41 p.m.
Take it from the hurricane historian: There has never been a tropical cyclone quite like Irma.
"You've had storms this strong," said Phil Klotzbach, a meteorologist at Colorado State University who specializes in the history of Atlantic tropical cyclones. "But the thing that sets [Irma] apart is she stayed strong for a really long time—and she's still incredibly strong."
Speaking before the storm made landfall, Klotzbach said two things stood out to him about Irma as historically notable: its longevity and its point of origin.
Now, as of Sunday, Irma has been a hurricane for 11 days, becoming the longest-lived Atlantic hurricane since Ivan in 2004. It has stayed remarkably powerful over that time: It spent three consecutive days as a Category 5 storm, the longest-ever observed since satellites began tracking hurricanes in 1966.
But Irma had a strange origin: It became a Category 5 storm in a part of the world that usually does not produce huge hurricanes. When major hurricanes have struck the continental United States in the past, they have incubated in the much warmer waters of the Gulf of Mexico or the Caribbean. That's where Katrina grew in 2005, for instance.
Irma, on the other hand, expanded to its massive size in the tropical Atlantic, east of the Caribbean and the Gulf of Mexico. "To get something east of the islands—at least from the historical record, it hasn't happened before," said Klotzbach. "When people in the [Leeward] Islands were saying, 'We've never seen a storm this strong,' that's true. They haven't."
That record-breaking cyclone has now come in for its horrific finale. On Sunday, Irma made landfall in Florida twice—first in the Keys, then on the mainland—as a Category 4 storm. Wind speeds maxed out at 142 miles per hour in Naples, near where the storm came ashore. Irma is the most ferocious storm seen in the Sunshine State since Hurricane Wilma cut across the peninsula in 2005.
Irma weakened to a Category 2 storm late Sunday evening. Almost 3 million Floridians were left without power, and more than 6.5 million people had been ordered to leave their homes, the largest evacuation in state history. Schools were already closed on Monday as far away as Atlanta.
The storm's death toll stood at 27.
The storm appeared to devastate the Florida Keys, where it made its first landfall. "Everything is underwater, I mean everything," said Larry Kahn, an editor of FlKeysNews, describing the city of Marathon. Some effects of Irma's storm surge seemed to set in late that afternoon: The National Weather Service's forecast office in Key West stayed up through the worst of the storm's winds, but it lost contact with the outside world that afternoon.
The Miami Herald reported that people might remain in shelters in the Keys for several days.
The storm, now slowed, was expected to continue moving up the coast of Florida through Sunday and Monday. The National Hurricane Center warned that storm surge could remain dangerous for another day, and it said flash flooding and high rainfall totals would follow the storm into the continental United States. Irma is expected to weaken to a tropical depression near the Kentucky-Tennessee border Wednesday afternoon.
As tropical-storm-force winds began to batter Miami on Saturday, Rick Scott, the governor of Florida, spoke in a press conference of 15-foot storm surge, enough to submerge a one-story house. "Do not think the storm is over when the wind slows down," he said. "The storm surge will rush in and it could kill you."
"This is a storm of absolutely historic destructive potential. I ask everyone in the storm's path to be vigilant and to heed all recommendations from government officials and law enforcement," said President Donald Trump on Saturday.
"Irma has me sick to my stomach," said Eric Blake, a scientist with the National Hurricane Center, on his personal Twitter account on Thursday evening. "This hurricane is as serious as any I have seen. No hype, just the hard facts. Take every lifesaving precaution you can."
"I have little doubt Irma will go down as one of the most infamous in Atlantic hurricane history," he added.
The storm has already left a path of devastation across the Caribbean. On Saturday, it slammed into Cuba, becoming the first Category 5 hurricane to strike the island's north end since the 1920s. The Cuban government reported 23-foot waves and sustained winds above 120 miles per hour.
Before that, in the final days of last week, the storm wreaked havoc across a series of small islands. Some of the first reports were received from the British and American Virgin islands on Saturday, after the storm made landfall on Wednesday. Videos showed devastated houses and vast expanses of flattened forest.
The storm also struck St. Martin, a tiny island of 74,000 people, popular with European tourists. Daniel Gibbs, the president of the French territory of the island of Saint Martin, estimated that 95 percent of his country had been obliterated.
"There are shipwrecks everywhere, destroyed houses everywhere, torn-off roofs everywhere," he told Radio Caraïbes International, as translated by The New York Times. "It's just unbelievable. It's indescribable."
Witnesses described similar scenes on the island's Dutch half. "It's like someone with a lawn mower from the sky has gone over the island," said Mairlou Rohan, a European tourist visiting Sint Maarten, part of the Netherlands.
Officials also described outright devastation on the tiny island of Barbuda, which the storm directly hit earlier in the week. The prime minister of Antigua and Barbuda said the vast majority of that island's housing had been destroyed. "Barbuda right now is literally a rubble," he said. Some of the first overhead footage showed the island to be almost completely defoliated.
And though Puerto Rico was spared a direct encounter with Irma's massive center, about 60 percent of its households were left without power on Friday. Fifty-thousand people were without water on the island, according to the government.
Yet Irma has avoided some of its worst case scenarios. If Irma's path had ticked a bit further to the west, then the aggravated storm-surge effects in Tampa Bay could have been catastrophic. In 2010, Tampa officials and FEMA practiced preparation for "Hurricane Phoenix," a fictitious Category 5 storm that would directly strike the city. In the scenario, a tropical cyclone approached the city from the south, trapping water in Tampa Bay and deluging the region with up to 30 feet of storm surge.
For context, a maximum of eight feet of storm surge was observed during Hurricane Sandy's catastrophic flooding of Brooklyn and lower Manhattan.
And as Eric Holthaus writes at Rolling Stone, research from the past few years has suggested that the storm-surge estimates used in the "Hurricane Phoenix" exercise were perhaps six feet too conservative.
At the same time, had Irma made landfall on the east as it was originally forecast, then it could have incurred catastrophic storm-surge effects in Miami. More than four-fifths of Miami-Dade County is 10 or fewer feet above sea level. Almost all of the county would flood in a direct hit from a Category 5 storm. The only reported flooding in that city occurred on Brickell Avenue, its financial district, near Biscayne Bay.
The storm's last-minute westward shift also confounded preparation efforts. When Irma was first due to pass near Naples, a research model estimated that city could receive more than 10 feet of storm surge. Early reports suggested it was spared those high totals by Irma's weakened path. USA Today reports that it remains unclear whether some of Naples' official shelters could withstand Category 4 winds.
Some Miami residents who had fled to the state's west coast wound up racing to return home after the forecast changed, according to reports from Chris Hayes, an MSNBC anchor.
Behind it, Irma leaves not only destruction but more broken global hurricane records. It is the first storm ever observed, in any ocean, to sustain winds of 185 miles per hour for longer than 24 hours. (They whipped around its eye wall at that speed for 37 straight hours.) And Irma helped make Thursday, September 7, the most energetic day for hurricanes on record in the Atlantic. Two other cyclones, Jose and Katia, also churned through the Atlantic basin that day.
Irma's effects can already be felt far from Florida. Hotels in Atlanta were sold out of space. And a team of meteorologists—including experts from Florida and the continental United States, and two from Hawaii—flew into the Washington, D.C., area to staff an emergency backup National Hurricane Center. Had the proper center in Miami lost contact with the world during the storm, an emergency meteorology team in College Park, Maryland, would have leaped into action—forecasting a storm that marooned their colleagues to the south.