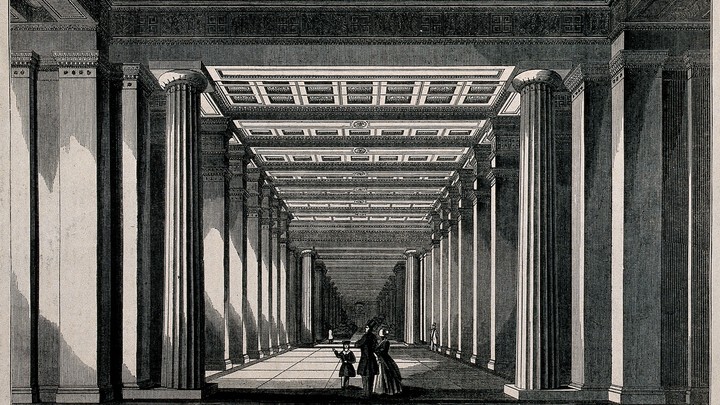 The latest controversy to embroil the British Museum began, as it often seems to do in the early 21st century, on social media, when @britishmuseum tweeted a reply to an innocuous #AskACurator question about exhibition descriptions. "We aim to be understandable by 16-year-olds," wrote the museum's Asia curator in a string of tweets. "Sometimes Asian names can be confusing, so we have to be careful about using too many."
Perhaps it's only natural that the Asia curator would reach for Asian names as an example of language unfamiliar to the average 16-year-old. But the Twitter crowd was in no mood to interpret her words generously.
And there is the larger context to consider: The British Museum is a museum that holds few items of actual British origin. Its treasures come from afar, often from people that the British variously fought, enslaved, colonized, and/or looted from. C'mon, one might say on the other side of colonialism, at least respect their names.
Institutions like the British Museum do not come about by accident. The idea of the public museum is an "artifact of imperial enlightenment," writes James Delbourgo in his new book, Collecting the World: Hans Sloane and the Origins of the British Museum. "Only a collector at the center of an empire could draw so many things together in order to tell them apart, in an astonishing attempt to catalogue the entire world."
The aforementioned collector is the man in the book's title: Hans Sloane, a physician immensely wealthy from his success tending to British nobility, including three monarchs, and his wife's Jamaican slave plantations. And what a collection all that money bought. A selection from the list his executors put together after his 1753 death includes: 3,516 volumes of manuscripts plus books of prints, totaling 50,000 volumes; 32,000 medals and coins; 12,506 "vegetable substances"; 5,843 shells; and 756 "humana." In his will, he offered it all to Parliament in exchange for 20,000 pounds to establish what would become the British Museum.
Despite this vast and cosmopolitan collection, Sloane's only personal adventure abroad was to Jamaica, where he served in his 20s as physician to the colony's governor. This is where he began collecting plants, animals, and crafts. When the governor died just 15 months later, Sloane set sail back to Britain bearing his collection of dead and preserved creatures as well as a live seven-foot yellow snake, an iguana, and an alligator. The snake slithered into the ship's servant quarters and was killed; the iguana leapt overboard in fright; and the alligator died just two weeks before they arrived in Plymouth. But for a transatlantic journey in the 17th century—when pirates and poor weather regularly befell ships—it went pretty well. Sloane's collection arrived in London intact, and his reputation as a collector started to grow.
Once Sloane established himself in London, his collecting relied on a vast network of contacts through the British empire—men who themselves seemed to quite often meet their ends in prison or on the sea. He drew on travelers—sometimes lowly employees of colonial trading companies, sometimes imperial officers—who brought back items from as far away as China, the Cape of Good Hope, and the Americas. (Delbourgo's book quotes extensively from Sloane's correspondence with his peripatetic collectors, and at points, one wonders if any of their stories would be more fascinating than Sloane's, which is largely one of sending letters from his London home to the people adventuring abroad on his behalf.)
It's worth pointing out that the British Museum originally created out of Sloane's collection is not the British Museum that we know today. His collection has been since split among that museum, the Natural History Museum, and the British Library.
The most famous and contested antiquities in the British Museum—such as the Elgin Marbles from Greece—did not arrive until the 1800s. Sloane's collection was a natural-history cabinet, albeit one made possible by vast colonial networks. Over time, writes Delbourgo, "imperial competition and pseudoscientific racism" prompted a reorientation of the museum, where a narrative took hold about the "progress of civilizations."  The British Museum today bears the legacy of the Victorian era. It houses the world's treasures in one vast Greek revival building—as if the British are the rightful heirs to the history of the Greeks and Romans, whom Victorians considered the "zenith of cultural and aesthetic achievement in the civilized world."
The progress-of-civilizations idea in the British Museum may now be sliding into anachronism, but there was something truly radical about the British Museum's creation, especially how Sloan insisted it be a public museum, open to anyone who might wander through London. Delbourgo's book opens with the prince and princess of Wales touring Sloane's private collection during the collector's lifetime. Before Sloane created the British Museum, the only way to access the collection was by being wealthy or an aristocrat or both.
Now anyone can walk into the British Museum for free. And you can freely drag it on Twitter.
We want to hear what you think about this article. Submit a letter to the editor or write to letters@theatlantic.com.