How Fluff Became Famous
The history of marshmallow creme is wrapped up in the origins of egg beaters, radio, and Mad Men.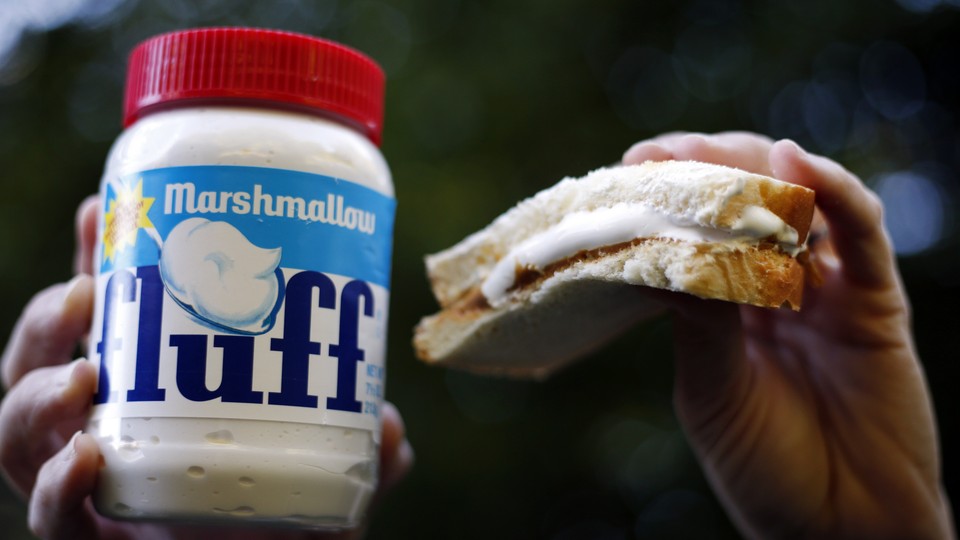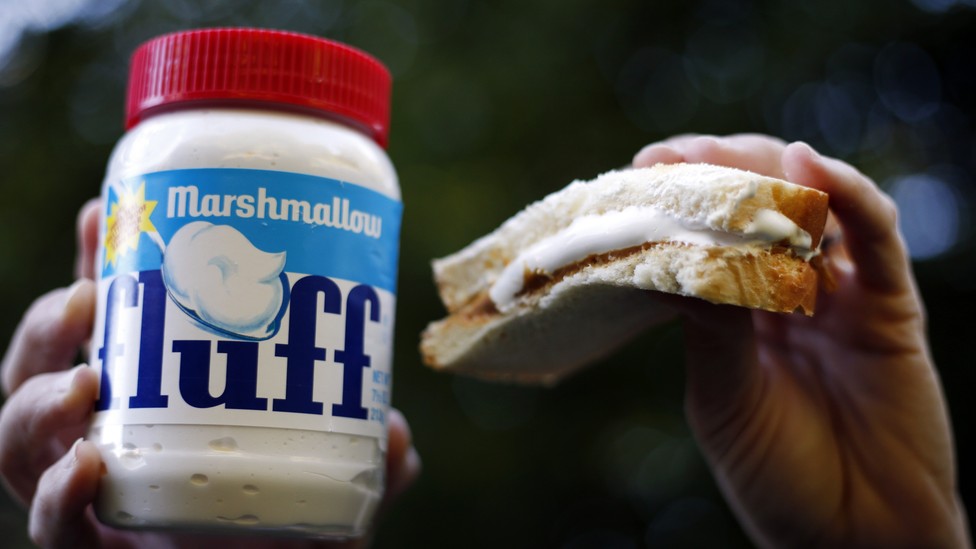 If you're not from New England, you may never have heard of Fluff, or its legendary sandwich-based incarnation, the Fluffernutter. The sticky sweet marshmallow creme was invented exactly one hundred years ago in Somerville, Massachusetts—at the time, the Silicon Valley of candy innovation. To celebrate, we're diving into the history of the disruptive technologies that led to Fluff's rise, as well as the secret behind its soft yet sturdy consistency. It's a story that involves Howard Stern, Fannie Farmer, and the fabulously named Archibald Query—so listen in and join this festival of fluff!
Long ago, marshmallows were medicinal throat lozenges made with the gooey sap of a wetlands plant, and beating eggs required the upper-body fitness of a Russian shot putter. That was before French confectioners ditched the mallow in favor of egg whites and gelatin, and American women's aching arms embraced the Dover Stamping Company's innovative mechanical whisk. Still, it took two World War I veterans, the invention of the radio, and the Mad Man behind the first Jewish-owned advertising agency in the United States to help make Fluff marshmallow creme into a New England lunch-box staple and American cultural icon—a substance that could simultaneously capture all of the country's tacky excess when smeared on a stripper on the Howard Stern show, and one man's existential sadness when requested by a Mafia assassin.
Our guide to the star-studded history and foamy science of marshmallow creme this episode is Mimi Graney, the author of Fluff: The Sticky Sweet Story of an American Icon, and founder of the world's one and only festival dedicated to the substance: Somerville's annual What the Fluff? festival. Join us this episode to discover the surprising affinities between Fluff and tuna, the secret Fluff flavor that is only available overseas, and the science behind Boston's history of candy-making innovation.
---
This article appears courtesy of Gastropod, a podcast cohosted by Cynthia Graber and Nicola Twilley that looks at food through the lens of science and history.