Waiting for a Signal From Arecibo
The world's second-largest radio telescope has sustained "some damage" from Hurricane Maria.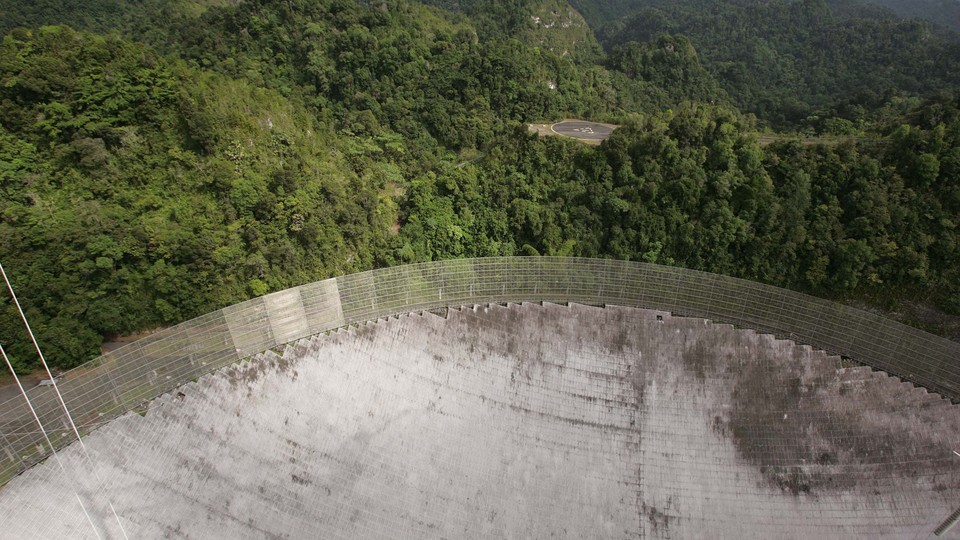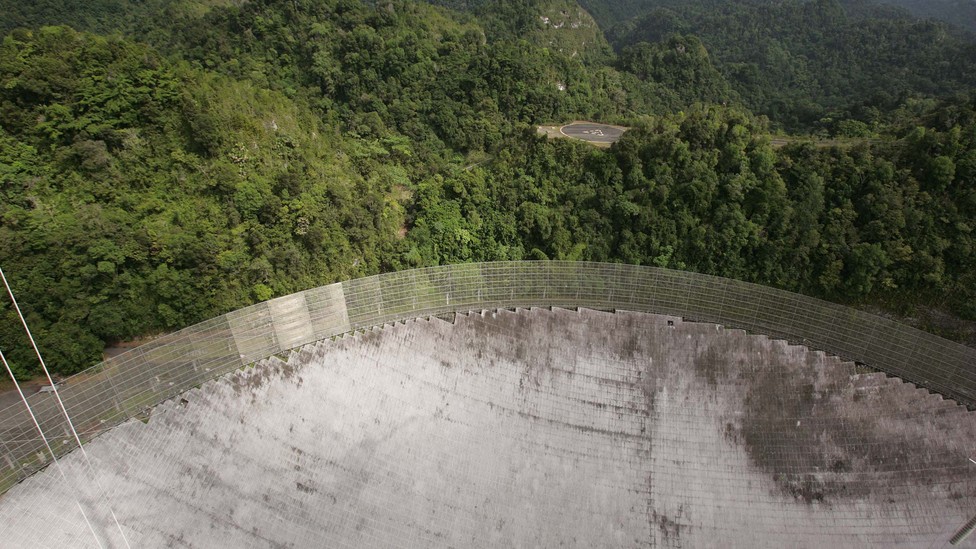 Updated on September 22 at 9:45 a.m. EDT
Hurricane Maria knocked out power to all of Puerto Rico and its 3.5 million residents this week, including the researchers who kept watch over the the world's second-largest radio telescope as the storm hit.
The Arecibo Observatory, located about 60 miles west of San Juan, on Monday suspended planned observations and started "hurricane-readiness procedures" to secure its telescope and research equipment as Hurricane Maria approached. The hurricane made landfall early Wednesday as a Category 4 storm, bringing heavy rain and 155-mile-per-hour winds. The storm destroyed homes, flooded roadways, and killed at least one person.
News reports of damage began to emerge Thursday, but communication remained limited. The Universities Space Research Association (USRA), one of Arecibo's operators, said in a statement that it had lost contact with the observatory after the storm hit. After hours of silence, they regained contact Thursday night.
Radio contact est. w/ @NAICobservatory - staff & family sheltered there are safe. AO has some damage, we have to wait for full assessment.

— USRA (@USRAedu) September 22, 2017
Puerto Rico officials say it could take months to restore electricity in Puerto Rico.
Arecibo, nestled in a mountain range in Puerto Rico's northwest, has scanned the skies with a 1,000-foot-wide dish since the 1960s. Some of astronomy's greatest minds, particularly in the search for extraterrestrial life, conducted research there. They include Jill Tarter, the cofounder of the SETI Institute in California, Frank Drake, creator of the famous equation for estimating the existence of alien civilizations, and the late Carl Sagan, the great popularizer of space exploration and Golden Record maker. In the 1970s, Drake used the telescope to transmit a message about earthly life to a star cluster 25,000 light-years away in the hopes that someone was around to receive it.
Arecibo popped into the news in July when astronomers reported that the telescope had detected mysterious radio signals coming from a star 11 light-years from Earth. After several days of followup observations, astronomers concluded the signals were transmissions from one or more Earth-orbiting satellites.
At least two Arecibo employees were tweeting from inside the observatory Tuesday night before Hurricane Maria struck and the island lost power. "Definitely have a bunch of them ... enough for an expected 72-hour (last approximation I saw) storm?" said Ed Rivera-Valentín, a planetary scientist, of the Milano cookies he had with him. "Hmmm ... I should pace myself." Robert Minchin, head of radio astronomy at Arecibo, wrote late Tuesday night, "Lost power 11:05 will be tweeting by SMS if network stays up."
Abel Méndez, the director of the Planetary Habitability Laboratory at Arecibo, who appeared to be weathering the storm outside of the observatory, said Tuesday night he was "just trying to relax, reading, and sharing science news."
None of them have tweeted since late Tuesday night.
Hurricane Maria moved toward the northern coast of the Dominican Republic on Thursday. The storm, now Category 3, brought heavy rains and strong winds to the Turks and Caicos Islands Friday, according to the latest advisory from the National Hurricane Center.