What Kind of Monuments Does President Trump Value?
He's spoken in support of Confederate statues while threatening to undo as many as 27 conservation parks.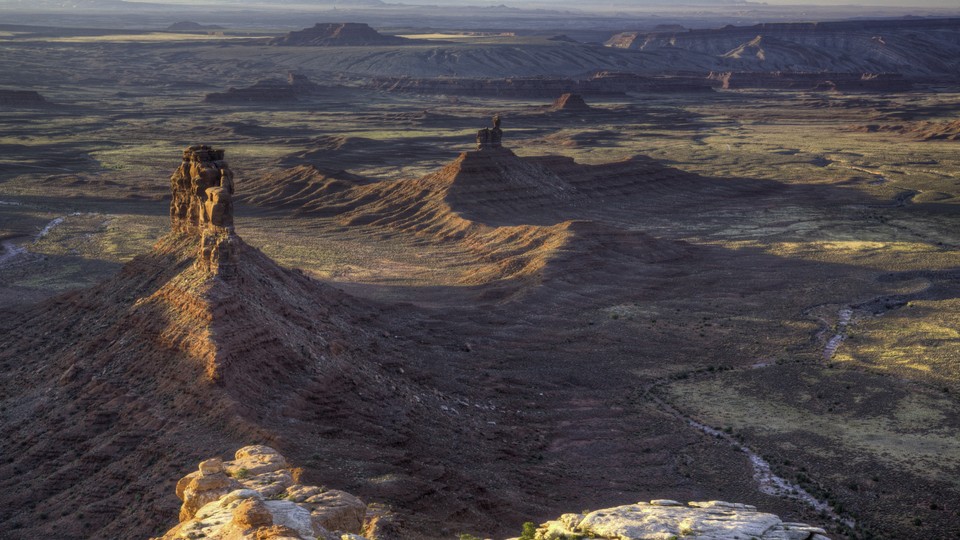 On Thursday morning, President Donald Trump announced his unequivocal support for preserving statues of Confederate generals and leaders, moving a step past his previous statements that the fate of the statues should be left to cities and states.
In full, his tweets read: "Sad to see the history and culture of our great country being ripped apart with the removal of our beautiful statues and monuments. You can't change history, but you can learn from it. Robert E Lee, Stonewall Jackson—who's next, Washington, Jefferson? So foolish! Also the beauty that is being taken out of our cities, towns, and parks will be greatly missed and never able to be comparably replaced!"
It was not the first time he had spoken about monuments—national or otherwise. In April, Trump ordered the Department of the Interior to review whether every national monument created since 1996 should be eliminated or shrunk from its current size. His order put protections for tens of millions of acres of public land in doubt.
These are not the same type of monuments, of course. The Confederate monuments that Trump describes are stone or bronze depictions of leaders who took up arms against the United States. They are scattered across the entire country but concentrated in the Southeast. (There are also assorted plaques.)
The national monuments of Trump's April executive order, meanwhile, are areas of federally owned land set aside for their natural beauty or cultural significance. They are somewhat akin to national parks, except that a president can unilaterally designate a national monument under the Antiquities Act of 1906. A national park can only be created by an act of Congress.
One of the sites most likely to be downsized is Bears Ears National Monument in southeastern Utah, which was created by the Obama administration in December of last year. It encompasses more than 2,000 square miles of wilderness—desert, shrub, canyon, and peak—including two enormous buttes that give the area its name.
Since the late 1990s, some Republicans, especially in the West, have argued that national monuments created by the Clinton and Obama administrations were too large and exceeded the Antiquities Act's authority. Bears Ears came under particular attack.
"The Antiquities Act does not give the federal government unlimited power to lock up millions of acres of land and water, and it's time that we ended this abusive practice," said Trump as he signed the order.
He promised to "return control [of the land] to the people, the people of all of the states, the people of the United States."
Another group of people responded very differently to the Bears Ears announcement. Five indigenous nations lobbied the U.S. government to preserve the land, saying it holds historical, cultural, and sacred significance to their people.
"[The designation of Bears Ears] actually brought tears to my face," said Eric Descheenie, a member of the Navajo nation and an Arizona state legislator. "It's so hard to even try to add up what this really means. At the end of the day, there's only a certain place in this entire world, on Earth, where we as indigenous peoples belong."
The Antiquities Act was written more than a century ago in part to prevent "pothunting," the theft of indigenous artifacts from unprotected sites on public land. Bears Ears, which contains dozens of uninhabited Native cultural and archaeological sites, had been the target of considerable pothunting.
In 2009, federal agents raided the nearby town of Blanding, Utah, arresting 17 suspects and seizing thousands of allegedly stolen artifacts. Locals say that the raid was too broad and that it led to tragic consequences. Many also believe that pothunting is a way of life.
But the huge number of artifacts the raid recovered shocked Native nations into action. Indigenous leaders felt that some kind of lasting federal protection must be extended to the Bears Ears area, and they worked with Utah's congressional delegation for years to try to secure protection.
Half a decade later, when the tribes felt that avenue had failed, they asked the Obama administration to extend protection to the area. It granted their request. Supporters of Bears Ears describe the park as the first national monument created in collaboration with indigenous nations.
What is beautiful about the statues? As my colleagues Yoni Appelbaum and Adam Serwer have written, they represent traitorous leaders of a military campaign as cruel and brutal as it was grounded in violent racism.
Far from being hand-crafted by artists, many of the Confederate monuments put up between 1895 and 1915 were mass-produced by firms in the North. Other monuments were installed later.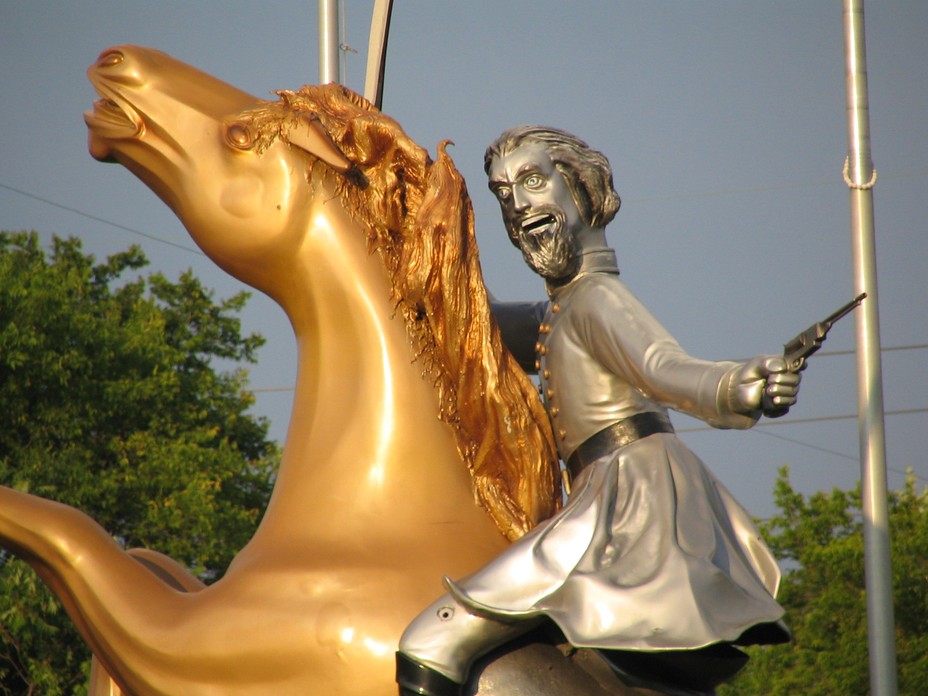 The national monuments currently under review by the Trump administration are scattered across the West. They include two vast oceanic preserves in the central Pacific. They also include the Río Grande del Norte National Monument in New Mexico, designated in 2013:
Also on the list is Ironwood Forest National Monument, a 129,000-acre preserve in the Sonoran Desert of Arizona:
And the Carrizo Plain National Monument in California, which bursts into wildflower-covered "superbloom" every spring: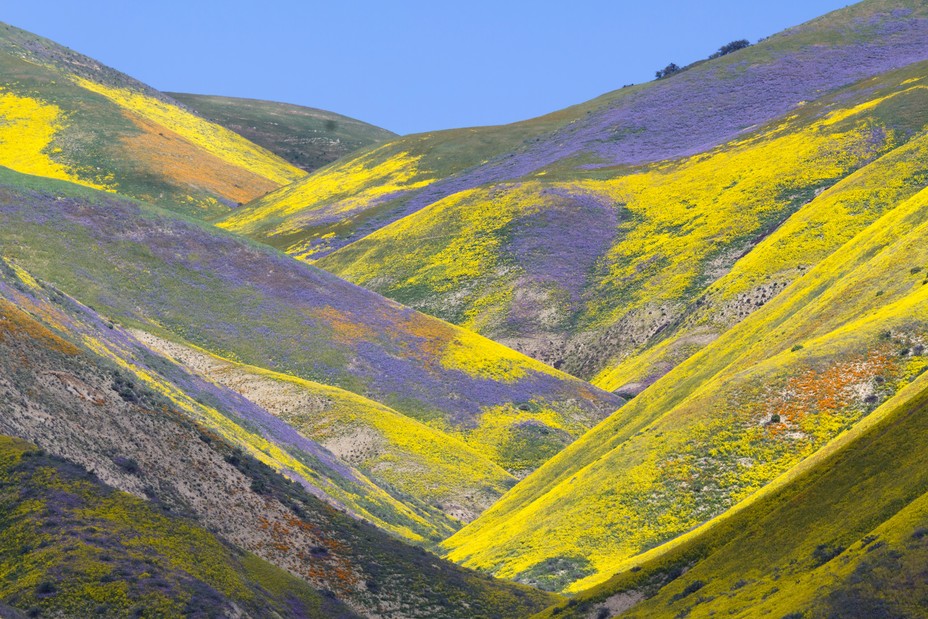 Though experts believe most of these monuments will likely survive review, the Secretary of the Interior's discretion to change their boundaries may be quite broad. And there is no legal link between the two kinds of monuments: Many people may feel one way about President Trump's views on Confederate statutes and another way about the alleged abuse of the Antiquities Act.
But the excitement with which the president defends one kind of monument, while undermining another, does raise the question: What kind of history does the president value? What does it look like when history is destroyed? And what kinds of beauty and culture can be truly lost—what treasures of the United States can, once removed, never by human hands be comparably replaced?
---
* This article originally misstated the number of conservation parks Trump has threatened as 40. We regret the error.