The Procrastinator's Guide to Cosmic Marvel
So you want to see the total eclipse ...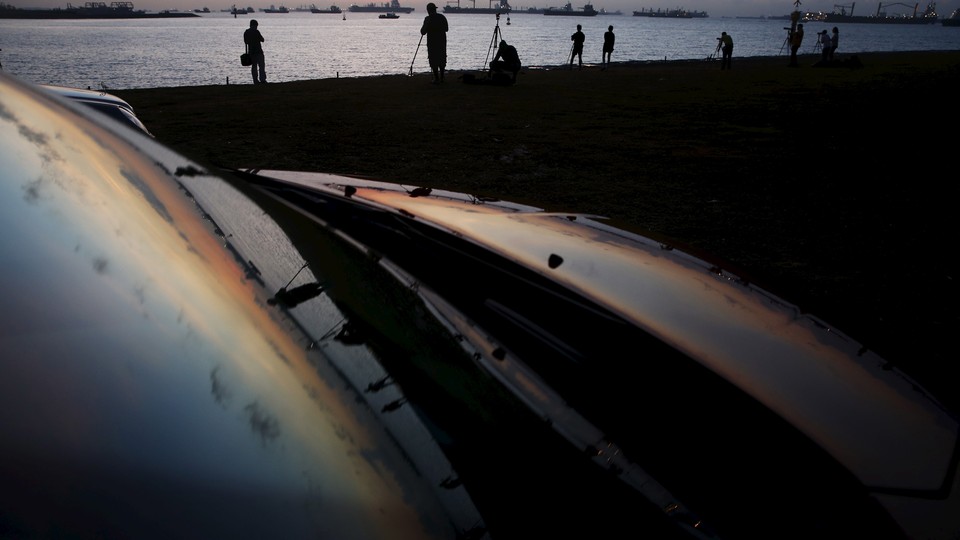 "In that moment, everything that you take for granted is suddenly gone."
To hear Frank Close talk about why he chases totality is to wonder if you've ever felt a moment of real passion in your life, or if you ever will. The particle physicist was featured on the podcast Every Little Thing, in an April episode called "Rapture Chasers." Close and the author and psychologist Kate Russo spoke—raved—about the highs they felt in their years of trekking across the planet to see total eclipses. The episode occupied most of my half-hour walk to work the morning it came out.
I blushed furiously when a clip of orgasmic moans and cries played in the show's teasing intro. When the clip repeated later on, the hair on my arms pricked up. I was won over by the promise of ephemeral transcendence, one that would present itself to the continental United States come August 21. "You lose a sense of time, of where you are in the world, and you just seem to get this clarity about what your life is about, I guess," Russo told Flora Lichtman, the host of the podcast. "It's one of those times when you can truly, truly be in the moment." Wow, I thought. And promptly forgot about it.
It wasn't until months later—this month, in fact—that the eclipse began to linger in my mind. Of course it was Annie Dillard's wonderful 1982 essay; of course I'd need an emotional appeal to give the eclipse the attention it's due. The most effusive accounts of totality have developed their own tropes over the years; they center around feeling overwhelmed, a sense of things gone wrong, humility, exhilaration—in short, awe.
In theory, awe brings with it a host of positive benefits; studies by a team of researchers at University of California, Berkeley in 2003 revealed in participants that "awe was associated with feelings of humility and closeness to others," Michelle Nijhuis, an Atlantic contributor, wrote last fall. A 2012 study by researchers at Stanford University and the University of Minnesota found that participants "who felt awe, relative to other emotions, felt they had more time available, were less impatient, were more willing to volunteer their time to help others, and more strongly preferred experiences over material goods."
I'm not a science person; the Earth's land mass and oceans—never mind space, for God's sake—are vast enough to be unfathomable. What I can fathom, though, is thrill, is epiphany—the whoosh of realization that YOU ARE HERE, and now you see the truth. Last week, reading Dillard's words—"We had, it seems, loved the planet and loved our lives, but could no longer remember the way of them. We got the light wrong"—I decided I needed to see this truth.
There are plenty of reasons not to go. These last few days, I've found most persuasive the cost, the potential for loneliness, and the sheer inconvenience of relocating hundreds of miles away for two and a half minutes of gazing at the sky. There's the possibility I'll do it wrong—that I'll leave too late and watch the big moment pass while I sit on a clogged highway, just beyond totality. There's the possibility I'll waste it—that I'll be so caught up in the hassle of the day that I won't see God and this truth and my insignificant place among the detritus of the universe.
To be sure, the buzzing around the Atlantic newsroom these last couple of weeks and the ubiquitous eclipse coverage online (including our own) played a role in my impulsive decision. But if you're like me—opting to travel to experience the total eclipse months, even years after some booked their trips—let's be generous to ourselves and say this is spurred by more than mere FOMO. And if you're on the fence, there's still time to drop everything and go. I did—rather, I will. Consider this a pre-travelogue.
Where should I go?
Rebecca Boyle, the editor of our eclipse coverage, pointed me to the best totality map I've seen, courtesy of the French cartographer Xavier Jubier. Zoom in to see the path of totality in detail—the closer your location is to the blue center line, the longer the period of total darkness you'll experience. Areas outside of the path will only see a partial eclipse. The closest intersection from my apartment in D.C. looked to be somewhere in South Carolina—a state I've never visited. So that's where I'll go to commune with nature and the cosmos, albeit briefly.
Where will I stay?
In "Rapture Chasers," recorded sometime before mid-April this year, finding overnight accommodations in one town along the path—Jackson, Wyoming—had already become a fool's errand. I decided not to bother looking for a hotel or Airbnb. I have a tent, sleeping bag, and the other necessities from solo hiking trips in Shenandoah National Park this past spring; I'd camp out. A perfect idea, and a not uncommon one, as it turned out!
There were few available tent sites left in South Carolina's state parks on ReserveAmerica.com by the time I checked last week—at least, at the parks that were remotely close to the path. After clicking around, I fell in love with the lighthouses around Hunting Island, which sits along the coast on the other side of the path. Each night cost $40, and South Carolina's state parks require a minimum of two nights. So, I decided to part with the $80 and consider myself lucky.
My plan started to take shape: I'd leave D.C. Saturday night after a house-sitting obligation ended, and stay at a friend's apartment in Richmond, Virginia. The next day I'd drive to Hunting Island to camp, then to a viewing spot the next morning, well before the eclipse begins. Afterward, I'd hang out wherever I am to get some work done and, in theory, let traffic die down, then make my way to Durham, North Carolina, to spend the night at two other friends' house and break up the drive back to D.C.
How will I get there?
Sometime last week, my dopily optimistic planning began to take on a shade of Planes, Trains, and Automobiles. The drive from northwest D.C. to Hunting Island, South Carolina, is 573 miles one way. I'd conveniently forgotten while reserving a Zipcar that I'd have to pay 45 cents for every mile I drove over the daily limit of 180. Upon discovering the cost would be upwards of $600, I started considering other options. Flying would cost north of $800, round-trip. It would also make bringing my camp gear in its current duffel-bag arrangement virtually impossible—which would take me back to square one, needing a hotel where I could lay my weary, cash-poor head upon arrival. Amtrak would cost at least $170 each way, and would still necessitate finding a car when I got down South.
Initially, renting a car through one of the major companies seemed like the fastest way to go broke. But after taking advantage of an airline loyalty program's code, I was able to get a car reserved from Saturday to Tuesday evening for a little over $300 (including a couple per-diem insurance add-ons, because I'm an overly cautious sucker).
Wait, back to 'Where will I go' for a sec ...
Right, right, where will I actually see the thing ... well, I'll be honest with you, reader: I'm still figuring that out. Despite how close I'll be to Charleston when I wake up Monday morning, South Carolinian subredditors have been dire enough in their traffic-snarl warnings to make me look elsewhere. Instead I'm considering Columbia.
Both cities have full sites built around event listings for the eclipse; the abundance of choices is at once helpful and overwhelming. I'm aiming to strike a balance: I don't want to be packed in shoulder-to-shoulder with others, but I don't want to be all on my own. I want to experience some degree of the connection to humanity that Russo (and a number of awe researchers) describe, but I'd prefer not to set myself up for a panic attack without some sort of written guarantee from the universe that I'll indeed leave feeling much closer to the rest of humankind.
I want to be near wildlife; I want to hear how the birdsong changes and see the unadulterated natural world adjust to the sudden, incongruous, two-and-a-half-minute night. But where? Most of the online chatter I've read among locals and out-of-towners has warned eclipse-chasers away from major parks. On the city of Columbia's eclipse events page, for every viewing party out in nature, there appear to be four or five at a rooftop bar or brewery. But my favorite of all: a community shredding party hosted by a local credit union from 12 to 4 p.m. What else would I be doing in the path of totality during the only eclipse in a century to reach both coasts than shredding "those super secret docs"?
My plan for now is to make my way toward Columbia early in the day. As long as I make it into the path of totality before 2:41 p.m., the trip won't have been in vain.
What do I need to bring?
State and local officials, like those in Oregon, have been warning eclipse viewers about traffic with apocalyptic frequency and chirpy flair. Gird yourself for a gridlock before and after the eclipse; if you can, stay where you are an extra day to give traffic some time to calm down. If you can't, have enough gas, water, and food to keep you and your crew comfortable for the long haul. Cell service might be out of reach during your trip; bring paper maps, or print out directions of alternate routes if you suspect traffic on your desired highway will be a bear. It may also be in your best interest to bring toilet paper, or those amazing to-go packs of toilet wipes.
You'll also need eclipse viewing glasses, even if you aren't traveling to see totality. (In fact, you need the glasses only to see the partial eclipse; viewers in the path of totality can remove their glasses once the sun is completely covered, and put them back on when light begins to peek out from behind the moon again.) It's probably too late to order these online. But some hardware and chain stores nearby are likely still selling them. Find an ISO 12312-2–compliant and CE-certified pair, and be on the lookout for fakes. You can also look for welder's glass, in at least shade 12 or higher. Some other odds and ends to pack: sunscreen, bug spray, rain gear, lawn chairs or a blanket to sit on, and maybe a light jacket in case the temperature drop during totality brings a chill.
What do I expect?
Awe isn't always good. Jennifer Stellar, a professor at the University of Toronto, characterized experiences of threat-based awe as having "fear as their central theme—if they make people feel stressful, alienated, or alone." This sort of awe, Stellar and her colleagues discovered, doesn't deliver the same emotional, physical, and social benefits as its neutral and positive siblings. In her article last year, Michelle Nijhuis concluded that "only with the luxury of distance, it seems, can we experience awe as awesome in every sense."
There's no given danger in the moment of totality. As for distance, we'll have 238,855 miles between us and the closest actor in this cosmic coincidence.
I sought out the experience of totality to rise, for a moment, above myself, to find and feel the predictable rapture Kate Russo and others evangelized. "You kind of don't understand how a celestial event could be really exciting," Russo said on Every Little Thing, seeming to speak directly to those of us who barely survived science courses in school. But, "there's something unique about the total solar eclipse ... there's an emotional aspect to it that really makes us feel so connected to humanity, that we're just humans on this Earth in this vast big universe."
I'm counting on that, maybe more than I should.