The Turkey in the Left Turn Lane
How a bird that stood in traffic captivated, united—and divided a town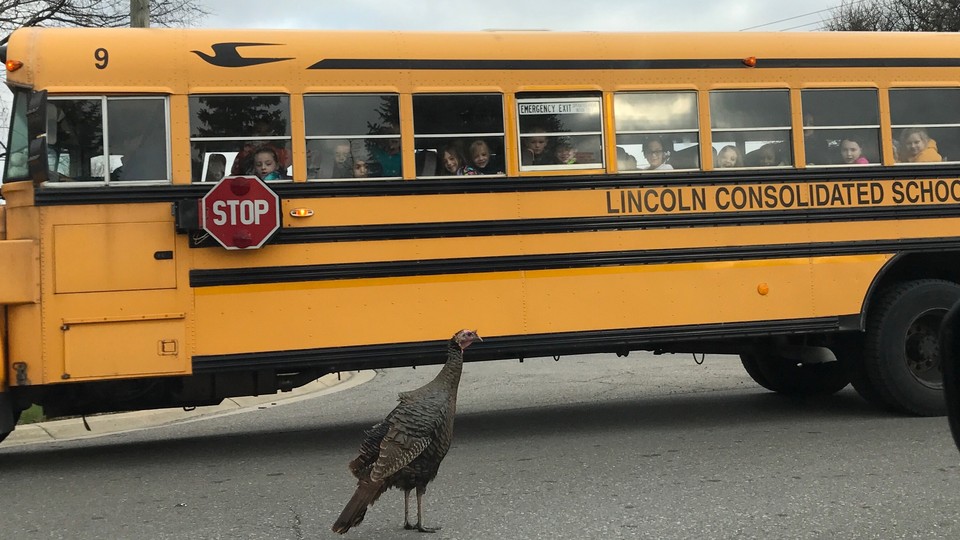 As 2016 gave way to 2017, a turkey moved into the left turn lane of a major intersection in my hometown. Some say he arrived in January of this year; others are sure he was around in late 2016. But regardless, once he was there, he was there to stay. When he wasn't in the street, he rarely strayed far from the nearby corner that he'd decided to make his home.
In suburban Ypsilanti, Michigan, the corner of Whittaker and Textile sits in between a residential area of schools and subdivisions, and a busier commercial area with a grocery store and several restaurants that dot Whittaker Road as it heads toward the highway. The turkey's constant presence in this busy spot made him a local celebrity, and the unlikely, or perhaps inevitable, epicenter of a community in which humanity's best and worst instincts played out.
I first became aware of the turkey in March, when my best friend, who was still living in Ypsilanti at the time, invited me to the Facebook group. Kim Gray, a 48-year-old nurse from Ypsilanti, had originally started the group just for her and her friends, but it quickly grew, with hundreds of members by the time I joined. (Today that group has just under 6,000 members.) The group had taken a poll and named the turkey "Whittaker."  People shared pictures of their sightings, and, at the time, were involved in a heated debate about the sex.
The local Humane Society of Huron Valley confirmed that he was a male—he was very young when he first appeared, and it was difficult to tell. That makes sense, since young jake turkeys tend to leave their families and stake out their own territories in the springtime, according to Bobbi Carpenter, a master's student who studies turkeys at the University of Florida. And Whittaker was firmly installed by spring. As for picking a busy road for his territory, Wendy Welch, the communications director of the HSHV told me: "Though this is a unique thing for us, it's not for the country—as human development expands to decrease natural habitat, we're essentially forcing wild animals to make our neighborhoods their own."
I live in Washington, D.C., now, but I kept up with the many twists and turns in Whittaker's story online, and thanks to regular text updates from my family and my friend. Shortly after the group was created came Turkey X-ing signs at the intersection, news reports in several local outlets, and T-shirts that read Welcome to Ypsi-Turkey—a play on Ypsitucky, which is a sometimes affectionate, sometimes derogatory term for the town referencing the many people who moved there from Appalachia.
A local lawyer, Joseph West, also proposed that the township give the bird honorary citizenship, with a draft proclamation that read, in part:
WHEREAS, the citizens of the Charter Township of Ypsilanti, young and old, have celebrated this wild turkey's unique personality, blending uncommon dedication of its self-appointed role of the gobbling guardian of the Whittaker Intersection, a zealous performance of these duties regardless of inclement weather or apparent danger to itself, an evenhanded approach to pursuing vehicles and pedestrians (never favoring, for example, one make or model of vehicle over another), and an overall don't-quit attitude ...

NOW THEREFORE BE IT PROCLAIMED by the Charter Township of Ypsilanti Board of Trustees that Whittaker the Turkey is and forever shall be an Honorary Citizen of the Charter Township of Ypsilanti.
This proposal was politely declined by the township board of trustees.
"I can't explain the phenomenon," Gray said. "Why everyone—including myself—has spent and committed so much time and effort to a wild turkey. I don't think anyone's been able to identify what the magic glue was that held everybody together."
It is a little hard to explain. The intense enthusiasm Whittaker engendered may seem out of proportion with the experience of occasionally seeing a turkey out your car window. The whole thing reminds me of Li'l Sebastian from Parks and Recreation—on the show, the entire fictional town of Pawnee is enamored of and starstruck by this miniature pony, Li'l Sebastian, who is treated like a hero despite not appearing particularly exceptional. And people from outside of Pawnee are extremely confused and don't see the appeal. For a while, during the reign of Whittaker, Ypsilanti became Pawnee.
Part of his appeal was that Whittaker consistently evaded capture, and eventually authorities just gave up trying. Staff from Michigan's department of natural resources tried to apprehend him twice with a rocket net—which is exactly what it sounds like—to no avail. "They did not want to unduly stress the bird, so after the second attempt, they let the turkey be," Holly Vaughn of the DNR told me in an email. The Humane Society made "over a dozen attempts to capture and relocate Whittaker" as well, Welch told me. They also set out a trap, but someone stole it.
"Turkeys are extremely clever birds and are generally very wary when they perceive that something dangerous may be close by," Vaughn added. "This bird responded well to the perceived danger of the rocket net, but did not seem to perceive cars as a danger."
Indeed, he exhibited a blatant disrespect for the killing power of cars, often pecking at them, or lying languidly in the road as they rolled by. "There are personalities to some degree," Carpenter said. "Some birds are a lot more tolerant of people and are much more bold."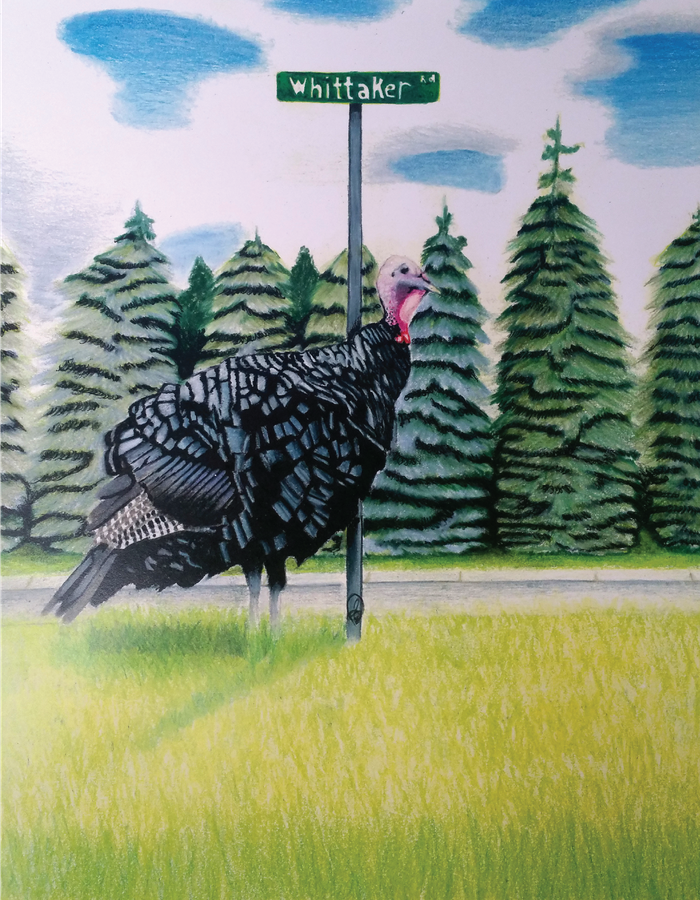 Brian Malley, a psychologist at the University of Michigan in the nearby town of Ann Arbor, thinks there are three main reasons why Whittaker captured people's attention—and held it for so long. One was the obvious: his location. Being in a major intersection, "people are seeing him as they go to work in the morning and as they come home," Malley said. "A time when people are particularly interested in finding something that's going to add color to their daily life."
"Another factor was that if you didn't want to hit him, you had to watch out for him. He commanded your attention," he adds.
And lastly, "he was a very good foil for people to project onto and personalize."
Lori Clark, a 53-year-old bus driver for the nearby Lincoln Consolidated School District, vividly remembers the first time she saw Whittaker. She was on the bus, driving high schoolers home at the end of the day. "The sky was so turquoise, and this little turkey was just standing there so tall and so proud, and he was so golden brown. He just reflected against that turquoise sky and it was like he glowed. It was almost like a sense of peace came over me—all I could do was smile the rest of my route. I don't know if you believe in this stuff, but it was almost like an angel."
But light and dark are inseparable, and one of the laws of being online is that a group of people may not gather to enjoy something fun and silly without it also devolving into heated arguments and hurt feelings.
There were those who thought the bird should be moved, and those who wanted him to stay. There were hunters who posted videos of turkeys being shot (these among the few who Gray banned), and people who simply said that they weren't going to slam their brakes and put themselves at risk for the sake of a turkey who didn't know better than to get out of the road.
The biggest schism, though, came when a woman named Becky Crumbley, a 42-year-old stay-at-home mom who lived at the intersection, started feeding Whittaker a couple times a day, in an effort to get him to stay in her yard, and out of the road. The turkey was already a frequent visitor to her property, but when she started posting videos and pictures of their interactions, many people got angry that she was feeding him.
"They just started bashing me," Crumbley said. "It was just a constant stressful thing the way they were attacking me over taking care of a wild turkey, so I left that group."
She started her own group instead, with the rule that any pot-stirrers would get kicked out. "My page will not be for bickering; I won't have it," she said. "If you don't support us and what we think is best for Whittaker, then go back to Kim's page."
"It really became a tale of two cities in some ways," Gray said.
Crumbley also said that shortly after the debacle, she found a bunch of screws and staples in her driveway, which popped some of her fiancé's motorcycle tires. "We have no way to verify anything, but it all happened after these fights on the Facebook page," she said.
The conflict escalated when Whittaker met his inevitable end. Though he lived longer than any bird that spends a large part of its time in the middle of the street could be expected to, Whittaker was hit by a car on July 3, and euthanized that evening.
The day he was hit, Crumbley says several people alerted her and asked her to go check on him, and she found him lying in the field near the traffic light. "All I knew to do was get down there and love on him and talk to him," she said. And she was getting ready to try to move him when the Humane Society showed up and removed him. "I just keep reliving that moment—if I'd have been five minutes earlier and just got him out of there, maybe I could've doctored him instead of putting him to sleep," she said. "I could've at least loved him to death—literally."
Welch, of the Humane Society, told me that Whittaker had "severe internal and external injuries to his hind quarters that were causing him severe pain and were determined to be fatal," which is why he was put down.
But then there was a dispute over his remains. Clark and Crumbley both told me they put in requests for his remains with the Humane Society, and the fight over which group should get them played out publicly on Facebook. Crumbley wanted to bury him on her property—"where he slept and ate," she said—and invite people onto it to visit him, but others felt that wasn't fair to the larger community. "Whittaker didn't choose her—she fed him," Clark said. "Anybody can condition an animal with food."
In a moment reminiscent of Solomon's judgment, Gray told me she suggested to the Humane Society that the ashes be split, but Crumbley declined.
"That seems to be the new hobby of people is to become polarized. And that's exactly what's happened here," said Larry Hoxey, a 54-year-old pastor at a church in nearby Wyandotte, Michigan. "In deference to people on both sides of the issue, the turkey is the one who decided to own the intersection. No one forced it to do that. The turkey was its own worst enemy. It had a death wish, and it got it fulfilled, sadly."
Malley, the psychologist, laughed when I told him about the dispute. "There you have the human condition," he said. "Some people are saying 'What a community builder,' and then they're fighting over his remains, which is the most absurd thing."
Both Hoxey and Gray mentioned to me that the angry arguments after Whittaker's death seemed to them to be rooted in the grieving process.
The Humane Society ultimately did not issue the ashes to anyone, but buried them at Whittaker's intersection after a memorial held in the township civic center. The conflict died down after that, Gray said—"Now it's really calm. I think people feel like they had closure."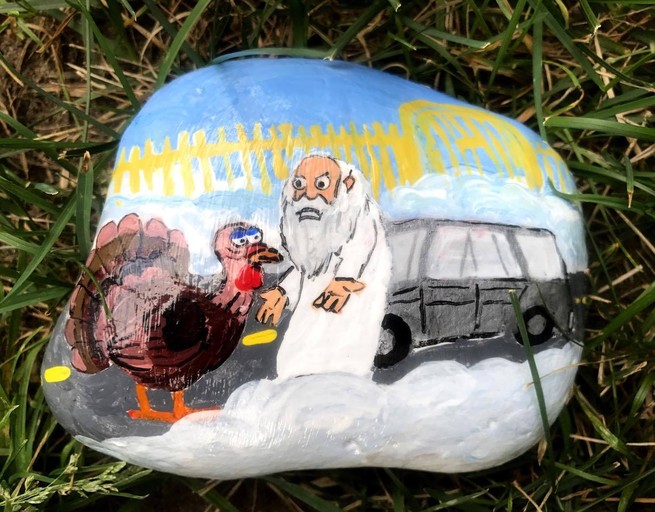 Sixty or so people showed up to the memorial, according to the Humane Society. People came wearing their memorial T-shirts (which read: No left turns in heaven). Welch announced that members of Gray's Facebook group had donated nearly $600 to the Humane Society for a memorial brick for the bird. Several people spoke about how they wanted to keep the energy generated by the community going, and do some other project. A "turkey trot" race around Thanksgiving was one suggestion.
Hoxey delivered the opening prayer at the memorial, and expressed a similar sentiment. "I would like to join with all of you in keeping this goodwill alive," he said. "Because Whittaker has left us a gift. And some may scoff and some may judge, but I'm telling you, what is happening is real. You can feel it. You can't point to love … but you can sure feel it when it exists."
Many more people posted remembrances of the turkey online. Barbara Patton wrote of losing her husband to brain cancer in the fall, and how Whittaker brought a smile to her family's faces during a hard time. "I despised the silly arguments that erupted," she wrote. "None of it was so serious that it needed to be argued over. It wasn't brain cancer. So let's be a little kinder to each other."
I saw Whittaker one time and one time only, when I was home visiting my family a few weeks before he died. I made everyone whose car I rode in drive through the intersection on the way to wherever we were going, and finally caught a glimpse and a single blurry picture. And when he died, I sent some tearful emojis to my friends, but mostly felt fine. Until I found myself confusedly sobbing a couple hours later.
For Clark, seeing Whittaker in the field that day inspired her to start making art again—she would often Photoshop pictures of the turkey posted on Facebook to make them more abstract and colorful. "It's like he opened up my creative side again," she said. And what's more, "I feel like so much more love has come into my life since I've seen that turkey. He was a gift sent from God or something."
Crumbley moved to Michigan from Tennessee not that long before Whittaker showed up in her yard. When she arrived, "I had no friends in Michigan, none," she said. "I didn't have anybody to just call and say 'Do you want to do lunch?'" But through her Facebook group, she connected with several people. "I'm a firm believer that God sent that turkey to bring me friends."
I couldn't help but notice that despite being at odds over Whittaker during his life and after his death, Clark and Crumbley view the turkey in a remarkably similar way. But even those who wouldn't go so far as to ascribe supernatural origins to the turkey found something special in the six months or so he was around.
"I don't wax poetic about Whittaker," Gray said. "I just feel like he made me slow down and appreciate something unique for while we had him. That was unbelievable and lovely."
Many people said that they still look for the turkey every time they pass through the intersection, and there's talk of buying a commemorative statue to place there, but for now the corner is quiet.
"You've got these critics who scoff and say, 'We've got world hunger, we've got ISIS—we've got all kinds of things going on, and you're getting all obsessed over a stupid bird?'" Hoxey said. "When you hear that, you hear a soul that is asleep."