The Largest Mass Migration to See a Natural Event Is Coming
This month's solar eclipse is likely to put major pressures on infrastructure.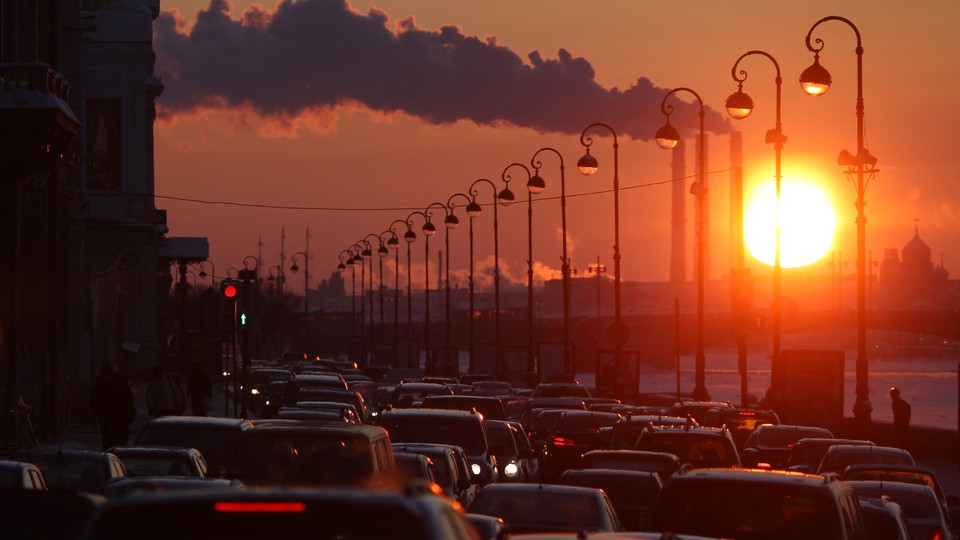 Mid-morning on February 15, 2013, in Russia's southern Ural mountains, a visitor arrived from outer space. A 20-meter asteroid that no one saw coming slammed into the atmosphere at 43,000 miles an hour. As the meteor burned up, it briefly shone brighter than the sun. Its shockwave packed a punch 30 times greater than the bomb dropped over Hiroshima. Windows shattered. People were knocked off their feet. The residents of Chelyabinsk panicked, and they got out their cameras.
The Chelyabinsk event was one of the most documented celestial events in history. It was also a reminder that we exist in a grander solar system, whose proportions and contents defy our comprehension. We're about to have another.
On August 21st, thanks to an almost unnerving celestial coincidence, the moon will line up with the sun and, from a 70-mile-wide swath of Earth, block out all but its wispy outer atmosphere. For one hour, 33 minutes and 16.8 seconds at midday, the shadow of the moon will sweep across the United States, from the redwood forests of Oregon to the shores of South Carolina. To people within that "path of totality," the sun will seem to disappear for two minutes, leaving an improbable black hole ringed by a dancing halo of light. The stars will come out. People who travel to witness total eclipses say the experience is unmatched on Earth or in the heavens.
"You feel reminded that you are very much in a massive universe, and that you are connected to something much greater than you can possibly imagine," says Kate Russo, an eclipse chaser (she's seen 10) and a psychologist who has devoted her career to studying reactions to eclipses. "It is my connection with the universe. I sense euphoria, and excitement, and loss afterward when it goes away."
So many "umbraphiles"—people obsessed with chasing the umbra, the shadow of the moon—use similar language, which sounds a lot like religious fervor. During totality, people drop to their knees, weep, cry out; even typically staid and reserved people are reduced to exhaustion, tears, and a form of ecstasy. Just look at YouTube for a taste.
"There should be a national law that if you are anywhere near the path of the total eclipse, you have to see it, or else you will be fined," David H. Levy, the renowned astronomer and discoverer of comets, told me this summer.
This year's eclipse will hit right smack in the middle of an age of renewed science denialism, when the scientific enterprise itself is under assault. Astronomers hope the eclipse will be a respite.
"It's a wonderful way to understand where we fit in, in a cosmic perspective," says Matt Penn, an astronomer at the National Solar Observatory. "If you're really adamant about not being affected, you might drive down the road and turn your headlights on, but I have a feeling that about 90 percent of the people in the path are going to be awestruck."
About 12 million Americans live in the path of totality, and some 200 million others live within a day's drive, according to federal officials. Depending on weather and how many people are up for a Monday road trip, some 2 to 7 million of them are expected to travel to that narrow zone on August 21—meaning travelers may experience some of the worst traffic jams in American history, according to Martin Knopp, an administrator at the Federal Highway Administration. If it's cloudy in some cities on the path, more people might try to move to areas with clear skies, clogging the nation's arterial highways even more.
The eclipse is "a special event for which there has been no recent precedent," the highway authority says. The days before and after the eclipse could see the greatest temporary mass migration of humans to see a natural event in U.S. history.
That means things could get dicey, especially in the West and Midwest, where summer temperatures spike to the upper 80s. Most of America is open land, so the problem isn't space, but logistics. Twenty interstate highways are in the path of totality, but most towns on the path are only accessible by a few county or city roads. And most towns on the eclipse path have limited resources—and limited portable toilets—to accommodate a groundswell of visitors. Glendo, Wyoming, population 202, is soliciting donations via GoFundMe to help pay for sanitation and trash services to accommodate its expected 50,000 visitors. In Madras, Oregon, where scientists and tourists are flocking for its clear, high-desert skies, local officials are telling residents to stock up on necessities like medical supplies and water. State officials have called up the National Guard to help manage crowds, estimated to top 1 million across the state.
Some of those crowds will no doubt be partying. In Oregon, sales of alcohol and recreational marijuana are expected to spike; in every state, towns are hosting multi-day major music festivals. In Carterville, Illinois—the "total eclipse of the heartland"—an outdoor music festival called Moonstock boasts headliner Ozzy Osbourne, who plans to sing "Bark at the Moon" during the town's 2 minutes, 30.4 seconds (really). Nashville, which lies along the path of totality, is throwing a festival with more than 40 musical acts; to the west, tiny Clark County, Idaho, is bringing country music star John Michael Montgomery for a festival called Moonfest.
Thanks to social media and webcams and streaming services, those who don't plan to travel will still be able to watch. A NASA TV "megacast" will stream live from locations across the country. And that's saying nothing of Facebook, Twitter, Instagram, and other social-sharing services.
People have gathered around ephemeral astronomical phenomena since time immemorial; what's new this year is the speed and the scale at which they'll do it. There has not been a total eclipse over such a populous region since 2009, when a total eclipse crossed India, southern China, and parts of Japan. Billions of people would have been able to see and photograph that eclipse. But 2009 was still the salad days of social media. This year will be something new.
"This will be the most photographed, most shared, most tweeted event in human history," says Tyler Nordgren, an astronomer at the University of Redlands, author of a book about eclipses, and one of many experts to make this claim.
The impulse to share snaps and Facebook livestreams of the eclipse, especially from rural areas along the path, will likely overwhelm cell towers and broadband networks. Verizon, AT&T, and Sprint all plan to bring portable cell towers to Madras. The AP reported this week that AT&T is also deploying cell towers in Columbia, Owensville, and Washington, Missouri; Carbondale, Illinois; Hopkinsville, Kentucky; and Glendo.
Apart from the frustration of bad service, there's something to be said for just looking. Replayable, tiny screen-based impressions will never compare to the bizarrely all-encompassing experience of totality. A total solar eclipse is powerful in part because it is so physical and so short-lived; acquisitive Instagramming seems almost like effrontery, seems too easy to mock. Here's another suggestion. Check this map. Find the town nearest you, pack plenty of water, and get yourself there. Bring sunscreen, a chair, and eclipse glasses, so you can watch the partial phases. Set up early. And then just take it in. We all deserve it.