A Family Vacation to See the Eclipse
Traveling into the moon's shadow with loved ones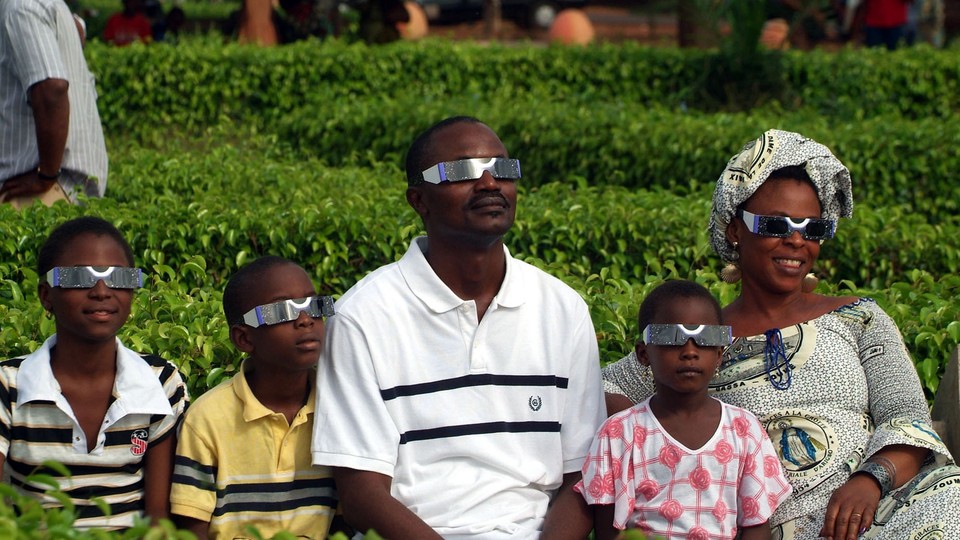 For some people, the rare occasions when the moon moves in front of the sun are a great reason to take a trip. To reach recent eclipses, "umbraphiles"—the nickname for eclipse chasers, who follow the umbra, the shadow of the moon—have traveled to far-off destinations like Svalbard, Norway; Singapore; and Japan. But this year, everyone traveling to the 70-mile-wide path of totality is coming to America. So many readers who've sent their eclipse plans are making it a point to share the cosmic event with loved ones.
Darío Martínez Batlle and his wife are traveling from Santo Domingo, Dominican Republic, on Sunday. They'll stay in Louisville, Kentucky, with his sister before driving off to Gallatin, Tennessee, ahead of the sunrise August 21.
I'm well aware of the craziness that's going to be every road and highway along the path of totality, but unfortunately we couldn't book our flight any other way. This will be our first total solar eclipse ever, and I've been expecting this one for over 15 years. Along the way I tried to attend other eclipses, but things came in the way of every plan, increasing my frustration and the desire to get it right for 2017. I'm still stressed by the narrow margin of error that our plans have right now, but I think this time we'll make it. All fingers tightly crossed!

Not that I can brag of having the best setup, but I will bring my camera, tripod, motorized tripod head, solar filters and special solar glasses, as well as a Samsung Gear 360 and plan to stream the whole thing to my people over here. Yes, I know NASA and every news outlet out there will be doing just the same with much better equipment, but I just want to do this for my people and myself. After the eclipse, we will hang around Nashville (if possible) or Gallatin until the traffic jams recedes, and head up to Louisville. After a couple of days, when my awe wears off (if ever), we will continue our vacation.
The mass migration of people reminds Sami Al-AbdRabbuh of the hajj, the pilgrimage of Muslims to the holy lands. Al-AbdRabbuh, who is from Saudi Arabia, is a PhD student at Oregon State University in Corvallis, which expects half a million visitors. He has been working with town officials to help them plan for the past year.
Given that I have witnessed the pilgrimage in Mecca, I know what it means to have a huge influx of people. My first plan was to go the state park with three friends, but I am not that kind of guy who tries to reserve a parking ticket years before. I failed to do that for the state park, and 1,000 state park spots got sold out within 10 seconds. But I found another campground ... that's my plan A, to stay in a campground and do a one hour hike from the campground to the top of Marys Peak. If the forecast is going to be gloomy, I might make a judgment call 72 hours beforehand and not go up Marys Peak, and stay in the valley. That's plan B. If the clouds will be covering both Corvallis and Marys Peak, I would really want to see the eclipse, so I will find the safest possible way to go east, toward the Cascades, acknowledging that it will be a big challenge. My brother is coming from Saudi Arabia to join me. My other brother has school, so he can't come. My dad is not coming, but I tried to convince him. It's not only about the possibilities of what we discover and the science around it, but it's a great phenomenon, it's a jaw-dropping phenomenon.
Americans are also traveling long distances to see the event with their families. Haven Leeming of Chicago is joining her parents, cousins, and family friends, who are traveling from Maine, Iowa, Chicago, and Seattle.
My dad has been planning for this eclipse for years. I grew up having him take me and my sister outside in the cold, crisp Maine winter to view planets late at night, so it came as no surprise when four years ago he urged me to add the eclipse to my calendar, which I did as the dutiful daughter. He studied the map, and purposefully picked a spot: North Platte, Nebraska. A location where the eclipse will be full, where the landscape is flat, and where the summer weather is habitually cloud-less. Dad deemed it perfect.

For one minute and 47 seconds, on a golf course in North Platte—where we along with hundreds, maybe thousands, of other people will be gathering—the world will be dark.

I'll look at the corona in awe, but then I'll look at my dad. Of course I want to see the eclipse, but what I really want to see is my dad watching the eclipse.
Wes Veitch of Oklahoma City is using the eclipse as a reason to reunite with lifelong friends. He says the eclipse has been on his calendar since before he and his wife started dating seven years ago.
Of course, in that time, so much has changed. Friends spread out, married, had children (us with our first this past December). But I knew this trip would be made, and I knew exactly how. Spontaneity isn't a feature of my life (my wife and I are "planners") but this trip was the closest I would get. I would wait until the week of, watch cloud forecasts and special events along the path of totality, and the day before we would decide where we were going. That quickly dissolved, however, as it became a voyage for not just my family, but those of my four very best friends from high school. An electrical engineer at Texas Instruments, a doctor, a social media marketing executive, a lawyer, a network architect, a public relations agent for Whole Foods, a therapist, a software customer support manager, an aerospace engineer for the Air Force and his daughter are now all descending on Nashville, coming from Texas, Oklahoma, and Florida.

Since I went to Space Camp in 4th grade, I have maintained a strong interest in the vastness of possibilities beyond our atmosphere. My expectation for the sight we are likely to see is of a most otherworldly experience, maybe the highest of the sort that we trapped on this rock are privy to.

All of this being said, it is horribly upsetting to think that after all this time, something like CLOUDS are the biggest threat to success. Our team will be somewhat mobile, if a 1-2 hour drive in a certain direction will make the difference. But to even be in the presence of such an event, day turning to night and back again, for longer than most people in the world will ever experience such a thing, is so thrilling. A dream come true. And for those of us close to Tornado Alley, we'll have another chance in 2024 to improve over this August, if possible. I'm already looking forward to 2024 so I can surprise my daughter with a day out of school to go see her first total solar eclipse.
Other parents of young children are planning on bringing them along. (For some suggestions on how to watch safely with kids, check out this resource from NASA.) Katie Hautamaki of Tallahassee, Florida, is traveling to Charleston, South Carolina, with her family.
I am taking a road trip with my husband and two oldest children (6 yrs old and 3 yrs old; the baby will stay with grandparents). We don't take many trips like this nowadays—mostly because of the challenges of traveling with small children—but an old friend from college (whose wife is an astronomer!) asked if we wanted to meet up with his family for the event and we just couldn't say no. My in-laws plan to meet us there, too.

Other than book an Airbnb, the only preparation I've done is to read Annie Dillard's masterful essay "Total Eclipse" (twice, so far). Her haunting description of the landscape during the eclipse gives me the chills. We plan to check out some astronomy books from the library and look through them with the kids, to get some of those eclipse glasses, to come up with a kid-friendly itinerary for our other days in Charleston. I am excited and a tiny bit nervous. Will it be mind-blowing? Will the kids remember it? Will we all scream our heads off? When it's over, will we just get back in our van and go get ice cream? We'll see.