Offbeat Ways to Enjoy the Total Eclipse
Readers plan to take in the eclipse using psychedelic drugs, boat trips, and other diversions.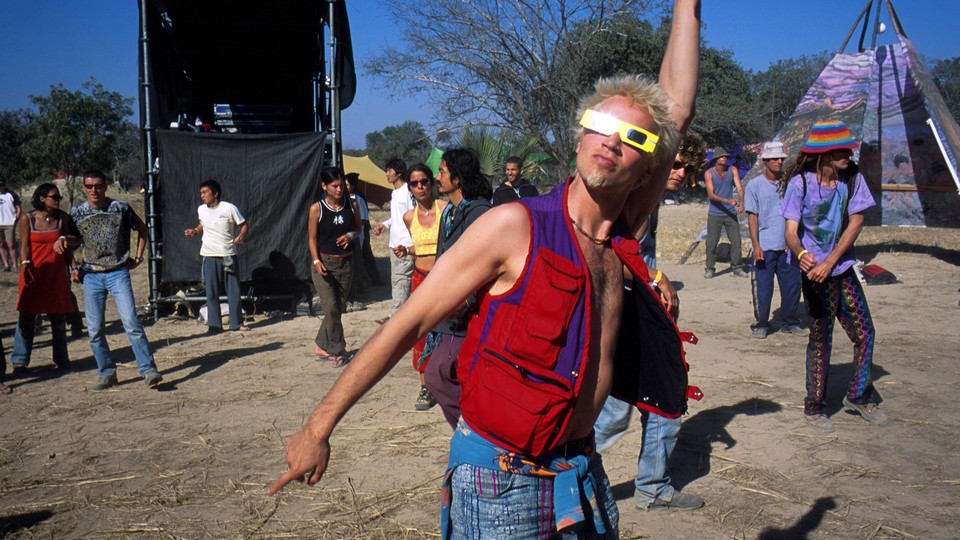 People who travel to witness total solar eclipses describe them in terms that border on religiosity. Eclipse chasers say people are often weeping, on their hands and knees, after being overtaken by the shadow of the moon. It's such an otherworldly, bizarre phenomenon, it's no wonder some people are looking for ways to endow the August 21 eclipse with special meaning—or to enhance their experiences. Some Christians are already using the eclipse to spread the gospel, while others are seeking another type of cosmic communion.
In Oregon, the first state to experience the eclipse, recreational marijuana retailers are offering special blends for the occasion. Meanwhile, Wyoming officials have warned pot users not to bring their drugs from Oregon and neighboring Colorado, where it's legal. Others are trying different enhancements.
Brent Vondross watched the most recent solar eclipse to touch the U.S. mainland, in 1979 in Oregon. He's heading from San Francisco to Oregon again, and staying in Madras. He plans to hike up a hillside with his wife, seeking a view of Mt. Jefferson, where he can see the shadow of the moon racing toward him, and enjoy magic mushrooms he picked up just for the occasion.
I happened to be at a Grateful Dead show in Las Vegas a couple months ago, and I found some mushrooms there and thought, 'This will be perfect for Madras.' I bought them dried, so they last quite a long time. I don't like to get blasted, I just like to feel it a little bit and stay in control. If I can get just a little more of out my overall experience of watching two minutes of totality, I think it's going to be really cool. I'm a photographer, and I'm not even going to try to take pictures. I don't want to be in the camera, I just want to experience it. I think the mushrooms are really going to enhance it.
While others may not be metaphorically high, plenty of people are planning to watch from locations high above the land—either for scientific research or for an adventure. Alaska Airlines has booked a special eclipse flight, and Southwest Airlines is bringing eclipse glasses and special cocktails for flights that cross totality. Matthew Benjamin of Washington, D.C., will be in the Atlantic Ocean.
I've rented a boat at Isle of Palms, South Carolina, and will navigate out to Raccoon Key, which according to NASA's path plot, will be the last piece of North America to witness the eclipse. My girlfriend and I may well be the last people to see the eclipse. Hoping for sunny skies! We'll be leaving D.C. Saturday night bound for a room in a trailer park I found on Airbnb in an attempt to avoid the intense traffic that's been predicted. I've been preparing for this since this spring, and it can't come soon enough.
While many people say they're excited for the event, some are anticipating it with a sense of dread. Reader Cheryl Koski of Knoxville, Tennessee, is driving about 30 miles to reach the path of totality. She's headed for Sweetwater, Tennessee, which is close to the center of the moon's shadow and is hosting an eclipse festival.
Regarding what I hope to see, I'd heard that many people describe a total solar eclipse as the most spiritual experiences of their lives. I was hoping for the same. However, as the eclipse draws near, I've begun experiencing considerable anxiety over it. In fact, my anxiety has been heightened by reading Annie Dillard's classic 1982 essay "Total Eclipse," and I've almost come to dread the eclipse and the effect that it may have on me. Keep in mind that I've known about the eclipse since the early 1990s, and I've been waiting for it since then. But now that it's almost upon me, my anticipation has turned into something much darker.

Though the eclipse has been billed as the most magnificent experience ever, I may be one of those who does not enjoy the shadow of the moon approaching me at nearly 2,000 miles per hour. Time will tell.
I've talked to many eclipse chasers who say they were changed by their first eclipse experience, and consider them milestones in their lives. There is your life before an eclipse, and your life after. For at least a few people, the eclipse is a milestone for other reasons. Trevor Finney of Missoula, Montana, is traveling with his family to rural Driggs, Idaho, and then leaving home.
I imagine it will be one of the most amazing experiences of my life. One that reminds us how small we are within the universe and allows everyone to feel equally insignificant and unified in a time of such conflict. I hope this eclipse as it passes over the states reminds people that we are all human on this planet and for the two minutes that we're all blanketed in darkness together, let go of their differences and experience the moment as one. The experience is distinctive for me because I'll be starting college at the University of Montana a week after the eclipse, so this is kind of a send-off for me.
But for many, the eclipse is simply a good reason to celebrate—with loved ones, with other humans, and with all the trappings of summertime in the United States. Reader Charles Bassett Price of Long Island, New York, has been planning since January, and is heading to Gallatin, Tennessee, with his girlfriend.
I first became aware of the eclipse two years ago and decided that it is a must-see. I have never seen a total eclipse, but remember vaguely seeing a partial eclipse as a child on Long Island. I remember it being cool but also knowing I was missing out on the real show and being disappointed that I was not seeing the full eclipse. I made my final plans in January 2017 to avoid a last-minute rush on housing options. We will be driving from Long Island and will be traveling 1,000 miles each way for this event that will last less than three minutes. I'm not expecting to be moved in a profound spiritual way—I'm not spiritual or religious—but you never know.

I planned on spending a week in the location and while the West and Great Plains are beautiful, I'm also looking for things to do outside of the eclipse. I reserved a spot at the Gallatin festival, as I would like to be in a crowd for my first eclipse and also they provide glasses and are promoting a festival atmosphere. The only thing better then a rare cosmic event is a rare cosmic event with a corn dog.