Hurricane Irma Just Hit Category 3
Forecasters are monitoring the storm as it makes its way across the Atlantic, but it's too early to tell where it might strike.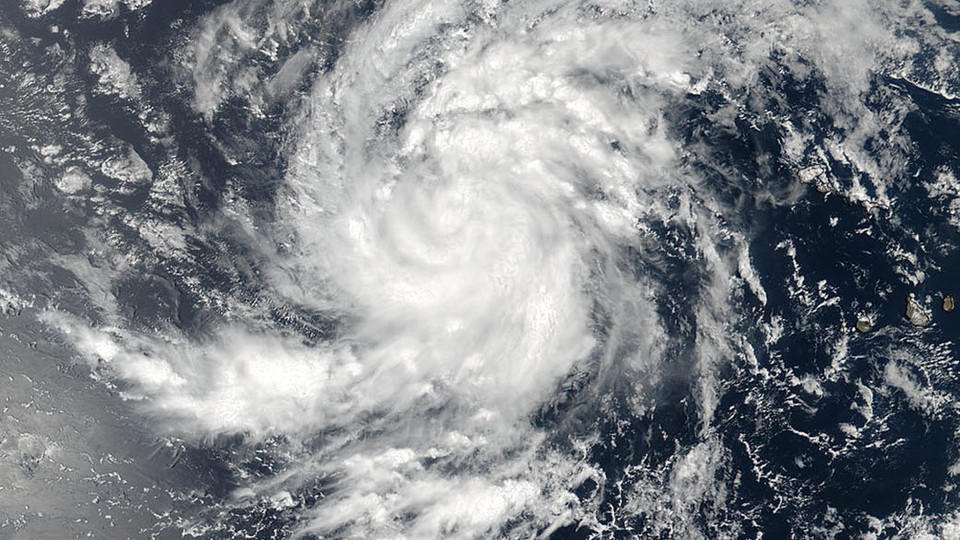 As Harvey moves on from southeastern Texas and floodwaters start to recede, meteorologists are tracking another storm brewing in the eastern Atlantic Ocean that they say could potentially approach the United States in the coming weeks.
Irma became a Category 3 hurricane late Thursday afternoon, making it the season's second major hurricane. The hurricane now packs maximum sustained winds of 115 miles per hour, with stronger gusts.
Irma had already quickly transformed from a tropical storm Wednesday morning into a Category 2 hurricane Thursday afternoon, according to the National Hurricane Center. It exhibits an unusual—but not unprecedented—rate of growth, according to meteorologists.
Like Harvey and other Atlantic hurricanes, Irma started as a tropical wave off the coast of Africa and began a slow, westward churn across the Atlantic. Irma will spend the next few days traveling toward the eastern Caribbean region. Beyond that, it's still too early to predict exactly where the hurricane will go, meteorologists say.
"We have plenty of time to watch this," said Dennis Feltgen, a meteorologist at NOAA's National Hurricane Center in Miami.
Irma has met favorable conditions for picking up strength as it moves across the Atlantic. The hurricane is feeding off warm waters, which are typical during this time of year. "There's practically no vertical wind shear, which is what would really prohibit storms from forming or strengthening, because it kind of keeps the top separate from the bottom, and they need to be stacked to really strengthen," said Brian McNoldy, who studies cyclones at the University of Miami's Rosenstiel School of Marine and Atmospheric Science.
Irma also hasn't run into much dry air, which usually chokes off the flow of humid air to storm clouds. "For a tropical cyclone, you want to ingest as wet and humid conditions as you can find," McNoldy said.
Irma currently poses no threat to land areas. The hurricane is located about 600 miles west of the Cabo Verde islands, off the northwest coast of Africa. It should reach the Lesser Antilles, a collection of islands in the Caribbean, in the next four or five days, meteorologists say. It's being steered along by a subtropical high-pressure system that remains parked over the north-central Atlantic all season long. "If it's a really strong system up there, it tends to keep hurricanes more toward the west," McNoldy said. "If there's a weakness in it somewhere ... hurricane tracks will find their way north a little bit quicker."
The high-pressure system could launch Irma toward any number of targets, including the Bahamas and Bermuda and U.S. states like Florida, North Carolina, and Texas, McNoldy said.
"There's no certainty. It has to go somewhere," he said. "We just don't know where."
Harvey, now designated as a tropical depression, was, as far as hurricane predictions go, a well-forecasted event; meteorologists warned of the storm's catastrophic effects several days before it made landfall as a Category 4 hurricane. Harvey met their dire expectations, causing unprecedented flooding, the displacement of thousands, and nearly 40 deaths. Harvey and Irma both formed during peak hurricane season, which runs from mid-August to late October. But Harvey's devastating aftermath has put any other storm coming down the pike this season under more scrutiny than usual.