'The Rainfall Threat Is Only Beginning'
Harvey has weakened after making landfall in Texas, but its biggest danger comes from torrential rain and flooding.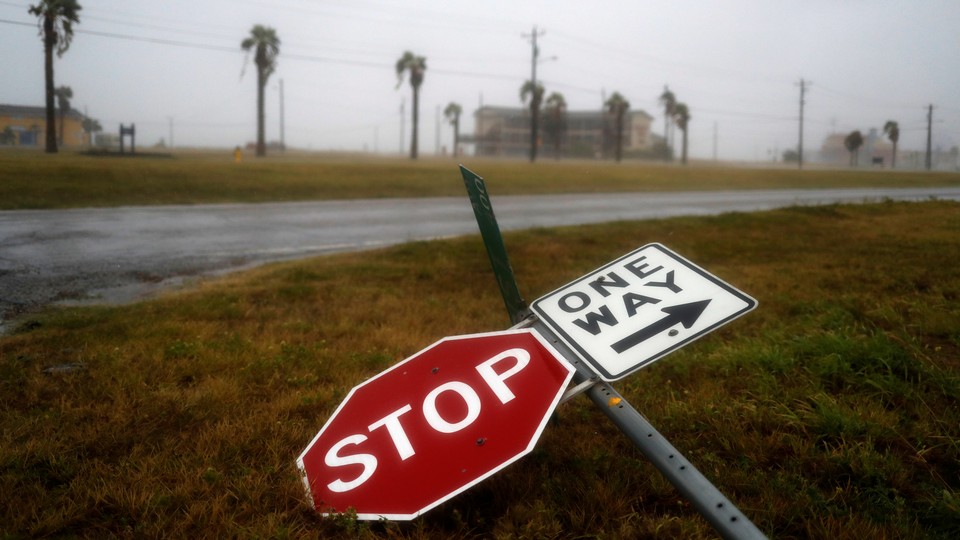 Hurricane Harvey struck Texas late Friday night, clobbering the state's Gulf Coast with heavy rains and 130-mile-per-hour winds as the eye of the storm swept ashore.
Harvey arrived near Corpus Christi as a Category 4 hurricane, according to the National Hurricane Center, the first major hurricane to make landfall in the United States in a dozen years. A few hours later, the hurricane made a second landfall near Copano Bay as a Category 3 hurricane. Harvey lost strength as it moved inland over south Texas, and was downgraded to Category 1 early Saturday morning, sustaining winds at 90 miles per hour. The hurricane will likely keep slowing down and become a tropical storm later Saturday, the center said.
But the danger is far from over. Even as it weakens steadily, Harvey's slow-motion churn is expected to create life-threatening conditions for the next several days as torrential rain continues until Wednesday, according to the National Hurricane Center. Harvey is predicted to dump 15 to 30 inches of rain on southern Texas, with some parts getting as much as 40 inches, leading to "catastrophic" flooding. Storm-surge flooding may reach nine to 13 feet above ground along parts of the Texas coast between Port Aransas and Port O'Connor.
"Even though #Harvey has made landfall, the rainfall threat is only beginning," the National Hurricane Center said in a tweet Friday night.
The flooding could leave neighborhoods underwater for days and, as previous hurricanes have done, surface sewage, coffins, and even alligators seeking safety on higher ground.
There are some early reports of damage and injuries Saturday. Officials in cities near the center of the storm report some buildings have been damaged or destroyed, according to the AP. Several people in Rockport, a small coastal town, were treated for injuries after the roof of a senior housing building collapsed, the AP reported.
Thousands of Texas residents spent Friday fleeing from the path of the storm, with more than a dozen coastal counties under mandatory evacuation orders. Texas Governor Greg Abbott declared a state of disaster for 30 counties on Wednesday as Harvey approached, and President Trump signed a disaster declaration, which means Texas can receive federal aid for disaster-relief efforts. Patrick Rios, the pro tem mayor of Rockport, gave some grim advice to those who do not evacuate, The Weather Channel reported. "We're suggesting if people are going to stay here, mark their arm with a Sharpie pen with their name and social-security number," Rios said. "We hate to talk about things like that. It's not something we like to do but it's the reality, people don't listen."
Harvey is the first major hurricane—the term used to describe Category 3 or higher—to make landfall in the United States since Wilma struck Florida in 2005. For Texas, Harvey is the first hurricane to hit the state since Ike in 2008, which struck near Galveston as a Category 2 hurricane, killing more than 100 people and causing billions of dollars in damages. Natural-disaster efforts have worried that a worse hurricane could inflict devastating loss of life and long-term damage to the Gulf Coast, which is home to one-third of the nation's crude oil reserves and key oil-refining centers. As my colleague David Graham explained this week, Ike just missed Houston, but got close enough to expose deficiencies in the city's capacity to withstand serious natural disasters. As of Saturday morning, Houston was under a flash-flood warning.
Harvey transformed from a tropical depression to a powerful hurricane in a fast 56 hours this week. As the storm intensified from a Category 1 hurricane Friday morning to Category 4 by Friday night, the language from meteorologists and emergency managers grew more ominous.
Melissa Munguia, emergency manager for Nueces County, one of the counties under evacuation orders, told the AP neighborhoods may become "essentially islands" because of heavy floods.
"What makes Harvey such a threat to Texas is that it is the complete package—with the triple threat of destructive winds, a devastating storm surge, and catastrophic flooding," explained Brian McNoldy, a cyclone researcher at the University of Miami, to The Washington Post. Meteorologist Eric Holthaus compiled a list of fellow meteorologists struggling to come up with the words to describe the severity of the storm.
Although the worst of Harvey's winds has passed, residents in the hurricane's path are in for a long few days as water rises, submerging homes, washing debris into storm drains, and delaying emergency responders from reaching calls for help.