Hurricane Harvey Is the Rainiest Atlantic Hurricane Ever Measured
At least one high-profile National Weather Service forecast got it right.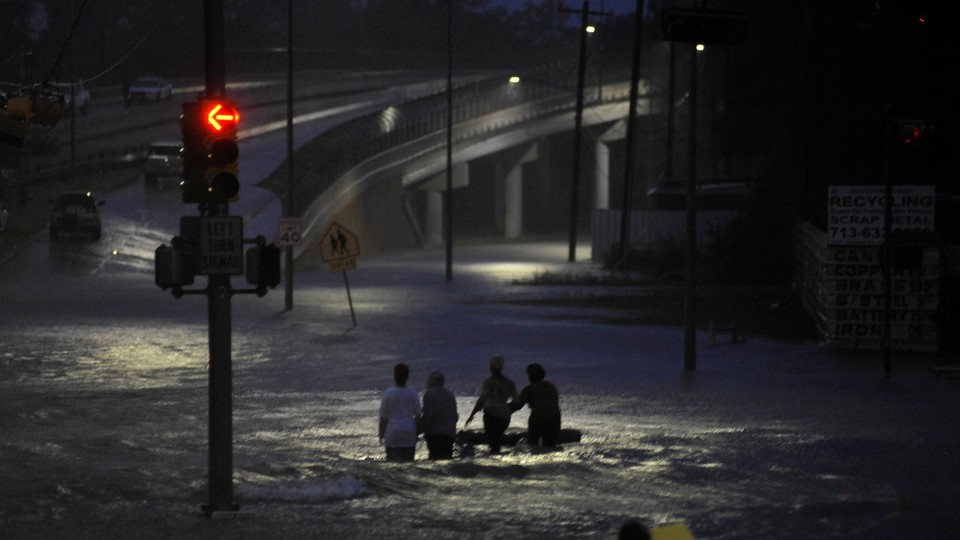 On Sunday morning, David Novak woke up and looked at the news. The evening before, Hurricane Harvey had stalled out over Houston; now it sent one band of rain after another smacking into the city. Streams were entering flood stage, interstates were underwater, and images of biblical flooding had begun to stream out of the country's fourth-largest city.
Since 2014, Novak has been the director of the Weather Prediction Center at the National Weather Service. He had been following the storm for several days. And he knew it would get worse.
"We woke up Sunday morning, and we were seeing the event unfold, and we knew that what we were seeing on TV—it was not the end of the story," he told me on Tuesday. "Looking at our forecast models, and other information, we had confidence that there was more rain coming."
He consulted with his colleagues, who agreed with him that the agency needed to convey the scale of what was coming. "We felt we needed to say something," he said. "You kind of scramble to the record books to see, how does this compare to other events? We could not find something similar, in terms of the aerial coverage of the event. We were concerned we were going to have amounts near 50 inches."
By 11 a.m., Novak and his team had agreed on a statement, which was first distributed from the Weather Prediction Center's Twitter account. It reads, in full:
Local rainfall amounts of 50 inches would exceed any previous Texas rainfall record. The breadth and intensity of this rainfall are beyond anything experienced before. Catastrophic flooding is now underway and expected to continue for days.
It now appears the Weather Prediction Center got it right. At least one rain gauge in Cedar Bayou, an area in Harris County, Texas, reports that 51.88 inches of rain fell as of Tuesday afternoon since Hurricane Harvey made landfall. This is the most rain ever recorded in the continental United States from a tropical cyclone. It also breaks the Texas state rainfall record for a single storm.
Only one previous storm—tropical cyclone Hiki—has dumped more rain in the United States. In August 1950, it pelted Kauai, Hawaii, with 52 inches of rain.
This is a staggering amount. More rain has fallen on Houston in the past week than on Seattle or Boston or Miami since January 1.
The National Weather Service has even had to update its maps, adding extra colors to capture rainfall totals higher than 30 inches. Novak said he could remember no recalibration exercise quite like that in his career.
"It's just amazing as a meteorologist to experience this, to live this—it's awful," he told me. "You're in this awkward state of, you're forecasting this, and you obviously want to be correct. At the same time, you don't want to be correct because of the awful consequences that such a forecast means."
When making dire forecasts like this one, the National Weather Service has begun to work with social scientists to make sure that its guidance leads to the "appropriate response," Novak said. "When you have the confidence, you want to clearly communicate some of these dire situations. In other circumstances, you want to communicate in ways that are more calming."
With Sunday's unprecedented guidance, he felt he had made the right choice. But there is one word he would add.
"We were getting a sense that folks were not comprehending that the awful pictures on TV Sunday morning were going to get worse and last a long time," he said. "If there was any one edit that we would make to the statement now, I'd add that 'the breadth, intensity, and duration of the rainfall are perhaps beyond anything experienced before.'"
On Tuesday afternoon, the Weather Prediction Center announced that heavy rains would finally begin to move out of the Houston area, though it cautioned another foot of rain may fall in some places before the end. "Catastrophic and life-threatening floods are still expected through tomorrow for portions of Southeast Texas and East Texas."