A Chemical Plant Catches Fire After Harvey Flooding
Houston is the petrochemical capital of the U.S., which makes it especially vulnerable to such accidents after a natural disaster.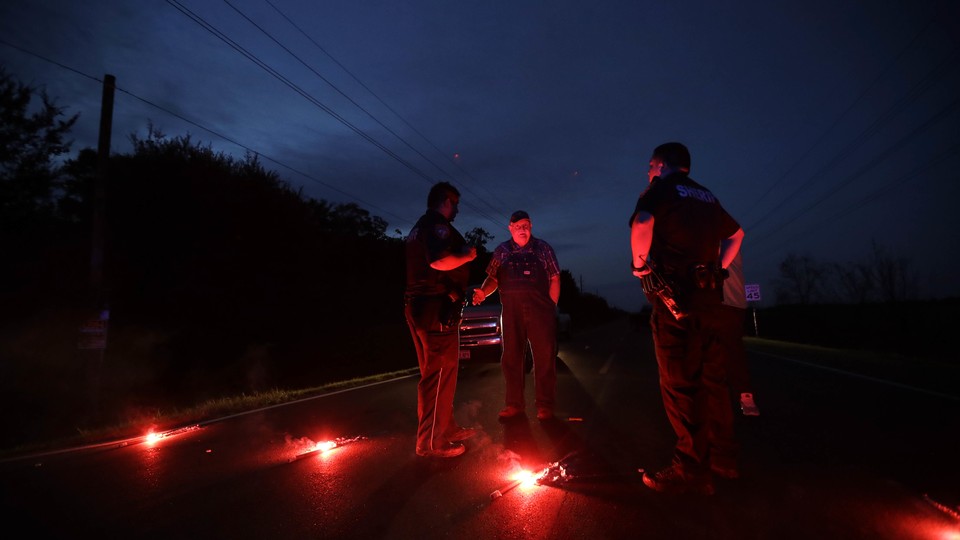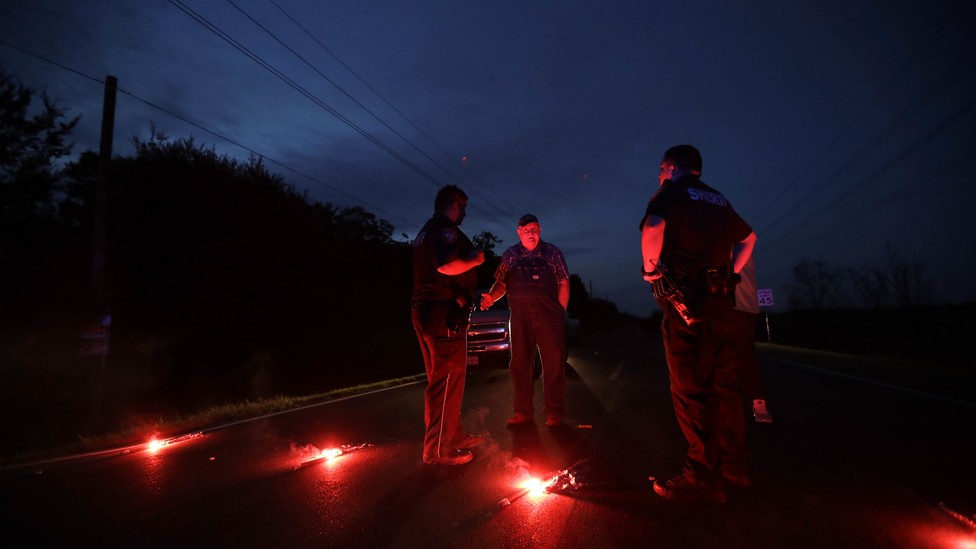 Updated at 5:50 pm ET
By the chemical company's own account, after Hurricane Harvey hit Houston, the fires were just a matter of time. As the storm passed over the Gulf, an unprecedented six feet of water flooded Arkema's plant in Crobsy, Texas. The plant's power failed. Then two sets of backup generators failed. By Tuesday, it was warning residents in a 1.5-mile radius to evacuate. The plant holds organic peroxides, which will explode without electricity to keep them cold.
The report of "explosions and black smoke" came at 2 a.m. local time Thursday. By late morning, Harris County officials were no longer calling it an explosion. ("We've heard these containers pop ... basically, they had container over-pressure," the assistant chief of the fire marshal's office said in a press conference.) But there are more organic peroxides still stored at the Arkema plant, warming up and ready to pop. There will be more fires and more explosions, Arkema warned.
Houston is known as the energy capital of the world; all that oil and gas passing through has spawned a second industry of petrochemicals. It should be no surprise that a storm of this magnitude is causing chemical accidents.
The highly reactive organic peroxides stored at Arkema are used in many materials including plastics—their reactivity is helpful in producing long polymer chains that give plastics their strength. Altogether, an industry analyst has estimated the Gulf region produces 40 percent of the country's chlor-alkali and vinyl and about 60 percent of the country's ethylene, polyethylene, and polypropylene.
On Tuesday, The New York Times surveyed the damage to various energy industry facilities near Houston:
The damage, detailed in state and federal regulatory filings, is wide-ranging: escaping gasoline from a submerged roof at a Phillips 66 storage tank; a sinking tank roof at ExxonMobil's vast refinery in Baytown, which resulted in the release of hazardous gases including volatile organic compounds and benzene above permitted levels; and a lightning strike that disrupted operations and led to toxic-gas releases at a Dow Chemical plant in Freeport.
"I don't think we're out of the woods," says Sam Mannan, who directs the Mary Kay O'Connor Process Safety Center at Texas A&M University. Equipment currently submerged under the weight of many feet of water could be deformed and damaged. As floodwaters recede and chemical plants come back online, simply restarting facilities handling hazardous substances is a dangerous process. The Chemical Safety Board issued a safety alert urging special cautions when restarting after Hurricane Harvey.
Meanwhile, chemicals unleashed by hurricanes can spread by water or by air. When Hurricane Katrina hit New Orleans, it of course also hit a number of petrochemical facilities along the Gulf. Most notably, perhaps, an aboveground storage tank at the Murphy Oil U.S.A. Meraux Refinery in St. Bernard Parish spilled more than a million gallons of crude oil on 1,700 homes. Despite these visible spills, however, water-quality analyses found surprisingly few contaminants from petroleum. The reason, a National Academy of Engineering report concluded, is that soluble chemicals like benzene also tend to evaporate quickly into the air. (There have been reports of "unbearable" chemical smells around Houston.)
In the specific case of organic peroxides at the Arkema plant, the chemicals are unlikely to spread through water. Organic peroxides react at a specific temperature—if they hit relatively warm floodwater, they'll immediately react and break down. There won't be any left. "That's one thing I would not worry about," says Bill Carroll, a chemical-industry veteran and adjunct professor of chemistry at Indiana University. "This is an acute event, not a chronic event."
As such, these short-term events most profoundly impact people living just around chemical facilities, and there are lot of them around Houston. A 2016 Houston Chronicle investigation found numerous chemical facilities close to community gathering places: a theater in Pearland 200 feet from a warehouse of toxic pesticides, a metal forging company storing 27 chemicals a half-mile from Cy-Fair High School. The same investigation had in fact named the Arkema plant in Crobsy as a site with high potential for harm after an accident. The plastics, pesticides, and other petrochemicals end up all over the world, but their concentration here means local residents bear the brunt of any unforeseen accidents.
With Hurricanes Katrina and Rita in 2005, between a third to a half of U.S. production capacity for several petrochemicals shut down. "Katrina spins U.S. petrochemicals into disarray," read the headline in one industry news site. Louisiana took years to recover from the destruction of Katrina. In the end, 2005 was a profitable year for the petrochemical industry anyway.