American Marketing Casts Its Shadow
The "Great American Eclipse" is a showcase for great (and sometimes not great) American branding efforts.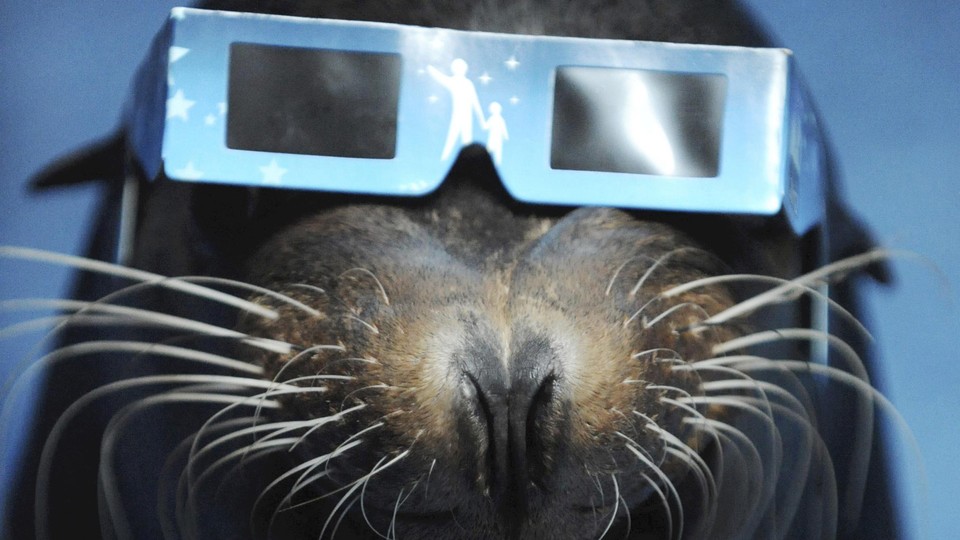 Earlier this month, cylinder-shaped packages containing posters depicting a solar eclipse arrived at the desks of several journalists. In the illustration, the black disk of the moon obscures most of the sun, leaving a curved slice of sunlight shining against the darkness. There, smack in the middle of the yellow crescent, is a familiar blue sticker usually worn by grocery-store produce.
Chiquita had turned the upcoming eclipse into an ad for bananas.
It was only a matter of time. Brands love building marketing campaigns around significant events with huge reach, from surprise Super Bowl blackouts to exasperating presidential elections. Next week's solar eclipse certainly fits that definition. Tens of millions of people across the United States are expected to look skyward as the moon passes between the Earth and the sun, coating parts of the country in total darkness. Hotels and campgrounds have been booked for months, special eclipse glasses are selling fast, and people are preparing for watch parties up and down the path of totality, from Oregon to South Carolina. There's all kinds of eclipse merchandise. Actor Steve Martin nicely summed up the hype this way:
The advertising agency behind Chiquita's campaign said the idea stemmed from a brainstorming session about banana-shaped objects. An eclipse at first seemed "so weird and unexpected" but then "made an insane amount of sense." "Oh, it's a giant glowing banana in the sky," the team said of their moment of realization. Other brands, from tech giants to cruise lines, have also hopped on the sun's publicity bandwagon. Some of the results are funny. Some are groan-worthy. All are, mercifully, just as fleeting as the eclipse itself.
Here's a list of some standouts, in no particular order (but we've saved the best for last):
Krispy Kreme went with the easiest connection to the eclipse—a play on words. From August 19 to 21, Krispy Kreme's signature glazed doughnuts will be "eclipsed" by a chocolate-glazed version. The ad for the doughnuts is set to the theme song for 2001: A Space Odyssey, a favorite tune for brands looking for space-related tie-ins.
Warby Parker has a rather quirky music video parodying Bonnie Tyler's "Total Eclipse of the Heart" in which a scientist—wearing glasses, naturally—sings about the eclipse while two dancers in full-body sun and moon costumes dance around. It's catchy, and this line made us giggle: "The eclipse is like a shadow only some of the time." Not a perfect description but, yeah, pretty much.
CNN and Volvo partnered for a campaign of "live ads" during the network's coverage of the event on Monday. Volvo's latest SUV model will transport four cameras to different parts of the United States. There, various people, including an astronaut and the author of The Martian, will talk about the solar eclipse as it happens, and the footage will be live-streamed on CNN's television and digital channels. It won't be quite the same as being there, but if you can't get to totality, a (sponsored) high-def view may be the next best thing.
Some companies suspect eclipse watchers may want to experience totality with a drink in their hands. Yazoo Brewing Company in Nashville, Tennessee, has a new "Space and Time" ale brewed with 12 kinds of hops with space-related names and aged over star fruit. Schlafly, a St. Louis craft brewery, is providing a pair of eclipse sunglasses with every purchase of its "Path of Totality" ale. Mother Earth Brew and Payette Brewing, two breweries in Nampa, Idaho, have together released a beer called "LUNARtic," an "antigravity ale with Comet and Galaxy hops and Mosaic lupulin dust"—whatever that means, but we're here for it.
Southwest Airlines is giving passengers solar-eclipse swag during flights the airliner says will have the best vantage points on Monday, including eclipse glasses and "cosmic cocktails." They're calling the merchandise commemorative "flare"—get it? Sun flares? It's kind of cute.
Alaska Airlines took it one step further by chartering an invitation-only flight specifically to chase the eclipse as the moon's shadow moves from coast to coast. The airline adjusted one of its routes between Anchorage and Hawaii last year so that passengers could experience a solar eclipse, and the video taken by one passenger is both heart-warming and funny; you can't help but be excited as the narrator shouts, "Totality! Totality! Oh my god!"
Amtrak scheduled an early-morning train that will bring passengers from Chicago to Carbondale, Illinois, a prime viewing spot, just in time for totality. The ride sold out in 22 hours. Good on Amtrak for catering to eclipse viewers who want to skip the traffic, and also just good for Amtrak in general—the railroad service is in the middle of weeks of emergency track repairs at New York's Penn Station, dubbed the "summer of hell" by the state's governor.
In the end, one mode of transportation beat all others: Royal Caribbean is planning to have Bonnie Tyler sing her 1983 hit "Total Eclipse of the Heart" during the actual eclipse, on a cruise ship in the middle of the ocean, while that ship is in the path of totality. It can't get any more on-brand than that.