Global Warming Is Threatening Alaska's Prized Wedding Flower
Business is booming for the state's peony growers. Will climate change ruin things?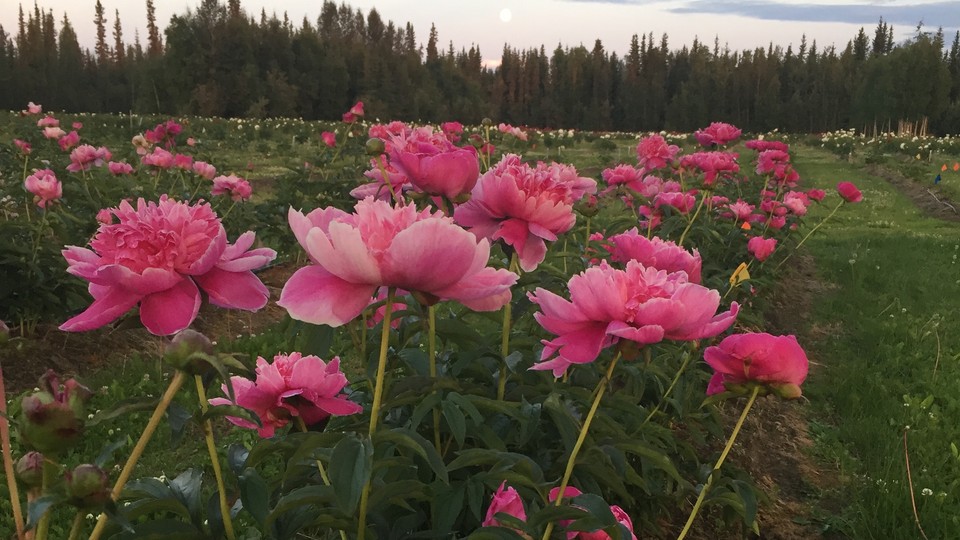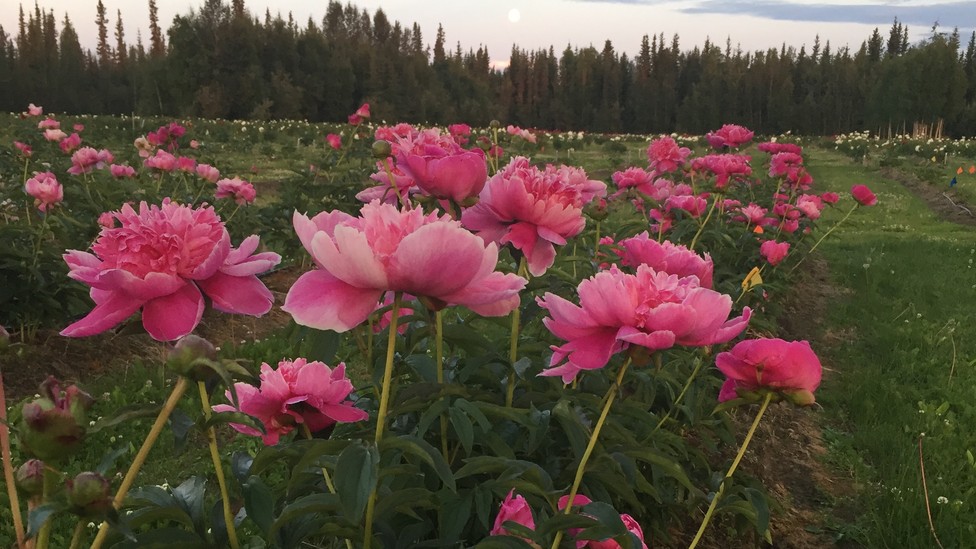 A little more than a decade ago, Ron Illingworth and his wife, Marji, planted 25 peony roots on their family farm in North Pole, Alaska. They did it on a whim, really, curious whether the bright, ruffled blossoms would thrive alongside the runner beans, peas, and tomatoes they sold at the local farmers market. A horticulture-professor friend of theirs had planted some test plots on the grounds of the University of Alaska Fairbanks, and she was looking for some more data on their hardiness in subarctic conditions. Could peonies become a commercially viable export crop?
The next year, Ron and Marji had 50 roots. A year later, 100. Now, the couple has 15,000 roots in ground, with the goal of reaching 18,000. Their company, North Pole Peonies, will ship close to 30,000 stems to the continental United States this year for hotel floral displays and showy wedding bouquets. "We started with just a few back here, and now everything you see is peonies," says Marji.
Alaska is home to 200 commercial peony farmers, clustered in the three hot spots around its center and south-central coast. The state isn't known for its agricultural exports, but peonies have quickly become a cash crop for its entrepreneurial farmers. Last year, these growers shipped more than 200,000 stems to local, state, and international markets, including Taiwan, Canada, and Korea. Ron Illingworth, who is also president of the Alaska Peony Growers Association, expects it will be closer to 1 million by 2020.
But as average temperatures in Alaska increase due to greenhouse-gas emissions, the state's peony farmers are left wondering if their new enterprise may be nipped in the bud. Peonies are grown around the world in a variety of climates, but they're typically available only for a short time, from late spring to early summer. That gives Alaskan growers a competitive advantage: While peony farms in Chile, the Netherlands, and Canada have generally peaked by May and June, Alaska's late summers and midnight sun means near-Arctic farmers have peonies available in July and August. This advantage could disappear, however, if climate change shifts the Alaska season so that it overlaps with growers in the other parts of the world.
"The biggest thing that we're worried about right now is what's happening with global warming," says Illingworth.
Illingworth usually begins cutting flowers in late June or early July, when other farms have run bare. Picked before they open, when they're still fat round heads, the peonies are immediately chilled in walk-in coolers to prolong their lives, then prepared for shipping. At this summer's peak, Illingworth says they had 20,000 flowers standing in buckets in a pair of chillers on the edge of his fields. In a really good year, the availability of Alaskan peonies can stretch into September.
"There is no other place that provides peonies at that time of the year," says Shelly Hurst, a salesperson at American Agroproducts, a fresh cut flower wholesaler in Dallas, Texas. The company buys peonies from the Netherlands and Chile from April to June. "By the end of June, it's over for everyone else in the world."
Global demand for peonies remains high into the fall, largely from brides who have their hearts set on the soft, lush flower. "They're one of the top five most-requested flowers for weddings," says Thaomy Lam, an event-planning consultant based in Toronto, Canada. "All the photos on mood boards and Pinterest boards have peonies in the arrangements."
For peony growers, that timing matters. Early in the season, the wholesale price for peonies hovers around $6 per stem, but it drops below $2 in May and June when the market is flooded with flowers. By mid-August, when there are few left, the price can jump up to $7. Lam says that for late-summer and fall weddings, a single peony can cost as much as $25—a benefit for the Alaskan growers. "From September onward, it is very difficult to get peonies. There isn't a lot of supply in the world. The people who have peonies in the winter have a very large budget."
Now, some Alaskan peony growers wonder how long they'll hang onto their late-season harvest. Alaska has warmed twice as fast as the rest of the United States (and other parts of the planet). Over the past 60 years, the state has jumped 3 degrees Fahrenheit on average, but 6 degrees Fahrenheit in the winter. Peonies need a cold winter to flower, and rely on the snow to insulate their roots. But parts of Alaska are already seeing an earlier spring and a later fall. "For peony farmers, that's not a good thing," says Nancy Fresco, a climate-change researcher at the University of Alaska Fairbanks who is developing climate projections for the state's peony growers to better understand which climate variables will most affect the new industry. "Their niche market is relying on growing peonies later than everyone else."
Climate change could pose more challenges for the showy flower as well. Larger, more frequent wildfires could drop ash on growing buds, damaging crops that cannot afford the tiniest of imperfections. Flooded fields from increased rain could delay fall planting, and more freezing rain could damage roots. For the most part, Alaska's peony farmers have not had to worry about pests yet, but that too could change. "We're going to lose the coldness of winter that keeps out some of the pests and fungus," says Fresco.
So far, the Alaskan peonies haven't truly been tested by climate change, but the industry is still young. Some variation in the growing season is already making Ron Illingworth uneasy. Some years, the flowers bloom early, closer to the timing of those in Canada and the rest of the United States, he says. "One or two spots of data aren't indicative of a trend yet, but it is something that we're really watching."
"My kids are going to take this over, and my grandkids, if they so choose, may also be out here working on this. By then the climate will be different," Illingworth adds. "We're hoping that enough of a difference in the season remains so that we can still provide the flower when it's not available elsewhere."