Advice for Eclipse Newbies
Get your eclipse glasses and sunscreen ready.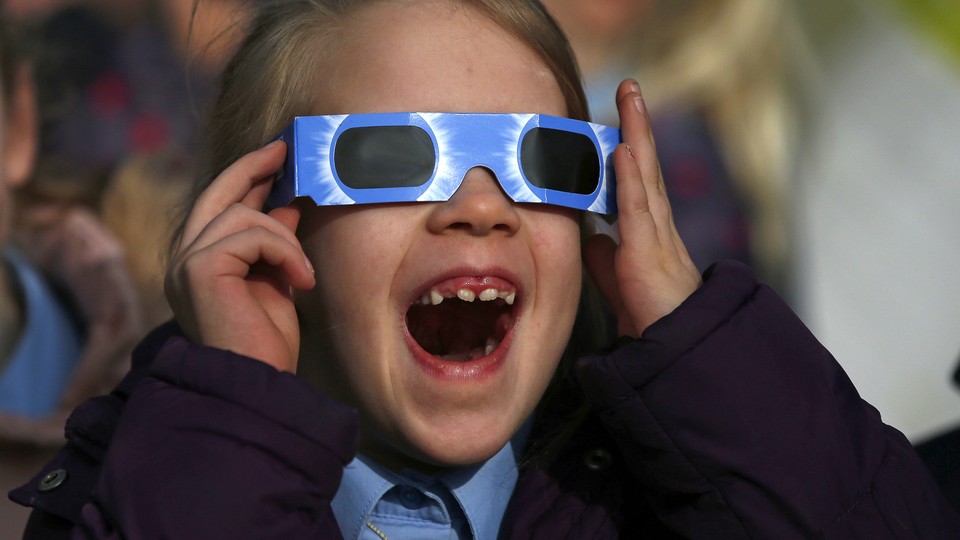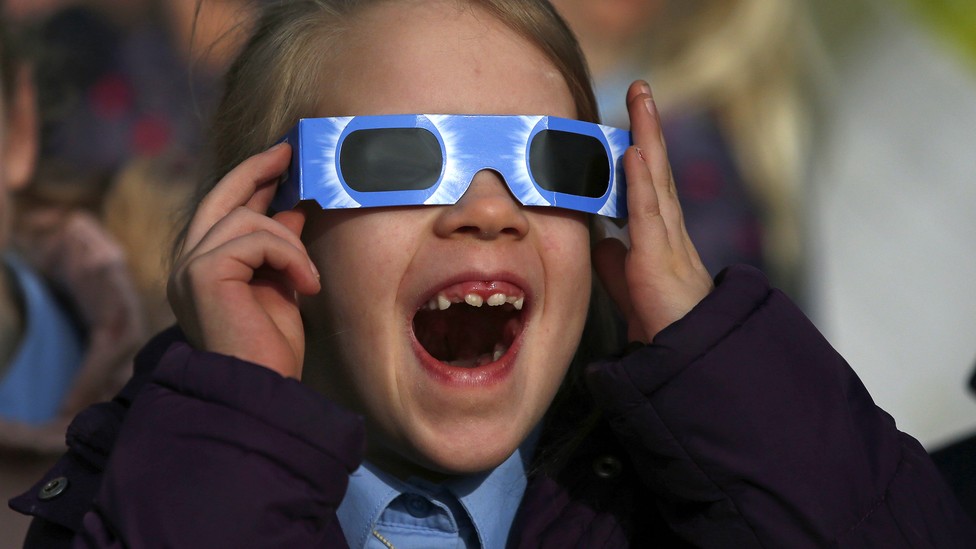 Like most people in the United States, at least, I've never witnessed a total solar eclipse. I'm really looking forward to it, as are tens of thousands of other Americans who live in the eclipse's promised "path of totality" or are planning to travel there. But aside from traffic and crowds, what should they expect? What do you bring to an eclipse? We asked readers and eclipse experts to share some tips.
A total solar eclipse only lasts a few minutes — for this one, about two and a half minutes, depending on where you are — but the partial eclipse lasts an hour or so. You'll want to bring eclipse glasses, which are available online for a few dollars. Be sure to get them from a reputable vendor; NASA and the American Astronomical Society are warning of unsafe glasses on the market. Check this list from AAS of several eclipse-glasses sources.
Eva-Lynne Leibman, from San Francisco, recommends stocking up:
Be sure to bring the appropriate viewing glasses, a pair of glasses for each member of the group. They are pretty cheap and sharing can be problematic in the moment. Just as totality nears, it gets very exciting. Bring additional batteries and cards for the cameras, and a tripod really helps a lot.

Also, play with the pinhole camera idea - using fingers, a hole in a hat, the leaves of the trees to filter sunlight. Pay attention to the way the light changes; it's very different than a normal twilight, and the animals in the area will act strangely.

Bring snacks and water, and know where the nearest bathroom facility is. [At a past eclipse] I made friends with the people in the closest hotel room, right on the beach in Mexico—saving a several minute walk into the main building—by offering them looks through our telephoto lens.
Jim Wohlhueter of Bonney Lake, Washington, is planning to finalize his plans on August 18, and either drive to Madras, Oregon, or Jackson Hole, Wyoming, where he hopes to meet up with an expert eclipse chaser. This will be his fourth total eclipse, and he'll bring two digital cameras, one on a tripod shooting video with a wide-angle lens.
If you are not with an experienced eclipse chaser, find one in your viewing area. I hate crowds myself, but a knowledgeable viewer will enhance the experience. He or she will understand the timetable of eclipse events that will happen very rapidly. They will be announcing each event as it approaches, i.e., "first contact" [when the moon first touches the sun's disk], the diamond ring, Baily's beads, the safe time to remove and replace eye protection, etc. If you need to, stand near a tour group's leader so you can hear him or her. If you arrive early, believe me, you will be able to pick out the ardent chasers very easily. They/we are overly free about spewing our knowledge to anyone who will listen.

Don't waste time getting a perfect photo. The eclipse duration is very short. Estimate a couple good settings for your camera. Take a few shots, then put the camera away and absorb the entire event. There will be thousands of photos on the internet that will be exactly like yours. The temperature will drop, animals in the area will go silent, the umbral shadow will race across the ground, other viewers will gasp, sing, shout, or maybe come to tears. A good point-and-shoot camera will take some wonderful photos of the crowd and the eclipse.

Look for planets Mercury, Mars and Venus. They will all be prominent in the dark sky. Jupiter may be visible along the horizon. Be prepared to move if clouds swoop in, and upon arriving home, start planning your next eclipse trip.
Jordan Sutton of Everett, Washington, is one of those tour group leaders. He, too, is heading to Jackson Hole and leading a group of eclipse tourists to a golf course. This will be his 10th solar eclipse, and he chose the site because of its scenic beauty.
With the Grand Tetons immediately to the west, one will be able to see the moon's shadow drop over the Grand Tetons, then turn their eyes toward the sun to see the diamond ring effect and totality begin. I call total eclipses the "ultimate mind-blower" as witnessing one, you realize that a much higher power is "in charge" of the heavens.

I plan to have a bus pick us up at the hotel about 7:30 a.m. on the morning of the eclipse so that we can set up our viewing equipment well before the partial phase of the eclipse begins. However, if sky conditions aren't favorable for eclipse viewing at this location, it will definitely be a pre-dawn wake-up call with the bus departing at, say, 4:30 a.m., to head to Riverton or Casper, or perhaps even back toward Idaho to get under clear skies. On the two days following the eclipse, I and some people in my group will take day trips to Grand Teton and Yellowstone National Parks.

First-time viewers must remember to use special eclipse glasses for viewing the partial phases of the eclipse, and to take them off during totality. Put sunscreen on, even though the sun is "going out"—but that's just for a couple of minutes.  
Like Sutton, many other eclipse chasers started planning their August 2017 eclipse expeditions years ago. Larry Stevens from Des Moines will be witnessing his 15th total solar eclipse, and he's serving as a resident eclipse specialist in Lathrop, Missouri, a town he chose back in 2010. He started scouting for an ideal viewing spot in 2009, after returning from an eclipse expedition on a cruise ship off Iwo Jima.
I looked over the area between Lathrop, Missouri, to Carbondale, Illinois. I found the Lathrop area to be very appealing because of the sprawling farmland with few trees, which is good for viewing the 360-degree twilight during totality. I found that Carbondale was heavily forested, as was everything from Columbia, Missouri on to the east. The longest duration was in Carbondale, but the duration in Lathrop was only 1.5 seconds shorter, and it was only 2 hours from my hometown in Des Moines as opposed to about 7 hours for Carbondale, so it was an easy choice.

You are about to see something that is beyond words. And if you don't see another eclipse, that is fine, but I will be at the next one, and the one after that.

Although several people would like to take pictures, eclipse chasers that know how to properly take eclipse pictures can do far better than you, so if you want a picture, just buy one from one of these individuals. I would, however, recommend that you take a video camera (or your cell phone) and video the eclipse with the camera on a tripod, pointed at and zoomed in on the eclipse. Start it about 5 minutes before totality and let it go until 5 minutes after.  It will give you a small impression of what it was like that day. And if you liked it, there's less than 7 years until the next total solar eclipse in the United States on April 8, 2024.
Are you taking an eclipse road trip with friends or loved ones? Maybe brushing up on your astrophotography, or making special T-shirts? Or maybe planning on using hallucinogenics or other substances to enhance the experience? We want to hear from you. Check in with us about your eclipse plans at atlanticeclipse@gmail.com and we'll share them here.