2016 Was Hot, Weird, and Unprecedented, Says NOAA
Five lessons from the agency's report on the year's record-breaking weather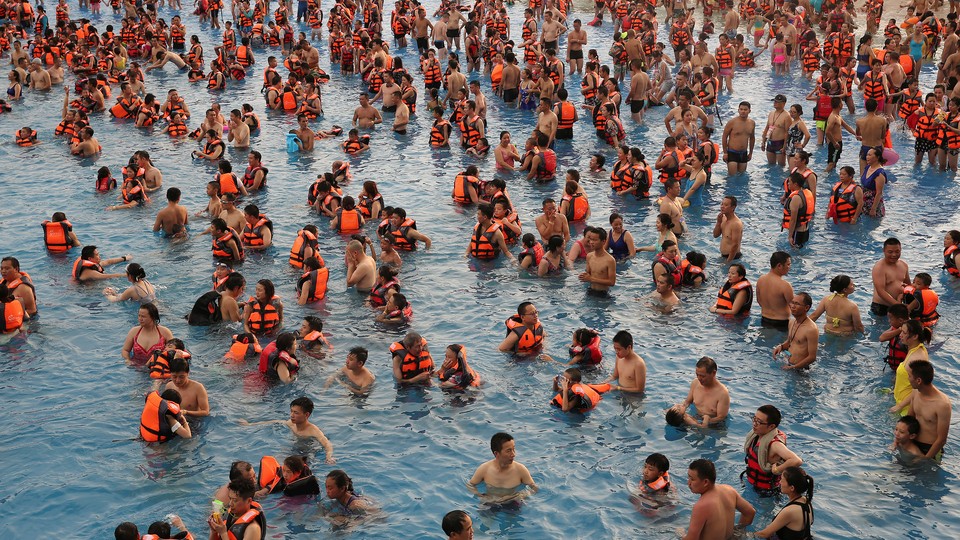 2016 was a stormy, sweltering, and altogether exceptional year for Earth's climate system, breaking dozens of records across every type of environment before ultimately ranking as the hottest year ever measured, according to a new report from the U.S. government released on Thursday.
This finding did not come as a surprise to climate scientists, and it may even sound like old news to some readers. The world's top weather agencies have warned since April of last year that 2016 would prove especially steamy, and the warmest-ever record was declared official in January.
But the full scope of the year's irregularity only became clear now, when the National Oceanic and Atmospheric Administration published its annual State of the Climate report for 2016. Written by more than 450 scientists from around the world, the study constitutes the definitive—and, honestly, somewhat dry—account of the year in weather and climate.
The report describes facts and summarizes trends; it does not dive into synthesis. But its point is unmistakable: Nearly everywhere that its authors look—at the poles, in the tropics, and beneath the ocean's surface—they find symptoms of human-caused climate change.
You can split its records into five big findings:
1. 2016 was hot everywhere.
2016 was the hottest year ever measured, following 2014 and 2015, which also set records as the hottest year ever. Modern temperature records begin in 1879, meaning all three of those years were warmer than any year in the previous 135 years.
According to a new study in Geophysical Research Letters, also published on Thursday, the chances of this kind of three-year warmest-ever streak happening without some kind of human-caused global warming less than 0.03 percent. When global warming is taken into account, the chances of it happening swell to between 30 and 50 percent.
2016 was hot thanks to a combination of two factors: long-term global warming, caused by human emissions; and an especially monster El Niño, which warms temperatures across much of the world. These combined to push temperatures to a new level: 2016 was the first year that the global average temperature was 1 degree Celsius warmer than the years in the late 19th century. The Paris Agreement on climate change and a long history of climate treaties seek to keep global temperatures from rising by 2 degrees Celsius.
The atmosphere had the highest concentration of carbon dioxide ever recorded: 402.9 parts per million. This is the highest value recorded since logs began 58 years ago. Scientists—who have also pieced together the long-term composition of the atmosphere from bubbles stuck in ice cores—argue it may be the highest concentration of CO2 in the air in 800,000 years.
2. 2016 was hot and costly in North America.
The United States also had its second-hottest year on record in 2016. Every state had an above-average spring temperature, summer temperature, and autumn temperature.
There were 15 major weather or climate-related disasters in the United States, including—in a new record—four inland floods that weren't caused by a tropical storm. These events directly cost Americans $46 billion, the second highest amount (in inflation-adjusted dollars) since records began in 1980.
Canada also had its most expensive natural disaster ever—the wildfire near Fort McMurray, Alberta—which burned more than 2,200 square miles of land and cost $3 billion in U.S. dollars.
3. The seas kept rising in 2016.
The global average sea level also reached its highest level ever, and "sunny-day flooding" got particularly bad in the American Southeast.
As it exists today, sea-level rise is caused by melted ice from mountain glaciers and from "thermal expansion"—that is, the water expands as it gets hotter. 2016 was the 37th consecutive year that mountain glaciers receded, and the sea-surface temperature was the warmest ever recorded. By the end of the century, most sea-level rise will probably come from the melted polar ice caps—like the Greenland ice sheet, which reached a new record low in 2016.
4. The world's water system did weird stuff.
In every month in 2016, at least 12 percent of the planet's surface was in a severe drought, the longest stretch ever measured. Parts of South America, including Brazil and Bolivia, were overtaken by the longest drought ever recorded; Mexico and India also recorded their hottest year ever.
At the same time, 93 tropical cyclones (that is, hurricanes) formed across the planet, which is much higher than the average of 82.
5. There was some (little amount of) good news.
In the United States, not all the drought-related news was bad: California had its first wetter-than-average year since 2012, and Governor Jerry Brown declared an official end to its drought emergency in April 2017.
There was also some good news down south: The hole in the stratospheric ozone layer over Antarctica did not grow as fast this year as it did on average between 1991 and 2006. That's thanks in large part to the Montreal Protocol, which prevented the emission of ozone-depleting chemicals into the atmosphere.
* * *
State of the Climate is the first significant climate-related report released during the Trump administration. Some of its most senior members, including EPA Administrator Scott Pruitt, have questioned some of the same scientific conclusions that underpin the report. While the administration of President George W. Bush interfered with some climate-related scientific reports, no administration has historically intervened to edit a report from NOAA.
There will almost certainly be more news-making NOAA reports to come. Even though 2017 has seen no record-breaking El Niño, the year has already shown countless symptoms of intensifying climate change. If its first six months of temperatures hold, it will likely become the second-hottest year ever recorded—breaking a record previously set in 2015.