Are Commercial Wildflowers Ever Truly 'Wild'?
Many florists want blooms that are hardy enough to travel and available year-round—which usually means human help is required.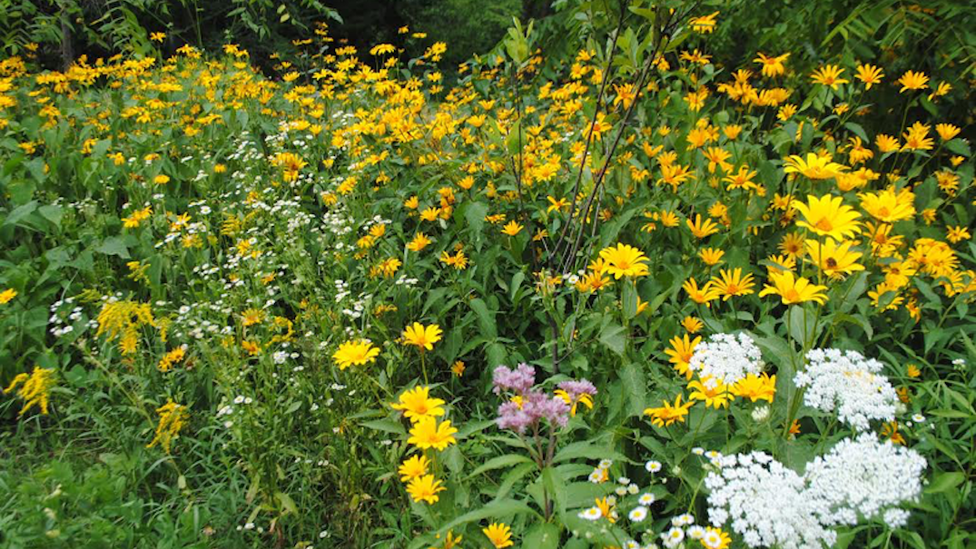 The roses looked pathetic. When shipped to the florist I worked at during high school, they arrived wadded together and smashed into four-foot-long boxes. The lisianthuses, however, looked as alive as I imagined they did when still in the ground. Each stalk showcased multiple purple or pink blossoms emerging from foliage in various states of bloom, as if being picked had interrupted each flower halfway through a stirring monologue. Every stem looked fresh, unique and, well, wild.
That's what brides thought of lisianthus, too. Ideal for wedding fantasies of haphazard but conveniently beautiful bouquets, the florist billed lisianthus as wildflowers. But they must have come from greenhouses. The wholesale suppliers guaranteed a year-round lisianthus supply (its blooming season is June to September) to my Illinois florist (it's native to Mexico and the Western United States). Odds are there wasn't one man sprinting to his yard and harvesting a bundle every time a new order popped up.
The argument could be made that lisianthus was, like all flowers, at least derived from wild ancestors. And besides, they didn't look nearly as doctored as the blue carnations that we sold, infused with dyed water so their petals absorbed the hue. But I didn't exactly know how to classify the flower I was holding. Are commercial wildflowers ever truly "wild"?
I ring Rachel Andre, the founder of William's Wildflowers New York. Andre provides customers with flowers from her corner of New York State, about 30 miles outside Albany. Businesses like Rachel's are all over the United States. Wildflower florists cater to customers eager to fill their events with local foliage. Her sister operates another William's Wildflowers in Florida, one that supplies pickings from in and around Sarasota.
The first goal of the New York operation is to expand native plant populations to help foster wildlife habitats. Roughly half of the money the business brings in after each event goes toward furthering planting efforts. But to maintain the operation, Andre also picks some of what she grows—and what she collects off uncurated plots of land—for wedding and special event orders. "I think I'll always keep foraging, always keep that idea fresh in people's minds—that this was from the wild, specifically picked for your wedding," she says.
To Andre, the only true wildflowers are the ones that grow without the help of a human hand. In the spring, when blossoms like black-eyed Susans proliferate in eastern New York, Andre wakes up early in the morning and forages along roadway patches to make most of her arrangements. But Andre relies on other sources of plants, too. Through summer and fall when untended and truly "wild" blossoms, by her definition, are harder to come by, she purchases more of her materials from local nurseries. She also draws from her own property, which was passed down from her grandfather, the business's namesake. It is this plot of land that blurs the definition of wildflowers: While it is flush with a range of indigenous plants, left to grow as they please, Andre chooses which species are planted. Sprouts of tiny, purple inverted ice cream cones known as blue vervain, clusters of miniature tulips called turtlehead, and four kinds of aster—Stokes', arrowleaf, New England and New York—are just some of the plants Andre tends to in her yard.
This plot of land helps Andre navigate the challenge of maintaining a business with a primary goal of increasing a plant's population, but then having to pick that very plant to keep the operation going. If Andre only foraged her stock, she would deplete the very blossoms she is trying to revive. "It makes me almost incredibly sad at times to have to cut down these flowers that are so beautiful and that bees are swarming around and loving and other pollinators are just in love with and the bugs ..." Andre trails off. So instead, she curates her grandfather's property with a collection of indigenous upstate New York plants. The plot became a home for wildlife, and Andre pulls the small amount she needs for bouquets. And while they may not be as "wild" as their siblings on untended property, they allow her to avoid overplucking native populations. Besides, she points out, in the seven years the property was unattended, the land was overrun with garlic mustard, Japanese knotweed, Japanese honeysuckle, and two kinds of knapweed. All were invasive species.
And if there is anything that riles up Gregory McGee, it's invasive plants. McGee is a forest biodiversity expert at State University of New York's College of Environmental Science and Forestry in Syracuse. His current work, the Wildflower Restoration Project, intends to reinvigorate native wildflower populations in central New York forests. McGee looks after extraordinarily delicate blossoms, like trout lily, a yellow spray of petals that bow to the ground like a showerhead for squirrels. Some of the species McGee protects are the same ones Rachel picks. And seeing as he already contends with hungry deer and people overpicking for their own enjoyment, he's wary of florists who might deplete his struggling populations even further. But he and Andre share a campaign against non-natives, which he would love to see eliminated from fields and forests.
In fact, McGee first realized invasive species could feed the flower market a few years back. He attended a wedding with centerpieces made of two invasive but beautiful species, purple loosestrife and phragmites, a tall reed grass topped off with plumes of purplish gray. Though initially horrified that the flowers choking out natives were on proud display, McGee decided he'd rather the plants be on the table than choking out natives. "Whoever can figure out how to exploit honeysuckle to extinction in North America will have a national holiday named after them," he says.
Andre has the same philosophy. If they are flowering and can be incorporated into an arrangement, invasives are exempt from her pity—"actually the invasives I don't feel bad about," she says, laughing. "I'm like, grinning from ear to ear as I cut them."
To Daniel Atha, eliminating invasive species in upstate New York will take much more than a single florist. Atha is the director of conservation outreach at the New York Botanical Garden. He's skeptical that wildflower florists could have any real impact on invasive species, but "I think the supplier promoting native plants and local and sustainable agriculture is probably the pinnacle of what we should all look for [in a florist]," he tells me.
Atha says he's been mulling over this topic a lot recently. He thinks that brides seeking out wildflowers are like grocery shoppers choosing "natural" products. There's no regulated definition for either wildflowers or "natural" foods. But by pursuing these options anyways, customers are expressing their disenchantment with highly processed or imported goods, no matter if it's white bread or artificially colored carnations.
And in New York, at least, the price difference might be favorable as well. Rachel's bridal bouquets cost between $110 and $150, while another Manhattan florist I spoke with said their arrangements start at $150.
So when I prod for opinions on my cultivated lisianthus masquerading as wild pickings, I expect sighs for the naïve customers who are only buying the image of unhampered blossoms, not the business model. Instead, no one expresses disdain for how typical florists market their "wild" flowers. Both Andre and McGee acknowledge the argument that all flowers were wildflowers at some point. Andre mentions brides who approach her and want locally sourced flowers, but walk away when they realize she can't provide the exact wildflowers in the exact colors they've been dreaming of. Commercial suppliers can fulfill that kind of wedding dream, Andre explains, and she understands. And the traditional floral industry, Atha hypothesizes, transformed weak wildflowers into "bulletproof" varieties for a reason. Fragile stems that droop on their way from the field to the table, even if they are truly wild, would be frustrating for everyone—especially brides. "That's like burning the pastries or something, it's terrible," he says.
Not all wildflower florists are created equal, however. Without proper research into the florists they call, brides could wind up with décor that doesn't have the sustainable backstory they might automatically associate with the "wild" imagery the flowers provoke. Atha and McGee fear that not all wildflower florists know to replant only indigenous blossoms like Andre. They're also anxious that some don't farm enough of their own wildflower plots, the way Atha and McGee would prefer. And some customers might turn to the florist of my high school years, who can assemble displays convincing enough to make you fall in love with a wildflower that, in reality, represents none of the values you admire it for.
"We are left," Atha explains, "with our impressions and trust in the supplier."
I live in New York, and my favorite flower, the lisianthus, belongs in Central America and out West. If I want my wildflowers truly wild, then I need to move. Or, maybe less drastically, I need to venture upstate and trust Rachel to give me a new flower to fawn over.