An Inconvenient Time for An Inconvenient Sequel
Al Gore's follow-up to An Inconvenient Truth is an honest, not-too-uplifting glimpse at this moment in climate politics—and how the sausage of global diplomacy gets made.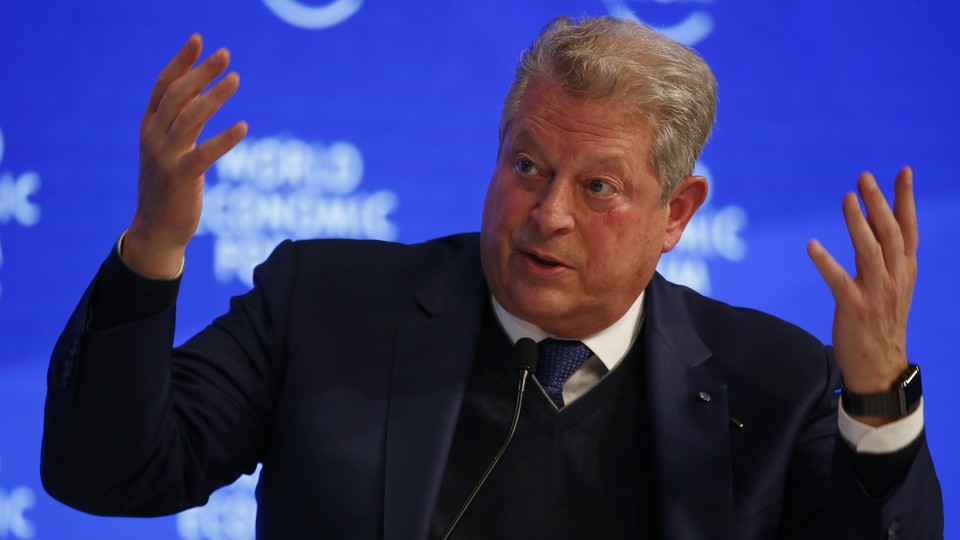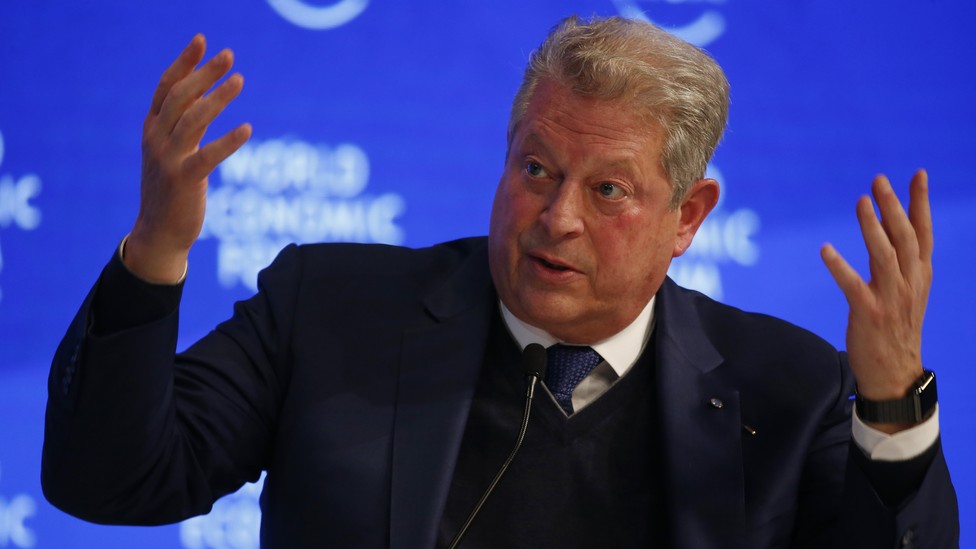 An Inconvenient Sequel, the follow-up to Al Gore's blockbuster 2006 global-warming documentary, An Inconvenient Truth, spends a major chunk of its screen time on an intellectual-property deal—one that was imagined, brokered, and sealed by the former popular-vote winner himself.
Not that that's a bad thing. The arrangement, which saw SolarCity donate one of its newest solar-panel designs to India, allegedly allowed that country to sign on to some of the more stringent language in the Paris Agreement. And the Paris Agreement on climate change provides the closest thing this documentary has to a plot. Over the course of 100 minutes, Gore educates handsome young people about global warming while working off-stage to push for a finished document. The movie's climax is the agreement's completion—a crowning achievement for Gore, and a rare triumph in the long and otherwise sorry history of global climate cooperation.
And just think: If 100,000 people had voted differently in three states, that could have even been the end of the movie. (Warning: This review contains spoilers about the last nine months of geopolitics.) But given that the last moments of the film take place in this world, the movie spends its last moments on the election of Donald Trump and America's abandonment of Paris. Gore declares that we cannot go back, we cannot lose ground, we cannot surrender—but he seems as at a loss as anyone else about what to do next.
Which makes An Inconvenient Sequel a pretty accurate document of the times.
More than a decade later, An Inconvenient Truth remains a standalone accomplishment in the history of American climate politics. Multiple studies have found that the movie really did shift public opinion on climate change. A Pew survey conducted in its immediate aftermath found that the number of Americans who say that climate change is caused by human activity rose by 9 percent, from 41 percent to 50 percent.
Perhaps above all, Gore's film was well-timed: Just as American opinion of the Bush administration was collapsing, and just as Hurricane Katrina reminded Americans that no one can escape the weather, An Inconvenient Truth refocused the media's attention on global warming. For a time, the issue became unavoidable.
This had real political consequences. In the 2008 presidential race, both candidates promised urgent action on climate change. "The facts of global warming demand our urgent attention, especially in Washington," said John McCain in a major 2008 speech. "Good stewardship, prudence, and simple common sense demand that we to act meet the challenge, and act quickly." The U.K. also passed its omnibus climate legislation in 2008.
For those few years in the late 2000s, some kind of lasting U.S. climate policy might even have been possible. It's impossible to ignore Gore's role in that period.
Yet at the same time, the present's bitter seeds were being sown. Some researchers have argued that An Inconvenient Truth's polling gains happened mostly among women and liberal, well-educated Democrats. An Inconvenient Truth, they say, helped create the infamous polarization about climate policy. Pew and Gallup both record the partisan gap on the issue widening by 5 percent between 2006 and 2008.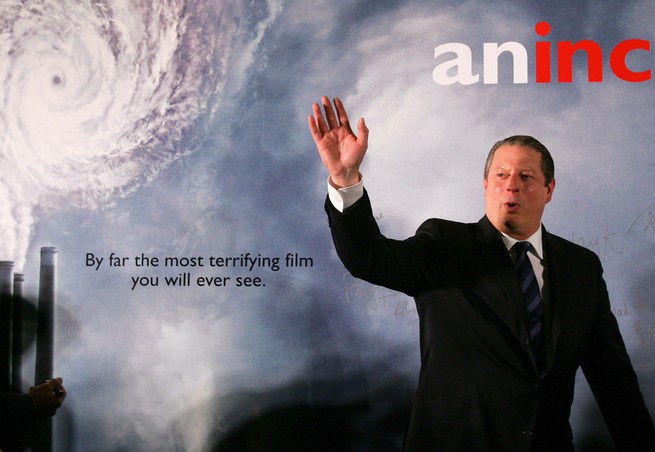 An Inconvenient Truth focused on the science of climate change. This makes sense: Global warming is half-Moses, half-Michael Bay, and Americans can't get enough of either of those guys. Climate policy, meanwhile, is Borgen, except boring. It's made through diplomacy, international investments, and the aloof professionalism of the global business class. These elements do not always make for fascinating material, but they are one of our best methods for actually solving (or, at least, managing) climate change.
An Inconvenient Sequel acquaints viewers with that disjunctive reality—again and again and again. We see Gore in meetings. We see Gore talking to his assistants and planning future meetings. We see Gore giving his climate talk to a room of young people. We see Gore touring a SolarCity factory in California. We see him standing around awkwardly with municipal officials from Miami Beach, Florida, as a "sunny day flood" rises above their galoshes. Later we see Gore shedding his waders for a suit, so he can give his talk again.
And we see him at the Paris conference on climate change. In the quasi-plot of Paris, India serves as his foe and his would-be bride. At a meeting on the sub-continent, India's environmental minister lectures Gore that his country has the same right as the United States to cheap, oil-spurred industrialization. Narendra Modi made the same point during his speech at the Paris convention. This movie is admirably open about how skeptically his government sees renewable-energy-spurred development. Americans who assume the rest of the world is in lockstep on sensible climate policy may be surprised.
Hence Gore's big intellectual-property deal. In order to secure the Indian government's acquiescence to the agreement, Gore asks SolarCity to donate the IP for their newest solar panel. (He also appears to secure interest-free loans for their renewable development, which seems like a bigger deal.) Elon Musk has relinquished patents like this in the past for other world-saving technologies, so there's some precedent. But Lyndon Rive, the CEO of SolarCity, seems authentically pained when Gore suggests the deal on the phone.
I can't say the deal makes for compelling cinema. (I also won't ruin whether Gore manages to seal it.) But it does make for the most heartbreaking scene in the movie. In trying to sell the donation to an Indian negotiator on the phone, Gore reads SolarCity's description of the solar panel straight off of SolarCity's website. He does not seem to understand why this panel is special—trusting Rive's own account that it is—but he comes across as totally committed to the deal nonetheless. It seems like he's not completely sure that what he's doing is really helpful, economically or technologically, but he must push on doing it anyway. We must imagine Sisyphus is happy.
The best moments of the movie are when Gore returns to climate science. In An Inconvenient Truth, he warned that soon the Hudson River would overwhelm lower Manhattan and flood the Ground Zero site. This was the most criticized part of his film, he says—before showing a news clip from Superstorm Sandy that depicts storm surge sloshing through the financial district and pouring into the 9/11 memorial. It is not comforting to live in 2006's worst-case scenario, but it sure is entertaining.
Gore also looks old. (He jokes about this, too.) He's let his hair go gray, and the flashbacks to the late 2000s—much like the early '90s—suggest a man who has sacrificed much of his life to a cause infinitely more frustrating than it should be. At the end, when the film entreats the viewer, infomercial-style, to sign up to join Gore's climate-leadership corps, it's hard to know whether you should feel inspired or daunted.
Watching the film, I thought: The reality of climate change can seem biblical, and the policy response can seem Coen Brothers-like. What they have in common is the Book of Job.
---
Related Video