Elon Musk Quits Donald Trump
The Tesla and SpaceX CEO said Thursday he would leave the president's advisory boards over the Paris agreement withdrawal.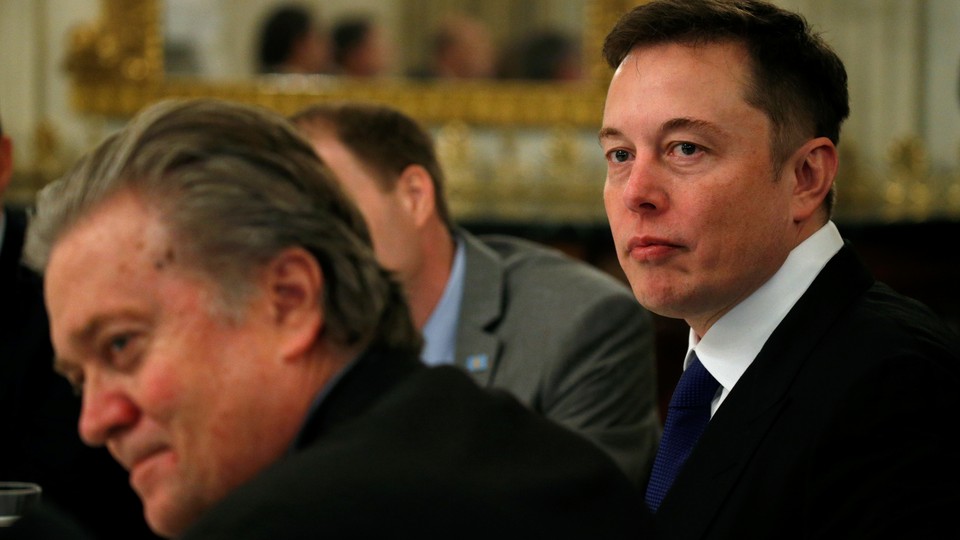 It seemed like an odd pairing from the start: Elon Musk, the brilliant South African immigrant who runs companies that build electric cars and lease solar panels to homeowners, and Donald Trump, the television-obsessed politician who repeatedly describes climate change as a hoax.
Musk joined the president's advisory councils a month after the election last year, along with a band of high-profile tech executives. Trump's election seemed like it could hurt those in the renewable-energy business, and Musk seemed to hop on board in part to get the president's ear. It also helped that Trump supported partnerships between NASA and private spaceflight company's like Musk's SpaceX. The partnership seemed shaky from the beginning, with Musk criticizing Trump's executive order banning immigration from seven predominantly Muslim nations.
On Wednesday, as rumors of the Trump administration's decision to withdraw the United States from the Paris climate accord swirled, Musk said he was leaving the advisory councils over the move. On Thursday, after Trump announced the nation would indeed exit the agreement, Musk followed through on his promise:
Am departing presidential councils. Climate change is real. Leaving Paris is not good for America or the world.

— Elon Musk (@elonmusk) June 1, 2017
He also tweeted a pointed message referencing China, Trump's favorite culprit for many global ailments, particularly rising temperatures:
Under Paris deal, China committed to produce as much clean electricity by 2030 as the US does from all sources today https://t.co/F8Ppr2o7Rl

— Elon Musk (@elonmusk) June 1, 2017
Others in the technology sector have also voiced their disappointment.
Brad Smith, Microsoft's president and chief legal officer, tweeted Thursday during Trump's speech:*
We're disappointed with the decision to exit the Paris Agreement. Microsoft remains committed to doing our part to achieve its goals.

— Brad Smith (@BradSmi) June 1, 2017
Oil gas giant ExxonMobil supported the U.S. remaining in the pact, as did Rex Tillerson, the company's former CEO and Trump's secretary of state. Earlier this month, the CEOs of 30 companies with operations in the U.S. published an open letter to Trump about the Paris agreement. "Our business interests are best served by a stable and practical framework facilitating an effective and balanced response to reducing global [greenhouse gas] emissions," they wrote. "The Paris agreement gives us that flexible framework to manage climate change while providing a smooth transition for business."
Business leaders have spent months trying to change Trump's mind on the Paris agreement, but in the end they proved unpersuasive. As for Musk, he can now try his hand at criticizing the administration from the outside, leveraging his considerable popularity with voters from both parties. He may not find success with this strategy, but at least he won't lose face with the renewable energy community, in which he is widely perceived as a leader, moral or otherwise.
---
*This article originally misstated that Smith is the CEO of Microsoft. We regret the error.