Why Are So Many People Applying to Be Astronauts?
NASA received more than 18,300 applications for its newest class, three times more than its last round of hiring.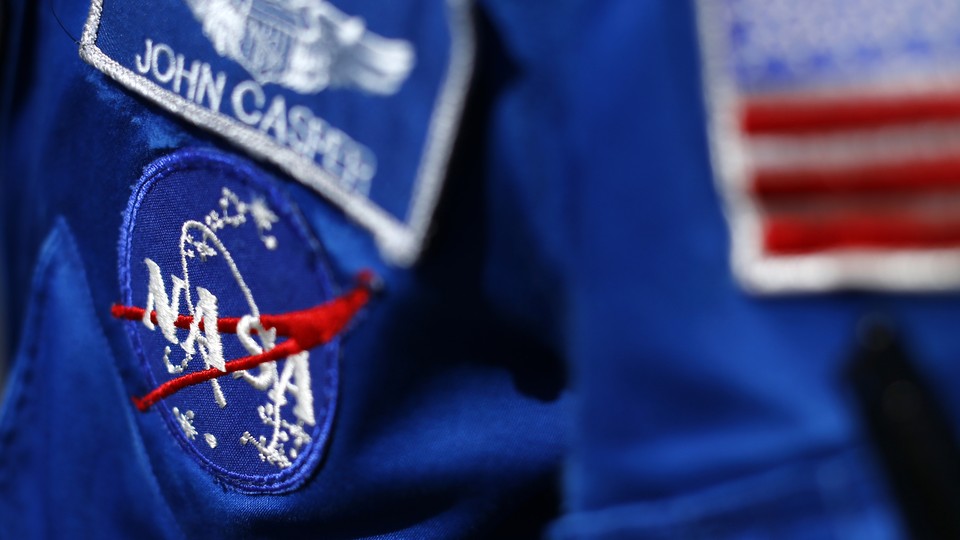 More American workers than ever seem to want the world's longest commute.
NASA announced Wednesday its newest class of astronauts, five women and seven men, ranging in age from 29 to 42. They were selected from a pool of more than 18,300 applicants. That's a record for the space agency, which received more than 6,300 during its last call for new hires, in late 2011. The previous record was 8,000 applicants, set in 1978, the year the Voyager mission left Earth for a tour of the solar system.
Being an astronaut is, obviously, a very cool job, so it's not surprising that thousands of applications roll in when NASA says it needs more of them. But NASA has benefitted in recent years from a convergence of some factors in spaceflight and popular culture that has, in some cases inadvertently, produced some useful recruitment tools.
Plenty changed in the short time between 2011 and late 2015, when NASA began accepting applications for this class of astronauts. The country's human spaceflight program seemed stalled in these years, wedged between the era of the space shuttle program and a mission to Mars that still seems too distant. But its reach was growing rapidly. More and more people were using social media, and astronauts took to Instagram, Twitter, and YouTube to provide them with beautiful views and thoughtful descriptions of life on the International Space Station. Special-effects heavy Hollywood films like Gravity, The Martian, and Interstellar transported the public to low-Earth orbit, the surface of Mars, and beyond the solar system, and NASA promoted the science the featured. Elon Musk's SpaceX live-streamed rockets launching and landing upright back on Earth, and NASA cheered it on.
"On social media, on YouTube, in the news—you can see people doing things in the spaceflight field that really look like science fiction, and I think the interest in being able to be a part of that has been increasingly high," said Margaret Weitekamp, a curator in the space history department at the Smithsonian's National Air & Space Museum.
The public knows a lot more about life on the the orbital station today than it did several years ago. Canadian astronaut Chris Hadfield's rendition of David Bowie's "Space Oddity," sung as he floated in microgravity, went viral in 2013. Hadfield posted many videos on YouTube from the station, showing earthlings how people cry, sleep, brush their teeth, and even throw up in space. Around the same time, NASA astronaut Karen Nyberg posted videos demonstrating how she washes her hair and works out. During his recent yearlong stay on the station, NASA astronaut Scott Kelly quickly built a devoted following by posting miraculous photos of his view of Earth. Gone are the days of watching space shuttle launches gathered around the television with family and friends.
"The experience of seeing a shuttle launch or land was a big cultural and social experience," Weitekamp said. "I think that the ability to share experiences over social media has made some of that otherworldly work more immediate and more relevant for people." This kind of engagement has brought space much closer to Earth, showing people—some of them perhaps aspiring astronauts—that outer space can be just like any other office, where employees can sneak away toward the windows when there's a particularly good sunset worth 'gramming.
NASA credits websites like Facebook, Reddit, LinkedIn, and others for helping spread the word about astronaut jobs back in 2015. "We made a concerted outreach effort that incorporated social media like never before," said NASA spokeswoman Stephanie Schierholz.
The Martian, aside from being a box-office hit, served as a very expensive wanted ad for NASA, Weitekamp said. The space agency consulted heavily with the makers of the film, and officials saw it as a way to publicize a future Mars mission, which will require some new human talent. There's no way to quantify the effect of Matt Damon growing potatoes with the help of his own poop on the recent increase in interest in astronaut jobs, but the timing is interesting. The Martian premiered in October 2015, two months before NASA published its call for astronauts. "Part of the drama of those feature films really builds around a smart, competent person trying to make a hard, life-or-death decision fast, and it makes for an entertaining movie," Weitekamp said. "But in some ways, it's a bit of a recruitment film."
It may not be the most accurate recruitment tool, and not because of the science fiction. Astronauts' days on the International Space Station are scheduled and scripted to the minute, and plenty of the work, like station maintenance, can be quite boring. High-stakes drama is very, very discouraged. "For any of our jobs, the most exciting, most telegenic parts of our jobs may not be what we spend most of our time doing," Weitekamp said. "There's a lot of email, a lot of meetings, a lot of planning." No one would watch that space movie, for the same reason no one would watch movies about linguists and journalists, unless they're meeting aliens or uncovering massive corruption.
NASA says the latest pool of applications came from people in all 50 states, Washington, D.C., and the U.S. territories Puerto Rico, Guam, and American Samoa. The class will likely be a mix of civilians and people with military backgrounds, once a requirement for astronauts, back in the days when the job necessitated knowing how to pilot a spacecraft. There are no age restrictions for applicants, but the average age of selected candidates is 34. The astronauts will spend the next two years training, practicing spacewalks in giant pools and learning to speak Russian. They'll be eligible to work on the International Space Station, and may eventually launch to space in spacecraft built by SpaceX and Boeing or through NASA's Orion capsule and Space Launch System.