The Millennial Astronaut Who Wants to Go to Mars
Jessica Watkins, one of NASA's newest recruits, says she's ready—but only if there's a ride back.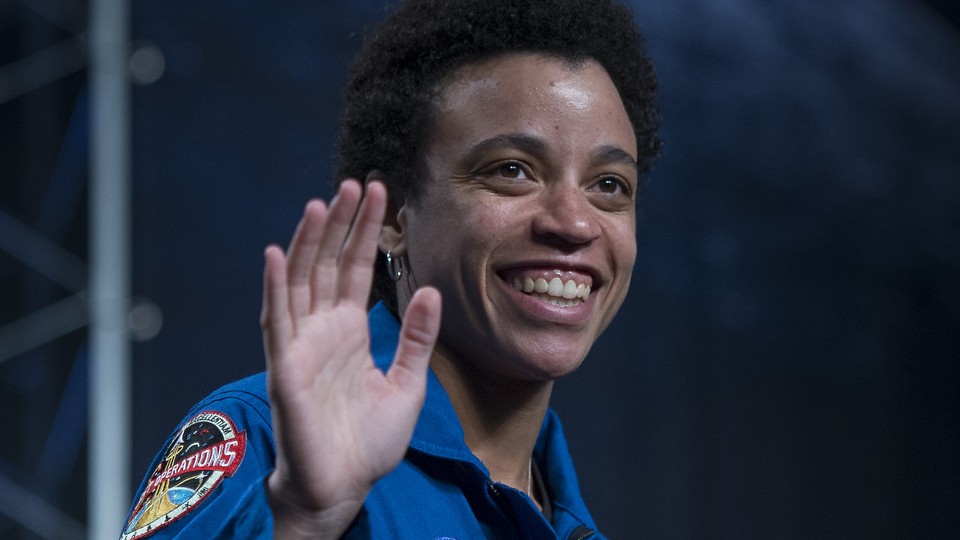 When Jessica Watkins was growing up, NASA was launching space shuttle missions into low-Earth orbit about every few months. But Watkins, one of NASA's newest astronauts, doesn't really remember watching the launches on television. Her first enduring memory of American space exploration came in 2004, when a pair of robotic rovers, Spirit and Opportunity, landed on the surface of Mars.
"That was a really cool moment, and I kind of knew from then that it would be really awesome to work on a Mars rover," said Watkins, who was 15 years old at the time.
Watkins and 11 others were introduced last week as NASA's newest astronaut class, selected from a pool of more than 18,300 applicants. Watkins turned 29 years old last month, and is one of the youngest astronaut candidates in history. Two other new recruits, Kayla Barron and Zena Cardman, are the same age. This makes them the first astronauts to emerge from that much-maligned cohort, the millennials. Unlike earlier generations of astronauts, they came of age during a time in American spaceflight when space-shuttle launches were, for the most part, routine, and schools no longer interrupted lessons to wheel in bulky televisions so students could watch the action. By the time of their early twenties, the shuttle program was canceled.
Watkins laughed when asked whether she considers herself a millennial. "I am not as well-versed in social media as some of my peers. That makes me feel less like a millennial at times," she said. "But I think an ideal of the millennial generation that I do kind of ascribe to is the idea of exploration and being passionate about that."
The space shuttle program did influence Watkins in another way. Watkins said she has dreamed of being an astronaut since she was about 10 years old, when she was attending Judith Resnik Elementary School in Gaithersburg, Maryland, named for the NASA astronaut who was killed with her six crewmates in the Challenger explosion in 1986, two years before Watkins was born.
"I imagine that I must have had a conversation about my parents at some point about, who is Judy Resnick, what did she do?" Watkins said. "And I think that must have been when I was inspired by her story and led to this passion."
Her decision made, Watkins said she focused on doing well in school. She went to Stanford after high school to study mechanical engineering, but switched to geology and environmental sciences after realizing she wasn't passionate about the subject. She interned at NASA during college, working on the Phoenix lander that arrived on Mars's surface in 2008. Watkins received a doctorate in geology from UCLA, where she studied landslides on Earth and Mars. Most recently, she worked in Caltech's geological and planetary sciences division, studying the red planet through the eyes of the Curiosity rover. In 2009, she participated in a Mars simulation at a NASA research facility in Utah, roaming the desert in a spacesuit to protect herself from the pretend Martian atmosphere. "We intend to send her to Mars one day, folks," said a NASA official last week as Watkins took the stage at Johnson Space Center in Houston.
Watkins is ready to go—but not to stay. "As long as there's a ride back, sign me up," she said. "I have too many loved ones and too much work to do back here to go for a one-way trip."
Watkins often imagines what it might be like to apply her knowledge of Earth's geology to Mars, which NASA says it wants to reach by the 2030s. "When we go out into the field and are investigating rocks, we can hike around, look at the landscape, take in our surroundings, the topography," she said. With the Curiosity rover, "we can only work with images, which are super high-resolution, but not quite the same thing as having boots on the ground."
Watkins and her fellow recruits will report to Johnson Space Center in August to start two years of training, which includes learning Russian and bobbing in a giant indoor pool to practice spacewalks. She'll work at Johnson's astronaut office until she receives a flight assignment.
Watkins is the sixth African-American female astronaut in NASA history. Only three have been in orbit; Jeanette Epps, an aerospace engineer, will become the fourth when she launches to the International Space Station in May 2018. Watkins counts Mae Jemison, the engineer and doctor who became the first African-American woman in space in 1992, among her heroes.
"What she provided for me was exposure," Watkins said. "Being able to see somebody who looks like you in a position or in a role that is something that you aspire to do, I think is really important."
Jemison has said that when she was a little girl watching the Apollo astronauts take off in the 1960s, she wondered why none of them looked like her. Watkins said she feels honored to be in the company of woman like Jemison who can serve as examples to young girls.
"It's something that I don't take lightly, and something that I know is an important responsibility," she said. "I'm excited about that opportunity, to be that kind of representative, to be able to be somebody that people can look to and see doing cool things, like going to space, and hopefully they will be able to see that that's something that they can do, too."