What Are Your Eclipse Plans?
We want to know how you're celebrating the celestial event of the summer.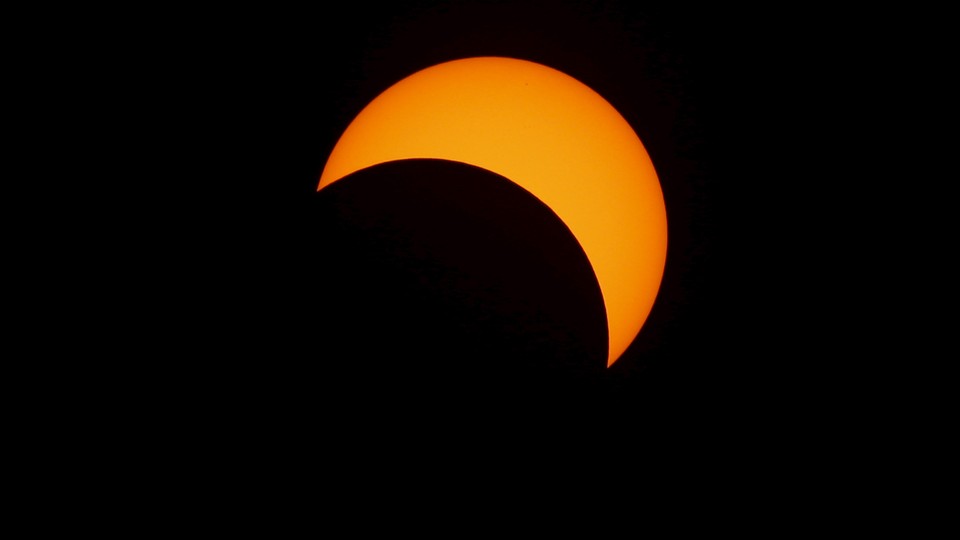 On August 21, a swath of the continental United States will experience one of the strangest and most wondrous phenomena it is possible to witness on Earth. A total solar eclipse will sweep the country from coast to coast. Along the eclipse's curvaceous path from Oregon to South Carolina, the moon will momentarily block the face of the sun, obscuring all but its wispy, diaphanous atmosphere, and bathing the land below in darkness.
As the sky blackens and the stars and planets become visible, birds will fly back to their roosts. The wind will change direction. The temperature outside will cool, and the upper atmosphere will glow with strange, ghostly light, which will dance as though it is alive. After just two minutes, it will be over.
It is not to be missed. Seriously, if you have a way to reach a spot within the "path of totality" for this Great American Eclipse, it will be well worth it to do so.
"It's an immersive experience unlike any other astronomical phenomenon, apart from the aurora, probably," says Kate Russo, a psychologist and eclipse chaser. "You feel it above you, around you, within you. You feel the changes. … You just can't believe that you're seeing what you're seeing. You're looking at the world around you, but it almost feels like a different world."
From coast to coast, Americans along the eclipse path will be hiking up mountain trails, camping in fields, pulled over in superstore parking lots, idling on roadsides—all watching the sun and waiting for it to briefly vanish. The entire continent will experience at least a partial eclipse, which won't turn the sky dark, but which you can safely view using a pair of eclipse glasses.
About 12 million people live within the path of totality, but astronomers and eclipse enthusiasts are trying to convince millions more to drive there. As a result, small towns in states like Wyoming and Nebraska are expecting tens of thousands of visitors in the days before and after August 21. St. Louis, which is the most populous metro area on the eclipse path, has been planning for the event since 2014.
The good news is you still have time to plan your own trip and join the ranks of eclipse tourists. (You can use this interactive map to figure out how many minutes or seconds you'll see in any location.)
Once you've seen one total eclipse, you may well resolve to see more, says Jay Pasachoff, an astronomy professor at Williams College and the man who has arguably seen more eclipses than any human in history.
"People cheer, people cry, and they determine to go to another one, because it's been so wonderful even though it's been so brief," Pasachoff says.
Before it happens, we want to hear from you. Are you taking an eclipse road trip? Tell us where you're going. Let us know why you picked your spot, and when. Describe what you hope to see, or what you hope to feel. Tell us how you plan to make the experience distinctive. We'll share it here, and give eclipse muggles something to get excited about.
Later this summer, we'll also be bringing you plenty of original coverage. Stay tuned for tales of eclipses and power, a look at American popular writing about eclipses and other celestial phenomena through the years, and a glimpse into how eclipses can provide varieties of scientific and religious experience. And much more.
For now, send us a note about your plans, and what you hope to see on August 21. You can reach us at: atlanticeclipse@gmail.com.