Did Climate Change Ground Flights in Phoenix?
Yes, but it didn't act alone.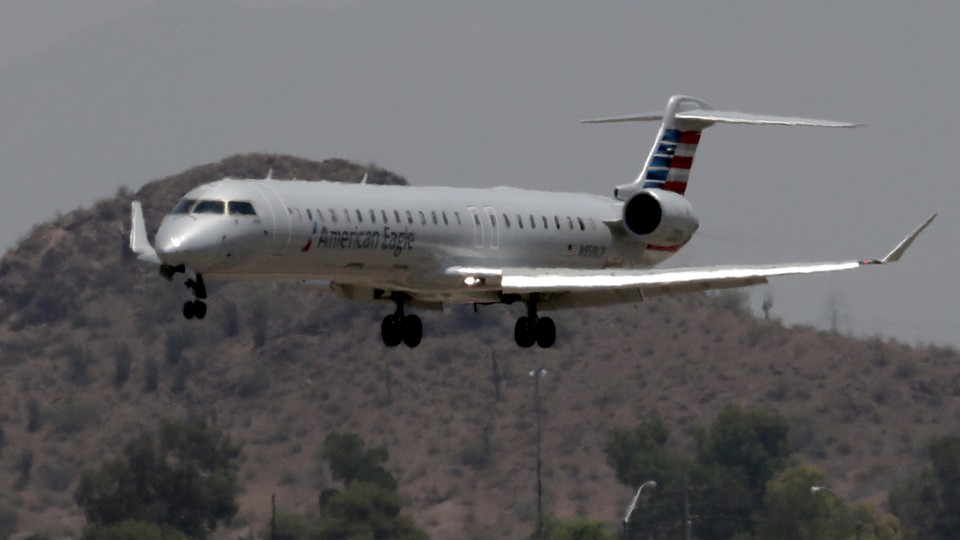 Weather always makes good news, but the role of climate change in altering weather, especially extreme weather, has made the subject a lightning rod for unease.
A case in point this week: A heat wave is triggering record temperatures in the Southwest. American Airlines reported having canceled up to 50 flights at Phoenix's Sky Harbor airport, where the temperature has neared 120 degrees in recent days.
Flight cancellations are a perfect foundation for climate-change panic. Commercial air travel is an aspect of ordinary life that touches everyone: Travelers can't help but worry that their mobility will be impacted by near- and long-term effects of climate change. Much of the coverage tracking the American Airlines cancellations pegs climate change as a direct or indirect cause of the disruption.
That account isn't wrong. But it doesn't tell the full story, either.
When I asked, American Airlines cited a 118 degree "maximum operating temperature" for the flights in question, and confirmed that "the heat has impacted some of our regional flights." But airplanes don't exactly have such neat and tidy maximum temperatures. Temperature limits might affect avionic systems—the electronics that run communication, navigation, and so forth—but temperatures interact with airplane performance more than they allow or prohibit flight itself. Density altitude, which can change in part based on temperature, affects aerodynamic performance of specific aircraft, but that performance also interacts with other factors, including weight.
"Aircraft engine performance is a function of many things including air temperature," Glenn Lightsey, an aerospace engineer and colleague of mine at Georgia Tech said. "Hotter days require longer runways and more gradual ascent paths to lift the same weight." Flight is complex, and it cannot be boiled down to a single number.
The specific aircraft matters, too. American Airlines canceled flights using Canadair Regional Jet (CRJ) equipment. These are the business jets that cover routes between hubs and smaller markets. Larger passenger jets are rated to tolerate higher temperatures, well above those currently being experienced in the American Southwest—after all, planes also fly from Dubai, Riyadh, and Cairo.
The CRJ's history might play a role in its airworthiness under extreme heat. CRJs are currently made by Bombardier, a multinational transportation manufacturer. Bombardier bought the CRJ line from Canadair, a Canadian state aerospace company. These jets were originally designed for business use, and only later developed to serve the commercial regional jet market. They were not necessarily intended for use in all conditions and markets, nor to be packed full of passengers like they are today. (Bombardier did not immediately respond to a request for comment.)
That circumstance is a consequence of deregulation and consolidation in the American airline market. When regulation demanded that airlines serve all markets, larger jets serviced smaller airports. But as those requirements lifted, and as more airlines merged, even once-thriving hubs like Cincinnati, St. Louis, and Memphis have become minor markets. Airlines began relying on equipment like the CRJ, because they can transport a smaller number of people at a lower cost. Were the affected flights on Boeing large jets instead, there would be no question about their ability to fly.
Speaking of cost, it's not clear if American itself has issued the CRJ-based flight cancellations, or if they came from the regional partners that actually operate those flights under American-Airlines livery. The business relationships between major carriers and their regional partners are complex. Some are wholly owned subsidiaries, while others—including Mesa and SkyWest, which serve Phoenix on behalf of American—are contracted carriers.
Regional carriers tend to endure financial pressures from their major-carrier partners, some of which might make the effects of high-temperature operation a financial or operational burden. For example, it's possible that the planes could fly safely above a certain ground temperature, but that the performance data to facilitate that flight is not already available or easily determined. Airlines have to buy the performance charts used to operate flights, and they might determine that it is not worth purchasing them for unlikely or uncommon scenarios.
American Airlines didn't comment when I asked who had made the determination to cancel flights, or if available performance data had any impact on the decision. At least one other airline, Delta, also canceled a flight operated by SkyWest on CRJ metal scheduled at the peak of Tuesday's heat, although it isn't clear if temperature played a role in that decision, or which airline made the call to cancel it.
Grounding flights due to heat in Phoenix clearly is a matter that interacts with climate change. But it's not solely explained by climate change. Industrial history, public policy, market economics, and other factors exert pressure on the situation, too.
And that applies to more than flight. Climate change is a wicked problem because it interacts with so many other aspects of the lived and built environment. It does the subject a disservice to pretend that it can be summarized by the reading on a thermometer.