Congress, the Doctors Will See You Now
Incensed by attempts to repeal the Affordable Care Act, several Democratic physicians are planning to run for office.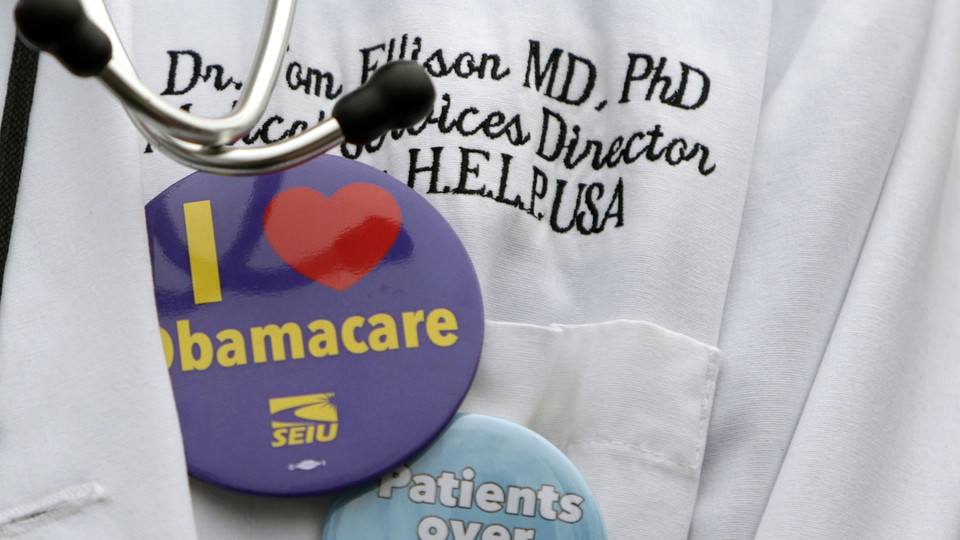 For 25 years, Mai Khanh Tran has been a pediatrician in Orange County, California. Most of her patients come from working-class migrant families. And the recent months have not been easy for them. Two weeks ago, just after the House of Representatives voted to pass the AHCA—the bill that would repeal Obamacare—Tran received a call from a patient whose daughter has a brain tumor.
"She works in a nail shop and she couldn't get health care for her children until the ACA," says Tran. "When her kid was diagnosed, she had good care—expensive, but good. After the election, we cried in my office because we realized that this was going to affect her daughter's life soon. We didn't think it would be this soon. She called me last week, petrified. Now that her child has a pre-existing condition, she's terrified she won't be able to afford her premiums."
"That's why I'm running for Congress," she adds.
After the AHCA was first proposed in March, Tran tried calling her representatives and showing up at their offices to voice her dissent, but she couldn't get facetime. That's when she first considered running for office herself. The AHCA vote finalized her resolve. She will shortly announce her candidacy for California's 39th congressional district. "I think it was unconscionable," she says. "Republican lawmakers don't have a real handle on the impact on actual lives of people in their community. They need to be held accountable and I want to do that."
Of course, there are already 15 physicians in Congress, and 13 are Republicans. Ralph Abraham is one of them: He practices family medicine in Louisiana and still sees patients a few times a month when he's not in D.C. His reasons for running in 2014 mirror Tran's: He wanted to fight for poor patients who were being priced out of healthcare. But unlike Tran, he blames the ACA for their woes. "You can put those patients in a box and say, yeah, they've got insurance, but when it comes to pulling money out of their pocket, they can't," says Abraham.
Abraham ran for Congress at least partly to oppose the ACA, and he voted to repeal it earlier this month. He puts little stock on what he calls "speculative" estimates from the Congressional Budget Office that 24 million Americans—and poor, old, or sick ones, in particular—would lose their insurance under the AHCA. "I'll be the first to admit that our Republican plan is not perfect and I hope we can modify it so it's better," he says. "But what we have now is not working."
Tran clearly disagrees. She feels that her physician peers in Congress are more interested in voting down the party line than in voting for their patients. She's not alone in thinking that. Several other physicians have recently felt compelled to enter the world of politics, especially after the recent attempts to repeal Obamacare.
"This is personal for me," says Jason Westin, an oncologist at MD Anderson Cancer Center who is running for the 7th seat in Texas. "All of my patients have pre-existing conditions and I can't do anything in my current role to fight back for them. I've had a lot of patients who have problems with insurance. They're doing well in clinical trials of life-saving drugs, but their access is now threatened. This isn't a political football. This is going to hurt real people." And he is perplexed by the Republican physicians who have voted for the AHCA. "The Hippocratic oath I took said: First, do no harm," he says. "How could someone else who took that same oath look at the same bill and support it? I don't know."
Westin remembers a moment after the election when he saw his 5-year-old daughter fall down during a soccer game. "I went over and saw that she was fine, so I told her that we don't fix our problems by complaining. We get back in the game. That night, I was venting on Facebook and realized that I'm a hypocrite. So I looked for ways to get in the game." He realized that Hillary Clinton narrowly won his district in the 2016 election, even though Mitt Romney had easily carried the seat four year before. "It's a highly educated area, with a major medical center. It's ripe for someone with a background in science and medicine to speak on political issues with authority."
"If we make our healthcare system better, we need to focus on quality, access, and affordability—and I think the AHCA fails on all three areas," says Ryan Allen, an emergency physician based in Austin, who is considering a run in Texas's 21st district. If he does, he will go up against Lamar Smith, Chair of the House Science Committee, whose attitude towards scientific evidence is also motivating Allen's interest in politics. "He has lately made a career of obstructing scientific exploration and the use of scientific data. I feel that threatens my kid's future, and I think one of the things that's missing from Congress is that ability to interpret data and turn it into public policy." (None of the congressmen whose seats are being challenged returned requests for comment.)
This is part of a wider trend of unprecedented grassroots enthusiasm for the 2018 elections. "A whole variety of people, who have never held office before, are getting off the sidelines in response to Republicans in Washington pushing policies that hurt their neighbors and their communities," says Cole Leiter, a spokesperson for the Democratic Congressional Campaign Committee. "It's not just doctors—we've heard from veterans, scientists, engineers, small-business owners, farmers, pilots, and more."
This is the hardly the first time doctors have been mobilized by events in the Capitol. When Congress created Medicare in 1966, it also politicized a wave of doctors—but against socialized medicine. As the New Yorker writes, the American Medical Association launched an aggressive campaign against the program and created a political action committee to support candidates who would oppose it.
The latest set of political newbies face steep learning curves and significant challenges. For example, if Tran beats the many other Democratic candidates in the primaries, she would then run against Ed Royce—a veteran politician who has held his seat since 2013, following an even longer stint between 1993 to 2003. Tran, by contrast, has no experience in politics at all. "But I'm in the community, on the frontlines," she says. "I think that will carry me much further than someone who's been in Washington for two decades and doesn't serve his constituents. And I've overcome improbable odds before."
Tran grew up in Vietnam against the background of war. In 1975, after Saigon fell, her parents handed her and her three siblings to an orphanage, so they might be evacuated. Tran remembers puzzling over the sight of her father wearing sunglasses for the first time, and realizing that he didn't want his children to see him cry. She remembers boarding one of the last flights out of Vietnam, surrounded by nurses, soldiers, and handicapped children. She remembers being carried off the plane by a marine in San Francisco.
The siblings settled in Oregon, and were eventually rejoined by their parents. They paid the bills by sewing, working in strawberry fields, and renting out the single bedroom of their apartment—the family slept in the living room and kitchen. Tran worked hard, and after graduating high school, she earned a scholarship to study at Harvard. While taking classes, she doubled as a janitor for the dorms. ("I thought picking berries was bad!")
After graduating, Tran spent a brief stint as a financial analyst on Wall Street before getting her medical degree and returning to the west coast. Beyond her practice, she also helped to found two non-profits dedicated to improving care for people with leprosy, especially in Vietnam.
To compensate for her inexperience, Tran—along with Westin, Allen, and others—is getting help from 314 Action—a political action committee that was formed to help scientists run for office. They are currently working with around a dozen candidates, teaching them the basics of campaigning, helping them to find staff, and connecting them with a network of donors.
Joshua Morrow, executive director of 314 Action recognizes that the candidates are underdogs. "Any time you're running against an incumbent, chances aren't great," he says. The biggest challenge for the MDs-turned-campaigners, he says, is to learn a different way of communicating with voters, listening to people at their front doors rather than down a stethoscope.
But for the candidates themselves, the heaviest immediate burden is the prospect of stepping away from their patients. That's partly why Allen still hasn't finalized his decision, and why Tran took so long to confirm hers. "I had to really dig deep," she says, "but this will allow me to help a broader group of people."
"It would be a new way for me to do good, with hundreds of thousands of people across the U.S. rather than just one person sitting opposite me," adds Westin.