What's Next for the Keystone XL Pipeline
Activists plan an all-out resistance on multiple fronts.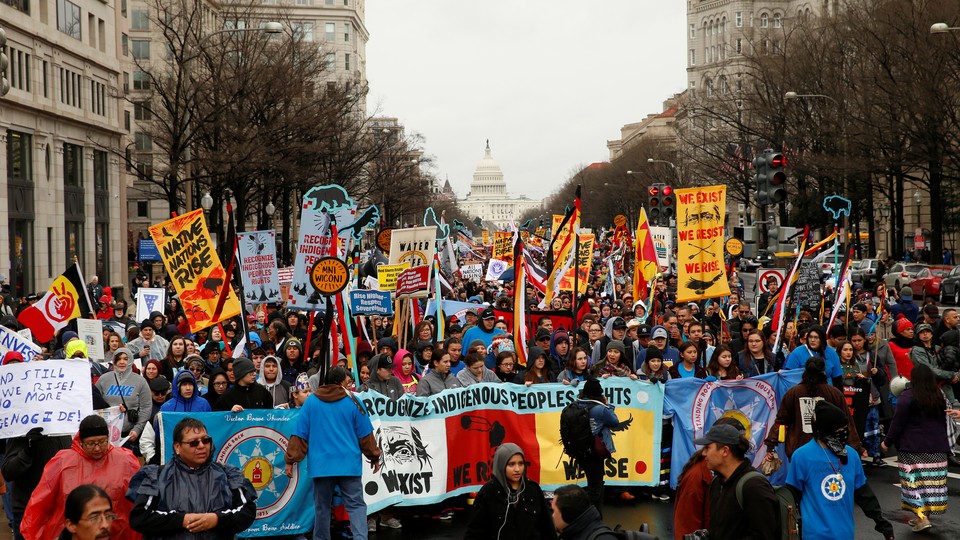 Because that which has never lived cannot really die, the Keystone XL—the grinding, symbolic climate-change fight of the Obama era—has returned.
On Friday morning, President Trump formally approved the pipeline, completing a process that he began a few days into his presidency. In the United States, the pipeline as planned will stretch hundreds of miles—from Nebraska to Texas—and allow oil from the tar sands of Alberta to be exported from the Gulf of Mexico.
"TransCanada will finally be allowed to complete this long-overdue project with efficiency and with speed," said Trump. "It's going to be an incredible pipeline, the greatest technology known to man or woman. And frankly, we're very proud of it."
A few hours later, activists and indigenous leaders from across the country piled onto a press call to tell reporters that the years-long fight wasn't over yet.
"This project is going to be fought at every turn," said Bill McKibben, a co-founder of the climate-activism group 350.org and one of the first organizers of anti-Keystone protests. "There's nothing static about this project. In the six or seven years since we started fighting it, the price of a solar panel has fallen 75 percent."
McKibben and other leaders outlined an all-out assault on every aspect of the pipeline's completion. The fight has taken on higher stakes. During the early 2010s, global oil price were high. It's expensive to drill in the Albertan tar sands, but the overall cost of oil would have made it feasible even if no pipeline was built. But as the price of crude has fallen around the world, the Albertan tar sands will likely only now get drilled if there's a cheap way to transport their haul—like an extra-large pipeline, for instance.
In other words, if the Keystone XL never gets built, activists really might find a way to keep all that oil in the ground.
Fortunately for them, the pipeline does face at least two major obstacles—one of which is administratively unavoidable.
The clearest hurdle is that the state of Nebraska has still not approved a path for Keystone XL. TransCanada, the corporation leading the project, has submitted three different possible routes for the pipeline, but the state's Public Service Commission has yet to approve any of them. According to activists, more than 100 people have filed to formally intervene against the pipeline's proposed routes.
During his signing ceremony, Trump said he would call Pete Ricketts, the governor of Nebraska, on Friday to cheer on the project. (Ricketts, a Republican, told the Omaha World-Herald on Saturday that the president never connected.) But Governor Ricketts will not get to decide: The Nebraska state constitution delegates authority over pipelines to the Public Service Commission, a power that the Nebraska Supreme Court has somewhat upheld.
Second, environmental activists will soon sue the State Department, according to Bloomberg. They will allege that the Trump administration ran afoul of proper administrative procedure when it quickly re-authorized the pipeline this month.
After a months-long process, the Obama administration canceled the pipeline late in 2015, saying that its approval would discredit U.S. climate leadership; Trump undid that decision within a week of entering office and instructed the State Department to approve or reject the project within 60 days. In order to meet that deadline, federal employees reused much of the Obama-era analysis in choosing to approve it. According to E&E News, the expedited review process was conducted by essentially the same employees.
A speedy-reversal process like this might violate federal administrative law, including the National Environmental Policy Act. That law requires the federal government to complete a new environmental-impact statement for most major federal projects. (Were the federal employees aware of this legal liability as they followed Trump's orders? It's an interesting question. And it suggests that Trump, who seems to have a notional understanding of administrative law at best, won't always recognize when the bureaucracy is resisting him.)
Those are the two paths most likely to slow down the pipeline's progress, but activists hinted Friday that they will set other types of resistance in motion. They believe TransCanada needs more funding to complete the pipeline, so they will try to discredit the dozens of banks financing the pipeline. Jane Kleeb, who has organized Nebraska land owners against the pipeline, said she doubts that the state can use eminent domain to seize land for an international project.
"We do expect resistance camps along the path of the Keystone pipeline," said Dallas Goldtooth, an organizer with the Indigenous Environmental Network. These camps attracted great public attention throughout the summer and fall, when a similar tactic was used among Sioux-affiliated nations to reject the Dakota Access pipeline.
Goldtooth said that indigenous people were especially prepared to resist the constant churn of the Trump administration. "A lot of people feel daunted, and there's a sense of exasperation—the attacks are not stopping from this new administration," he told me. "For us as native people, we're kind of used to that. We're determined to assert our rights, determined to assert our self determination to our water, our bodies, and our land."
There is another difference between the Keystone XL fight during the Obama and Trump eras, though. Among those who worry about climate change, Obama was a popular president, and he seemed mostly receptive to the activists' arguments. He could also be successfully pressured from the left. After a major anti-Keystone protest in April 2014, Kleeb received an email from the White House that said: "Okay, you've got our attention."
Trump doesn't seem to care about the environmental left at all: He won despite its massive opposition, after all. But from activists' point of view, the Keystone XL pipeline has now morphed from an icon of Big Oil into a continent-spanning symbol of the Big Haired One himself. And they are all too happy to call on the  broader, anti-Trump "Resistance" to help fight against it.
On Friday, Kleeb deployed now-familiar tropes against Trump, implying he has already broken his promises to the country and to working people. "Trump said he would only approve Keystone XL if America got 25 percent of profits, which we will not; and only if it used U.S.A. union steel, which it does not," she said. That argument also has the benefit of matching the facts. Trump really did promise a cut of the profits, and he really did say that TransCanada should use American steel.
No such national profit-sharing scheme has been announced—and the vacant tubes of steel, destined for use in Keystone and reportedly of foreign origin, have been languishing in the Nebraskan plains for years. It looks likelier than it has in years that they will become a beautiful and enormous pipeline, one truly fit for Trump's enormous pride.