Trump's Climate Agenda: Do Less, With Less
From the EPA to the White House, from the budget to the federal register, his administration is dismantling climate-change regulation and the science that supports it.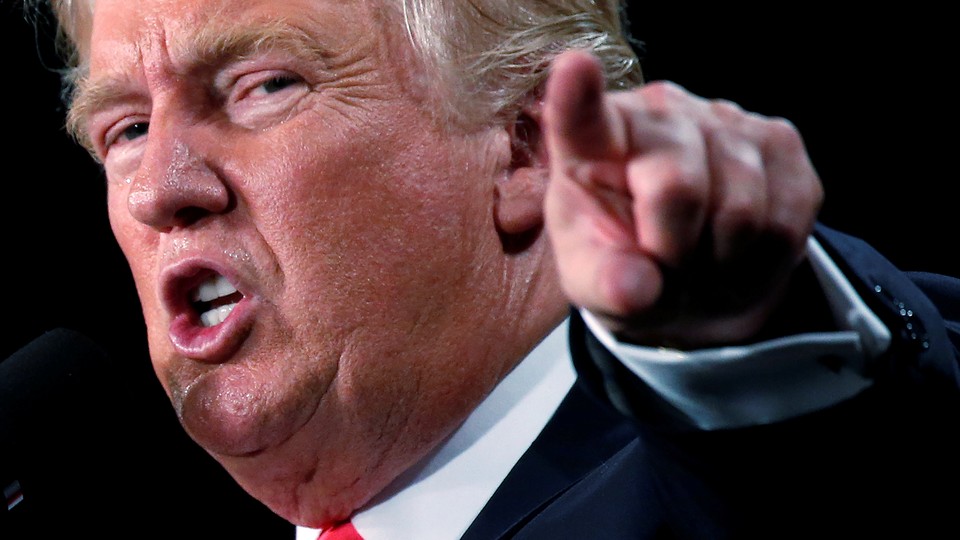 Scott Pruitt, the new administrator of the U.S. Environmental Protection Agency, seems like a refined and intelligent man. Speaking in public, he has an easy manner, a winsome smirk, and a pleasant drawl. Even though Senator Susan Collins opposed his nomination to lead the agency, the Republican senator made sure to note that he is bright and enjoyable, and that she might support him elsewhere in government.
He seems reasonable and genteel—all you'd want in southern lawyer.
Yet on Thursday, Pruitt let slip an opinion that was ugly, and false, and ugly in its falsehood. Carbon dioxide, he said, is not a "primary contributor" to global warming. In his opinion, the topic requires more study and debate.
With this comment, Pruitt finally confirms what many had long suspected: that he broadly rejects the mainstream scientific consensus around climate change. As I wrote Thursday, decades of research have found that carbon dioxide is a primary driver of modern-day global warming. Pruitt's comment is ugly because he is discarding all the work of discovery that got us there—all those decades of careful observation, onerous computation, and hard-won consensus—without providing an equivalent body of evidence. He is embracing the concept of "study and debate" as a stall, refusing to cede to what actual study and debate have found. It flies in the face of discovery, of curiosity, and of fact.
The comment made headlines around the country and around the world. Here was the new national head of the environmental protection, dissembling on the critical environmental issue of our time.
But compared to the other environmental news that has lately come out of the Trump administration, Pruitt's comments are of surprisingly little immediate importance. That's because, over the past three weeks, the White House and its new political appointees have begun to roll out a comprehensive environmental and energy policy. It is broad, creative, and industry-backed. To those who accept the mainstream consensus on climate change, there can only be one conclusion: The Trump administration has begun a sustained assault on Earth's climate.
This war will start in earnest on Tuesday, when early reports from E&E News indicate that President Trump will sign an executive order repealing the Clean Power Plan, the landmark regulation issued by the Obama administration that restricted greenhouse-gas emissions from power plants. These same reports suggest that Trump will not direct the EPA to formulate a replacement plan.
This will be legally tricky, as the Supreme Court ruled in 2007 that the EPA must regulate carbon dioxide under the Clean Air Act. The agency itself formally ruled that greenhouse gases were dangerous two years later. Most experts have previously said that—due to these two precedents—Trump would have to put forward some kind of weak greenhouse-gas plan.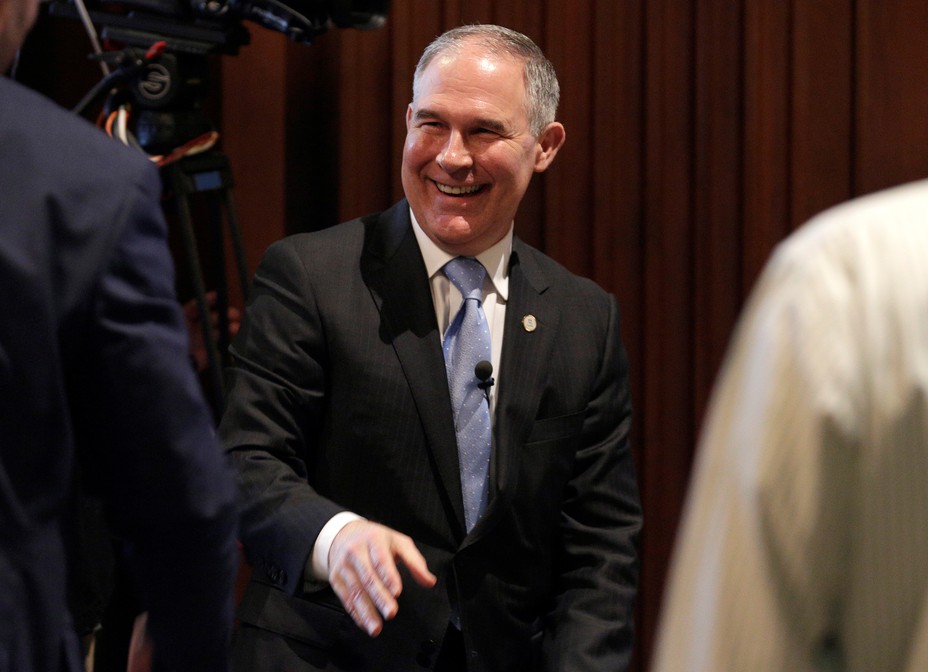 But Pruitt may fight these legal rulings. He argues that Congress has never specifically declared greenhouse gases to be harmful. And in his old job as attorney general of Oklahoma, he sued the EPA, alleging that the Clean Power Plan exceeded the executive branch's Constitutional powers. Some industry groups are pushing him to drop the EPA's regulation of CO2 altogether.
This appears only to be the beginning of the siege. The EPA and the Department of Transportation will also likely try to repeal the Obama administration's rules on tailpipe emissions. These regulations, called the CAFE standards, limit the amount of greenhouse gases that cars and light trucks can release. They were first issued with the auto industry's consent as part of the 2009 bailout for carmakers.
The New York Times has also reported that Pruitt may decline to issue California's special waiver to address air pollution. I wrote last week about why this is such a big deal: Since the early 1970s, the federal government has allowed California special privileges to impose its own strict air-pollution rules. Other states with a history of air-quality problems—including Georgia, North Carolina, and the entire northeast—are then allowed to adopt these rules wholesale. Pruitt may try to knee-cap the the state's rules that restrict greenhouse gases—cutting down California's sweeping climate policy.
Repealing either of these policies—the Clean Power Plan or the CAFE standards—could have huge implications for the speed and intensity of climate change. The government estimates that the Clean Power Plan will prevent 870 million tons of carbon emissions, bringing power-sector emissions 30 percent below 2005 levels. It says that CAFE, the tailpipe standards, will save 1 billion tons.
And there's a second cost to repealing these types of rules. When the EPA makes power plants abide by new pollution rules, utilities band together to invest in new and cheaper emissions-capturing technology. Often, this investment creates innovation and economies of scale, which make the pollution rules even cheaper to follow. When regulation gets rolled back, that innovation gets put off further into the future.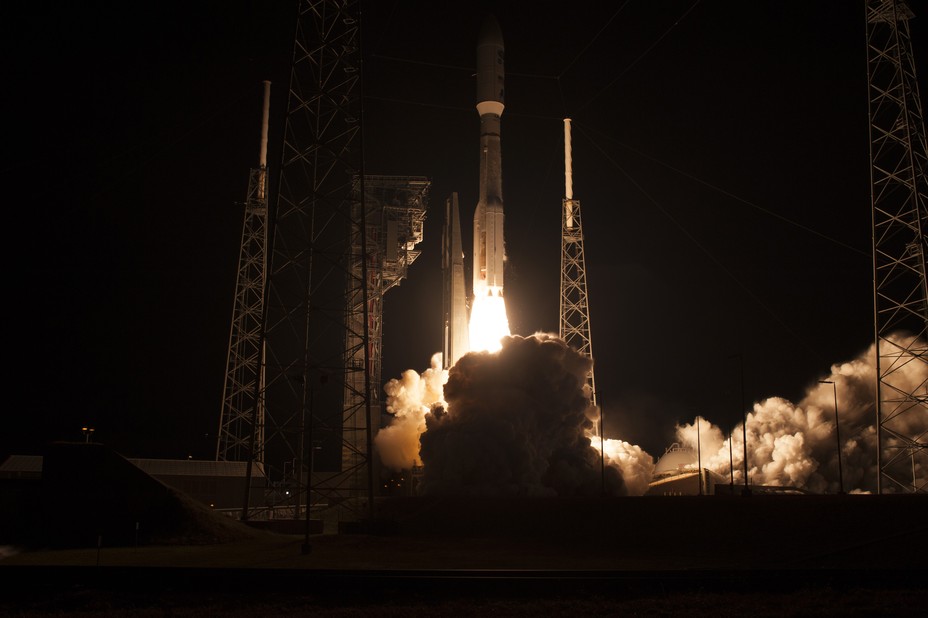 That's the legal and regulatory front. Another battle is unfolding in the Trump administration's proposed budget, which cuts funding both to research into climate change and into the government's ability to do anything about it.
In these cuts, the administration is responding to a second problem: It wants to find $54 billion to pour into the Department of Defense, but it doesn't want to raise taxes or increase the deficit. So it must find $54 billion in discretionary funding across the government to carve out and send the Pentagon's way.
It starts with the EPA, which has a budget of $8.1 billion. The Trump administration has floated cutting the agency's budget by 25 percent, essentially returning it to Carter administration funding levels.
As part of these cuts, 20 percent of the agency's staff would be laid off. The EPA always runs lean, but Trump's proposed cuts would slice into the bone: Thanks to years of sequestration funding, the agency's staff is already as small today as it has been since 1989.
Many popular programs would disappear with these employees. They include:
The EPA's EnergyStar program, a voluntary program that promotes energy-saving ovens, water heaters, and refrigerators;
The EPA's Global Change Research program, which releases comprehensive reports on climate change in the United States;
and the entire, $50-million program that reduced air-pollution from diesel engines.
Many state grant programs would also take a major cut. In these programs, the EPA redistributes taxpayer money directly to the states, so they can deal with their environmental problems locally. Under Trump's plan, state grants to improve air quality will take a 30-percent hit. Water-pollution state grants fall by 30 percent. And the local Chesapeake Bay and Great Lakes cleanup programs would be cut by 93 percent hit and 97 percent, respectively.
Many of these numbers were first reported by The Oregonian.
Then the White House turns to the National Oceanic and Atmospheric Administration, which provides free weather forecasts and climate research to people and businesses across the country. According to The Washington Post, NOAA could see its budget cut by 17 percent, or $990 million.
Where would these cuts come from? NOAA's research arm—which studies climate-related extreme events like hurricanes, late frosts, and heat waves—is slated for a 24 percent cut. Sea Grant, a $73-million program that monitors the health of U.S. coastlines and oceans, would be completely eliminated.
Meanwhile, the NOAA satellite program would see its budget cut by 22 percent, or $513 million. This is a particularly head-scratching reduction: The vast majority of  data in the National Weather Service's forecasts comes from NOAA satellites. At a time when American meteorology has fallen behind its European counterpart, why is the U.S. government cutting NOAA's budget?
Taking EPA and NOAA together, the strategy is even stranger. If Scott Pruitt thinks global warming deserves more study, why is he cutting the exact parts of the federal government outfitted to research it? And why are Republicans in Congress thinking about cutting climate research from the National Science Foundation at the same time?
But look on the bright side—at least Americans are strengthening the Department of Defense with all of these millions. According to National Geographic, the EPA cuts will allow the Pentagon to pay for 30 hours of 2016-level operations. The NOAA cuts will pay for 15 hours of national defense.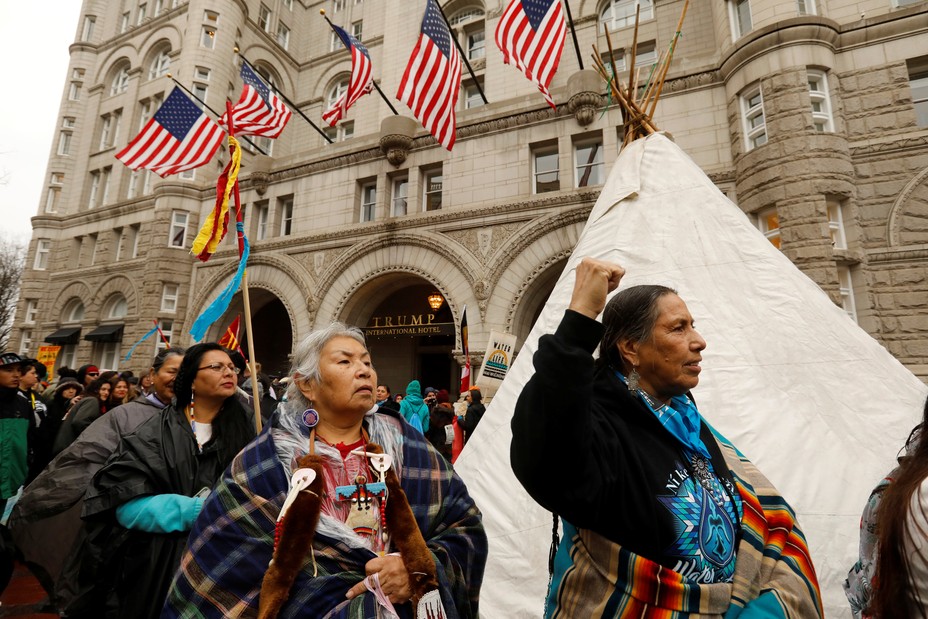 Still other parts of the government could face cuts. Experts expect that the Department of Energy will see $3 million lopped off its budget—cuts that are likely to come from renewable-energy research programs—but there's been no specific reports on what's affected so far. The Department of the Interior, which houses the U.S. Geological Survey, faces a $1.3-billion cut.
Meanwhile, members of the Trump administration have sent all sorts of little signs that their goal is to undermine climate science and intensify climate change. Scott Pruitt has filled the political leadership of the EPA with men who reject mainstream climate science. The White House has removed every legal obstacle to the swift completion of the Keystone XL and Dakota Access pipelines. And last week, the White House released a press statement that copy-and-pasted a paragraph from an Exxon Mobil press release.
Since the beginning of Donald Trump's campaign, he's sent mixed signals about the environment. He's repeated, time and time again, that he loves clean water and clean air. Yet he's also sworn that "we are going to get rid of [the EPA] in almost every form." The EPA is the part of the federal government legally charged with protecting clean air and clean water.
Likewise, he's consistently doubted the mainstream view of climate change, but occasionally declares (usually to a liberal-leaning audience) that he has an open mind about it. He meets with Al Gore and Leonardo DiCaprio one day, and appoints Scott Pruitt to lead the EPA the next. His daughter and informal advisor, Ivanka, is supposedly very concerned about climate change, but it's unclear what influence she holds over him.
With so much talk, and so much of it unclear, it's best to look to policies instead—and on that front, there can be little doubt. The majority of Americans who are concerned about global warming should hold few illusions about what this administration is doing. On every front it can think of, with great speed and expertise and efficiency, it seeks to increase the amount of carbon-dioxide emissions and remove the legal restrictions on them. The Trump administration has declared a war on the climate.