SpaceX Makes History
For the first time ever, Elon Musk's company flew a segment of its Falcon 9 that was used in another launch last year.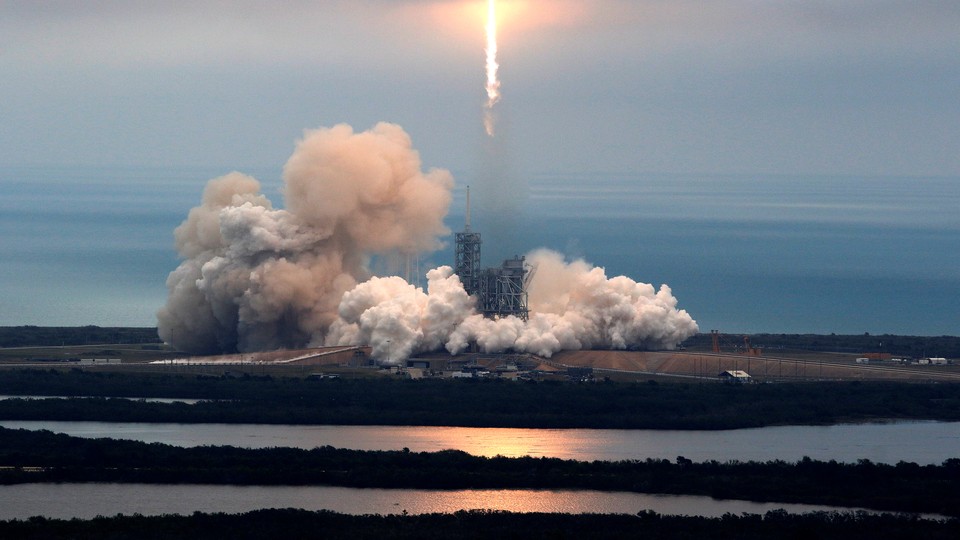 SpaceX just checked off another item on its bucket list on Thursday night. At just after 6:20 p.m. EDT, the private spaceflight company successfully launched a Falcon 9 rocket with a first stage that had previously flown before.* As an added bonus, SpaceX returned it to Earth, landing it upright on a drone ship in the Atlantic Ocean, a maneuver the company has completed several times now.
"I'm at a loss for words," Elon Musk said, shortly after the rocket stage touched down safely.
The rocket carried a commercial communications satellite built by SES, a satellite operator in Luxembourg. It blasted off from Cape Canaveral's launchpad 39A, the historic site of Apollo and space shuttle launches, which SpaceX leases from NASA.
SpaceX has spent years developing a reusable first stage of the Falcon 9 rocket, the 14-story-tall booster that contains most of rocket's engines and bears the company's name in big, vertical letters. (The smaller upper stage of a Falcon 9 continues the climb into the sky after launch, pushing the payload upward.) The first stage in Thursday's launch was used last April to transport cargo to the International Space Station as part of contract between SpaceX and NASA for resupply missions. The booster returned to Earth and touched down on a ship at sea. SpaceX then refurbished it for a second launch.
Most rockets are designed to burn up during reentry into Earth's atmosphere, which makes building rockets expensive and time-consuming. Musk has long wanted to develop reusable rockets, which would reduce the costs of spaceflight and increase the company's tempo of launches. SpaceX predicts that using recycled first stages could eventually reduce the cost of a launch by about 30 percent, from $60 million to $40 million, but for now it plans to offer only a 10-percent discount to customers who buy launches with reused stages.
Thursday's attempt is SpaceX's fourth successful launch this year. It's also the latest in a steady string of firsts for the company in the last decade or so. SpaceX became the first to put a liquid-fuel rocket built by a privately held company in 2008; the first to launch into orbit and return to Earth a rocket in 2010, the first private company to send a spacecraft to the International Space Station in 2012; the first to land a rocket's first stage on land in 2015; and the first to land a first stage on a floating platform in the ocean in 2016.
Things haven't always gone according to plan, however. A Falcon 9 rocket exploded minutes after launch in 2015, and another blew up on the launchpad days before its scheduled flight in 2016. The most recent failure unnerved investors, forced SpaceX into a four-month hiatus, and rearranged the company's ambitious launch schedule. But the company rebounded at the start of the year, and has now successfully launched four missions in three months.
This latest is its greatest triumph yet.
---
* This article originally stated SpaceX was the first company to fly a reusable rocket; in fact, the same New Shepard rocket from Blue Origin launched and landed five times between 2015 and 2016. We regret the error.