The 11-Year-Old Suing Trump Over Climate Change
When Avery McRae decided to take on the government's environmental policies, she had no idea who she'd be up against.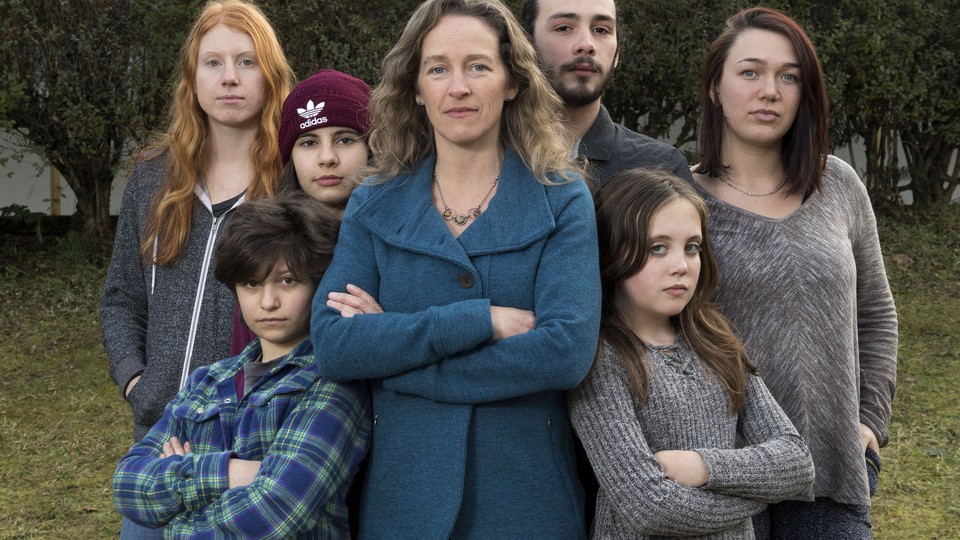 It was supposed to be Avery McRae's first day back at school after winter break, but fat snowflakes were falling outside and class was canceled. Her horseback-riding lesson wasn't happening either. At lunch with her mom and dad at Hot Mama's Wings, in Eugene, Oregon, Avery slumped in her seat and stuck out her lip, disappointed the way 11-year-olds are when they've been waiting for something forever.
"I haven't seen the horses in three weeks," she cried. "I'm going to die."
Avery had been in Denver for the holiday visiting family, but now she was back home, eager to return to sixth grade and afternoons stacked with extracurricular activities. She plays piano and has practiced Bhangra, a Punjabi folk dance, since she was two. Each morning, she feeds chickens she's named after flowers, and each evening, she makes sure they're tucked in their coop. In the spring, she runs a backyard business raising chicks for customers.
And, sometimes, she goes to court. Unlike most tweens, Avery is suing the federal government.
She's the second-youngest of 21 plaintiffs, ages 9 to 20, in Juliana v. United States, a case filed in Eugene in 2015 on the grounds that the federal government has knowingly endangered them by promoting the burning of fossil fuels. If climate change threatens their future, they reason, the government has violated their constitutional right to due process. There are roughly the same number of defendants as plaintiffs in the case, including the Environmental Protection Agency, the Office of the President and the president himself. Until January 20, that was Barack Obama. Now it's Donald Trump.
"You're suing Trump!" Avery recalls her classmates said when they flocked her at school on November 9. "I'm like, 'Yep.' What did I get myself into?"
When Avery and I spoke on the phone for the first time, about six months before the election, I asked her why people should care about the lawsuit. She became breathless as she described the stakes. In short, she said, the case will decide how future generations will survive on earth: "If they're going to have to wear air masks every time they go outside or if they're going to live in pristine environments where they can swim in cold water in the summer and fish and hike in old-growth forests and not worry about climate change."
Avery started caring about the environment around the age of 5, when she read a book about snow leopards. Finding out they were endangered made her "super heartbroken." Her mom suggested they raise money for the animals, so one day in December, Avery threw a party with a small suggested donation. She and some friends made leopard Christmas ornaments and decorated cupcakes with spots. By the end, she had raised $200 that she donated to the Snow Leopard Trust.
The following year, Avery and friends made more ornaments and raised money for wolves and, more recently, for salmon. Avery had seen some spawning in nearby Whittaker Creek and marveled over how they were swimming the same water as the previous generation of the fish had done, and the next generation would. It was a blow when her parents told her on the drive home that some salmon, too, are endangered.
It wasn't long after that she became involved with Our Children's Trust, the legal heft behind the lawsuit that works on climate cases with young people, lawyers, and scientists around the world. The organization is based in Eugene, Avery's hometown. When she signed up for a summer camp the group organized one year, she spent a week learning how to testify at city council meetings, painting a mural on the building of a bicycle shop downtown, and screen-printing shirts with polar bears.
Avery was especially inspired by Kelsey Cascadia Rose Juliana, who volunteered with the camp before becoming the lawsuit's namesake. "She's insane," Avery says—a compliment. Our Children's Trust was clearly impressed by Avery, too. The group asked her to join the lawsuit, and after considering the commitment—years—she was onboard. In a photo taken on the federal courthouse steps after the first hearing of oral arguments in March, Avery and the other plaintiffs are standing in front of a sign that says "Our future is a constitutional right." Avery, who still isn't tall enough to sit in the front seat of her parents' car, looks tiny next to Julia Olson, one of the lawyers representing the group, in the first row.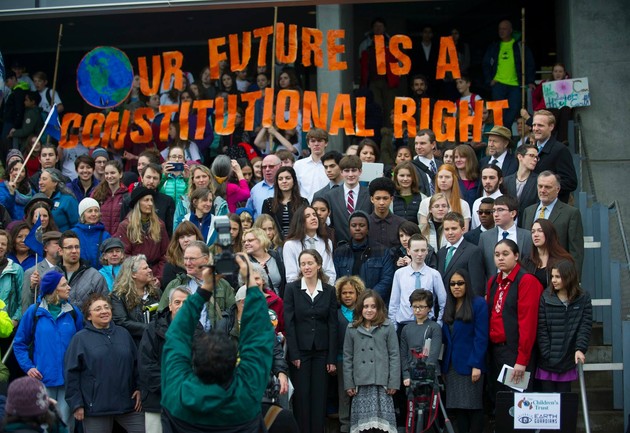 Avery's mom, Holly McRae, admits Eugene can be a bubble. The city is surrounded by natural wonder: Whittaker Creek, where Avery watched salmon chug upstream, is less than an hour from the McRae's house; Willamette National Forest and the Oregon coast are both less than two hours away. In Eugene, the McRaes have found a community of likeminded people who care deeply about the environment and social justice. Holly works as an events coordinator for the McKenzie River Trust, and Our Children's Trust recently hired Avery's dad, Matt, as a climate-policy strategist. Before that, Matt worked for the city as a climate and energy analyst.
"I'm surrounded by local activists working on so many things. It gives me hope," Holly says. "But it's also easy to kind of lose sight of the fact that we are not necessarily the entire country."
In November, more than 1.5 times as many residents in Lane County, where Eugene is the seat, voted for Hillary Clinton than for Donald Trump, according to the local paper. When Trump supporters flocked to a Eugene fairground for a rally in May, it felt like a different town to the McRaes. Avery recalled "lots of confederate flags." There were really only a couple, Holly told me later, but that's still more than Avery had seen before.
Immediately after Trump took office, all mentions of climate change were purged from the White House website except for a promise to kill Obama's policies. EPA staff were temporarily instructed not to issue press releases or post on social media without prior approval. Even before the inauguration, Trump's transition team unsettled many at the Department of Energy by requesting the names of employees who had worked on climate change within the agency.
"He's put his cards on the table," Olson, the lawyer, says. "He wants to renew development of coal in the United States. He wants to open up and authorize every pipeline he can for oil and gas development. He's pushing heavily towards increasing our fossil fuel-based energy system."
Avery was 3 years old when Obama was first elected, so Trump's charge into office was the first presidential transition she has ever really been attuned to. Up to this point, she has only known a president who was actively concerned about climate change, even if she and the other plaintiffs in Juliana v. United States believed his administration didn't do enough to prevent it. Now, it seems she's up against something else entirely.
In some ways, the new administration's stance on climate change actually could work to the lawsuit's advantage, Olson contends. If Trump and his team deny that global warming is happening and continue to contribute to "the destabilization of our climate," Our Children's Trust's case will be stronger, she says. And she thinks that unlike during the Obama administration, policies that hurt the environment will be more transparent under Trump. (Trump did not respond to questions about the lawsuit. The Department of Justice also did not respond to a request for comment about the case.)
The suit has already cleared a couple legal hurdles. Last April, the U.S. Magistrate Judge Thomas Coffin denied a motion to dismiss the case, and then in November, the U.S. District Court Judge Ann Aiken affirmed that ruling, and paved the way for the case to proceed to trial. On Tuesday, Coffin instructed the parties to prioritize expert discovery on the scientific components of the case, and scheduled another meeting for March 8, according to Our Children's Trust. The plaintiffs want the trial to start in the fall, but according to the organization, the federal government has indicated it's considering appealing the earlier rulings that denied motions to dismiss.
Aiken's decision that there might be a constitutional right to a sound environment is the first ever from a federal court, notes Michael Gerrard, the director of the Sabin Center for Climate Change Law at Columbia University. But even if the plaintiffs prevail, Gerrard doesn't think the decision would survive a Supreme Court review—especially with one or two justices tapped by Trump. The justices have shown reluctance to legislate in lieu of Congress on environmental issues in the past, and they don't often declare new rights, he says. In American Electric Power Co. v Connecticut, several states asked the federal court to require electric utility companies to reduce emissions for coal-fired power plants. The court found that Congress gave EPA the job of setting the appropriate level of air pollution and so it wasn't for the courts to decide.
"I wouldn't be surprised to see a similar feeling expressed here," Gerrard says.
At one court hearing last year, Avery says she listened to arguments that she and the other plaintiffs didn't have a constitutional right to public lands, or a clean atmosphere. It was "super, super maddening," she says. But when her mom pulled her out of class in April and told her that the case was moving forward, Avery started screaming at the top of her lungs. When she told her classmates what had happened, they started screaming, too.
At Hot Mama's Wings, the waitress knew Holly wanted chicken tenders before she could order. Avery has lived in the same home since she was born, and her room reflects a short lifetime of collecting treasures—rocks, fossils, and horse figurines on display with a warning to please not touch. An entire wall is covered with posters of horses and a few donkeys (she calls "equines" her favorite animal so she doesn't leave them out). Another poster, of a snow leopard, is a reminder of her early entrée into environmentalism.
As Avery fights to protect her future, Matt and Holly have tried to ensure that she savors her childhood as well. They shield her from comments on stories about the suit so that she doesn't absorb the online vitriol: A third of the plaintiffs are minorities, and Holly says she regularly sees derogatory racial posts about the case on social media. Since the inauguration, they've tried to keep the radio off more often, too.
Avery was in court on Tuesday and she expects she'll appear there again this year. In the meantime, she's following the case and anticipating the depositions of heavy-hitters like Rex Tillerson, the former ExxonMobil CEO and new secretary of state. But she's also practicing songs on guitar and is in the middle of new fantasy series that's piled by her bedside. She's working on the classic Peanuts song "Linus and Lucy" on the piano.
The lawsuit is important, sure, but it doesn't monopolize her time. She'd rank it third among the activities that occupy her days, after school and dance. She knows she could be in high school by the time it's resolved. By then, she can sit shotgun.