One Harvard Lab, Six Iranian Scientists, and Some Tea
How a close-knit team is thinking about Trump's immigration order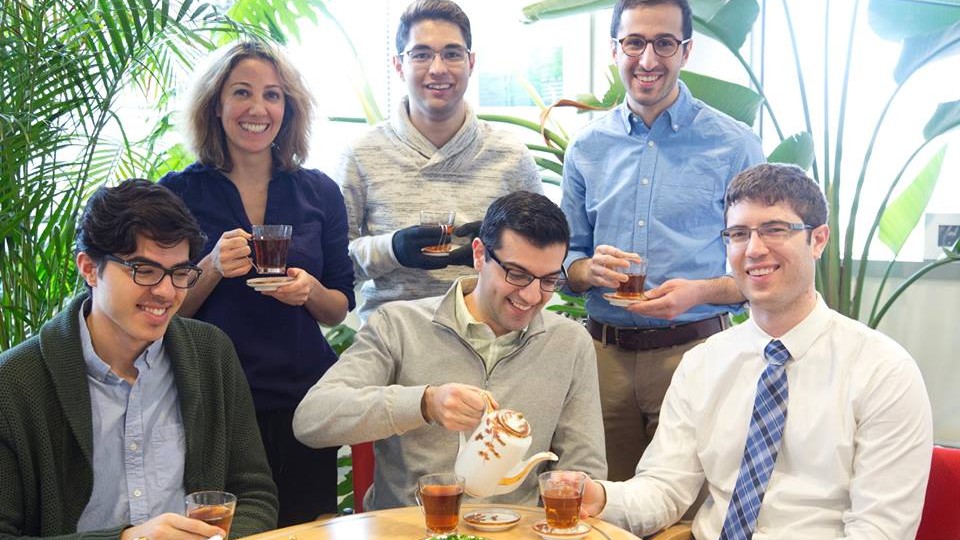 Last September, on a warm Wednesday evening, I walked through Cambridge with an Iranian-born geneticist named Pardis Sabeti. A few days before, the UN had convened a large summit "to address large movements of refugees and migrants." Republican nominee Donald Trump was on the campaign trail, describing refugees as Trojan horses and making stark promises about curtailing immigration. His son had just tweeted an infamous image comparing Syrian refugees to a bowl of Skittles.
For Sabeti, the rhetoric hit close to home. In 1978, her family fled the Iranian Revolution and eventually settled in Florida. "I'm proud to be a refugee," she told me. "I think that tomorrow, I'm going to tweet a picture of myself as a little girl. Is there an 'I'm a refugee' hashtag going round?" I don't know, but you could certainly start one, I told her. And she did.
In the photo she posted, Sabeti was just two years old. Now, at 41, she is a professor at the Broad Institute and Harvard University, the singer and bass player of a rock band called Thousand Days, and a leading medical geneticist. In the early months of the 2014 Ebola epidemic, she flew to West Africa to help set up molecular tests to detect the virus. And as the outbreak grew around her, she gathered samples from infected patients and repeatedly sequenced the virus's genome. It was the first effort of its kind, and it delivered the much-needed proof that Ebola was spreading from person to person, and revealed where and how fast it was mutating.
Those days of travel and fieldwork may now be behind her. In July 2015, Sabeti was sitting in the passenger seat of an all-terrain vehicle, when it careened off a Montana cliff-side. She landed on some boulders, and fractured her pelvis and both knees. It took four surgeries to stabilize her, and forty metal pins and plates to fix her body. When I met her in Cambridge, she was back on her feet but still suffering from periodic vertigo. At a traffic crossing, she lifted the side of her shirt to reveal two long scars bookending her hips.
If the physical-rehabilitation recovery was excruciating, the mental recovery was even tougher. "For eight months, I couldn't picture anything outside the room I was in, and I usually have an active imagination," she told me. "I couldn't think or plan. But every day I'm coming back a little more." She still felt reduced, but was slowly getting back to work. She was positive but not Pollyanna-ish; she refused to gloss over how much she had lost, but was determined to make the most of what she still had. "People often try to make things seem meaningful to make them feel okay, but it's fine to accept that bad things happen, as long as enough good things happen to offset them."
She drew upon that outlook last week, when Donald Trump signed an executive order banning refugees from the U.S., along with immigrants from Iran and six other countries. Her thoughts turned to the five scientists in her 40-person lab who also had Iranian heritage. They're all young men at the start of their scientific careers, with at least one parent who worked in engineering or medicine. Three were born in Iran and, like Sabeti, emigrated as children. Two were born in North America, to parents who had already moved from Iran. As citizens of either the U.S. or Canada, none of them are legally affected by the ban. But all perceived it as an attack on their cultural identities.
So, Sabeti did what Iranians do—she invited them for tea. "Tea is a big familial tradition in Iran," says Kian Sani, a 20-year-old Harvard student, who was born in Canada to an Iranian father and a Filipino mother. "We joked and spoke Farsi. We remembered how our grandmothers used to pour it, and the sugar cubes they'd use, and all those cultural nuances. It was just all of us in her office, and the sense of community was very apparent."
Sabeti posted a photo of the gathering on Twitter and Facebook, along with one of everyone in their lab coats. "I just wanted to show the faces of the types of people they're trying to ban," she says. "They're off-the-charts brilliant, kind, humble, and hard-working. Last night, they were all here working in the lab, with the Superbowl on in the background."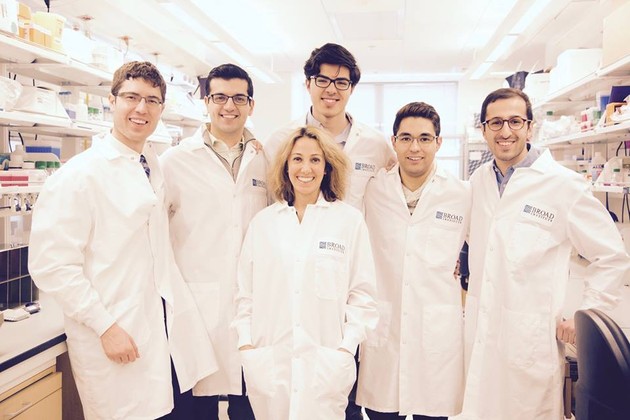 She says that she recruits based on talent, but attracts a lot of applications from Iranian students, partly because of her own background. Often, their parents hear about her first. "After I got admitted into Harvard, and after many days of screaming, my dad came home with a Persian newspaper and Pardis was on the cover," says Sani. "I read a bunch of her papers and applied for a position in her lab." He is now developing genetic tools for diagnosing babesiosis—a tick-borne disease that can be easily confused with Lyme disease, and requires very different treatments.
Siavash Zamirpour, who is 19, also heard about Sabeti in high school, and met Sani at Harvard's Iranian Association when he started last year. He'll join the lab full-time in the summer to develop a diagnostic test for certain emerging viruses that affect the nervous system. His family left Iran when he was four and moved to Baytown, Texas—home to a large Persian population. Zamirpour grew up with friends from both cultures, and became a U.S. citizen six years ago.
"People who emigrate tend to be ambitious from the beginning," he says. "They're the very best Iran has to offer, and they're looking beyond what Iran has to offer." His father, for example, is an orthopedic surgeon who left partly out of frustration with the nepotism in his home country. "People have traditionally come to the U.S. because they want to live in a society that's fairer, without the overt corruption you might see in other countries. If that's not what the U.S. represents anymore, it would cause a pretty destructive shift in how people view the country from the outside."
Like Zamirpour, 21-year-old Mahan Nekoui is no stranger to travel. He was born in Iran, his family emigrated to Canada before his first birthday, and he moved to the U.S. to attend Harvard. As part of Sabeti's lab, he has traveled to West Africa to study Ebola. "We've also been trying to fortify the sequencing capabilities of the labs over there, and developing their computational skills," he says. "The travel is necessary, and I hope that, in the interest of science, it can continue."
Shervin Tabrizi agrees. He's six years older than Nekoui, but is also an Iranian-born son of engineers, and a citizen of Canada. He searches for areas of the human genome that may have evolved to resist Lassa virus—an Ebola-esque infection that affects hundreds of thousands of people every year—and has travelled to Nigeria as part of his work. "Our lab has expertise in genomics, but the experts there have been diagnosing and treating Lassa patients for years," he says. "Working with scientists across the world has been one of the most fulfilling aspects of the research."
Sabeti shares that sentiment. She has worked on both Lassa fever and Ebola at a Sierra Leonean town called Kenema, whose name means "'translucent, clear like a river stream" or "open to the public gaze." She brings up that fact a lot, in scientific editorials and even a TED talk, as part of a strident call for geneticists to share their data openly, especially during disease outbreaks. She's a fan of transparency and international collaboration—values that she feels run contrary to the policies enacted by the new administration.
"There's a lot of anxiety about what's to come next," she says. Even if her students aren't legally affected, she worried about how they'll be perceived in a climate of open xenophobia. "Two of them are now applying to their next phase of their lives, and there's a very real fear that they are going to be biased against, because it's perceived that their status isn't stable anymore," she says. "I definitely thought twice about sharing that I'm Iranian in the days after that order but I now want to share our culture and common humanity."
Dustin Griesemer, who is the oldest of the five Persian students at 28, feels the same. "All the Iranian natives I've met who've travelled to the U.S. are overwhelmingly happy to talk to Americans and learn about American culture," he says. "We'll move away from that if people can't visit each other."
"When news of the ban first broke out, I was upset, but my Iranian mother had an incredible perspective on it that gave me hope," he adds. "She said, 'Iranians have a saying. Setbacks are like rocks in a stream. It looks bad from one side, but often when you get around, things are better.' Iranians are always looking for ways around the rock."