Tragedy Would Unfold If Trump Cancels Bush's AIDS Program
A questionnaire from the president-elect's transition team asked whether the extraordinarily successful PEPFAR had become a "massive, international entitlement program," and whether it was worth the investment.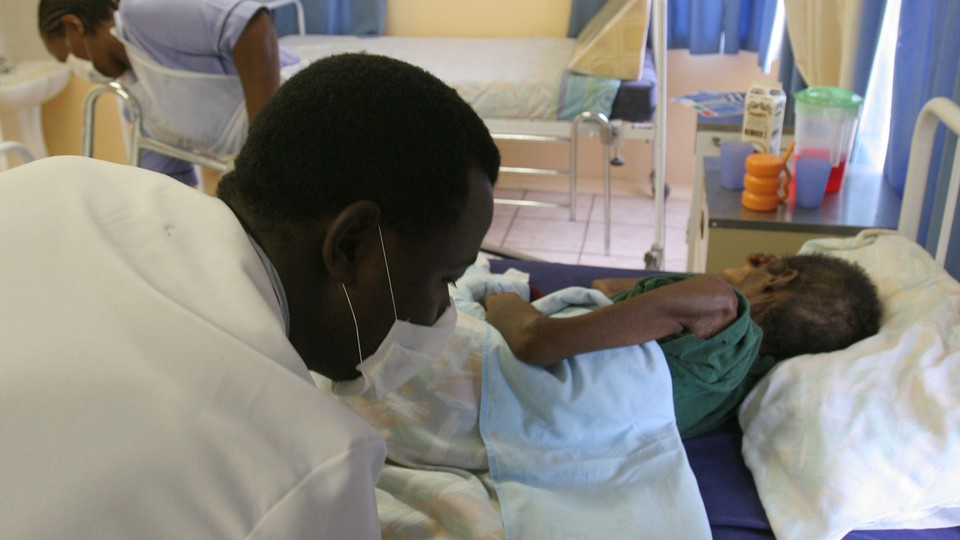 In 2003, in a move that has been described as his greatest legacy, George W. Bush created a program called PEPFAR—the President's Emergency Plan for AIDS Relief. At the time, more than 20 million people in sub-Saharan Africa were living with AIDS, but only 50,000 had access to antiretroviral drugs that manage the disease and prevent its spread. Now, thanks to PEPFAR, 11.5 million people are on those drugs. For good reason, it has been variously described as a "globally transformative lifeline," "one of the best government programs in American history," and something "for all Americans to be proud of."
It seems that some members of President-Elect Trump's transition team beg to differ.
Last Friday, Helene Cooper at The New York Times reported that the transition team sent a four-page questionnaire to the State Department about America's relationship with Africa, on topics ranging from terrorism to humanitarianism. Several questions indicated "an overall skepticism about the value of foreign aid." Two mentioned PEPFAR in particular: "Is PEPFAR worth the massive investment when there are so many security concerns in Africa? Is PEPFAR becoming a massive, international entitlement program?"
Without knowing the specific author, "it's hard to assess the intent of those questions, but at face value, they represent a point of view that is skeptical in the least and barely veiled hostility at the most," says Jack Chow, who worked at the State Department under Colin Powell and acted as an ambassador focusing on HIV. "They could be aimed at provoking a justification—an aim that is not too uncommon for these kinds of inquiries."
For those who work in public health, the justification is clear. "It's very clear that PEPFAR has saved an incredible number of lives in the past decade," says Rebecca Katz, Co-Director of the Center for Global Health Science and Security at Georgetown University.
Bush initially committed $15 billion to PEPFAR over five years, but the program was renewed in 2008 and 2013 and has since received over $72 billion in funding. As well as disseminating treatments, that money has: funded HIV testing and counseling for 74 million people; provided critical care and support to 6 million orphans and vulnerable children; prevented 2 million babies from being born with HIV by offering drugs to mothers; trained 220,000 health workers; supported 11 million voluntary male circumcisions to prevent the spread of HIV; improved health care in the various focus countries; and supported services for controlling other diseases like malaria and tuberculosis.
While PEPFAR program has been criticized for also funding ineffective attempts to prevent HIV infections by teaching abstinence and faithfulness, such efforts only used up a small and decreasing proportion of the program's money. The vast majority of the funds went towards evidence-based practices—with demonstrable results.
One study showed that within five years, PEPFAR had roughly halved the adult death rates in nine targeted countries, at a time when mortality in other sub-Saharan African nations barely declined. During that period, African adults were 16 percent less likely to die if they lived in one of the PEPFAR-targeted nations. Another project found that in Zambia, Zimbabwe, and Malawi, HIV incidence has fallen by 51 to 76 percent since 2003, and 65 percent of infected adults are successfully suppressing the virus to a point where they're much less likely to transmit it. "That's almost touching the 73 percent level that's predicted to really give us epidemic control," says Elizabeth Radin from Columbia University, who was involved in the research. "It's a remarkable achievement compared to where we were 15 years ago."
PEPFAR "helped changed the equation on what was once—not too long ago—seen as an insurmountable plague," wrote Amanda Glassman and Jenny Ottenhoff from the Center for Global Development in 2013. And it "managed to maintain bipartisan support that bridged two U.S. Administrations, six U.S. congressional sessions, and one global economic crisis." It's a tribute to what can be accomplished with sustained funding and political unity.
Indeed, Obama has taken flak from congressional Democrats and Republicans for halting the year-on-year rise in PEPFAR funding, and slightly reducing it on several occasions. "The current administration's comparative neglect of it demonstrates that its existence and survival are anything but guaranteed," wrote Dylan Matthews in 2015.
Defunding the program would be catastrophic. Antiretroviral drugs aren't a cure for AIDS; they must be taken continuously, lest the disease flare up again. "To sustain that therapy, there are substantial pipelines involving supply chains, financing mechanisms, and myriads of organizations," says Chow. "Disruptions risk rekindling HIV."
Trump has actually commented about PEPFAR once—sort of. At a conference in October, a group of college students asked him if he would commit to doubling the number of people receiving treatment through the program to 30 million by the year 2020. "Those are good things," he replied. "Alzheimer's, AIDS. We are close on some of them. On some of them, honestly, with all of the work done which has not been enough, we're not close enough. The answer is yes. I believe strongly in that and we are going to lead the way." If you squint a bit, that looks like a yes. But as I noted last month, it's unclear if Trump actually understood the question, given that PEPFAR doesn't cover Alzheimer's.
More encouragingly, Rex Tillerson, former ExxonMobil CEO and Trump's nominee for Secretary of State, unequivocally praised PEPFAR during his Senate confirmation hearing last week. It "has been one of the most extraordinarily successful programs in Africa," he said. "I saw it up close and personal because ExxonMobil had taken on the challenge of eradicating malaria because of business activities in Central Africa." (ExxonMobil is one of several companies that contribute to the Global Business Coalition on HIV/AIDS, Tuberculosis & Malaria.)
Tillerson's answer hints at something crucial: PEPFAR's impact goes well beyond AIDS. It also helps to curtail future epidemics that begin in sub-Saharan Africa and threaten to spread to other continents. "What do we do to keep Ebola out of the U.S.? We build capacity in the countries that need it most," says Katz. "And PEPFAR has unquestionably contributed to building foundations for systems that can be used to fight the next pandemic."
And since AIDS hits people of working and reproductive ages the hardest, the social benefits of controlling it are huge. Compared to other countries, those targeted by PEPFAR have a better opinion of the U.S. Their male employment rates are 13 percent higher, creating economic benefits that are equal to half the amount spent. They have developed three times faster. Their levels of political instability and violent activity have fallen by 40 percent since 2004, compared to just 3 percent in non-PEPFAR countries.  All of this benefits the U.S., creating markets for exports and reducing the instability that leads to extremism.
This is why the transition team's questionnaire, which juxtaposes PEPFAR investments against the "many security concerns in Africa," makes no sense, says Radin. "Controlling the AIDS epidemic is in the interest of national security," she says. "It's not a zero-sum game." And speaking of sums, the $6.8 billion committed to PEPFAR in 2015 was just 1 percent of what the U.S. devoted to military spending.
She also frowns on the question that portrays PEPFAR as a "massive, international entitlement program." "There's an important argument that says that just by dint of being a human being, you're entitled not to die from a treatable disease, especially for just a few hundred U.S. dollars a year," she says. "That entitlement isn't predicated on your ability to pay global market prices for treatments."