Trump's Dakota Access Pipeline Memo: What We Know Right Now
The White House didn't release the text of the executive order at first.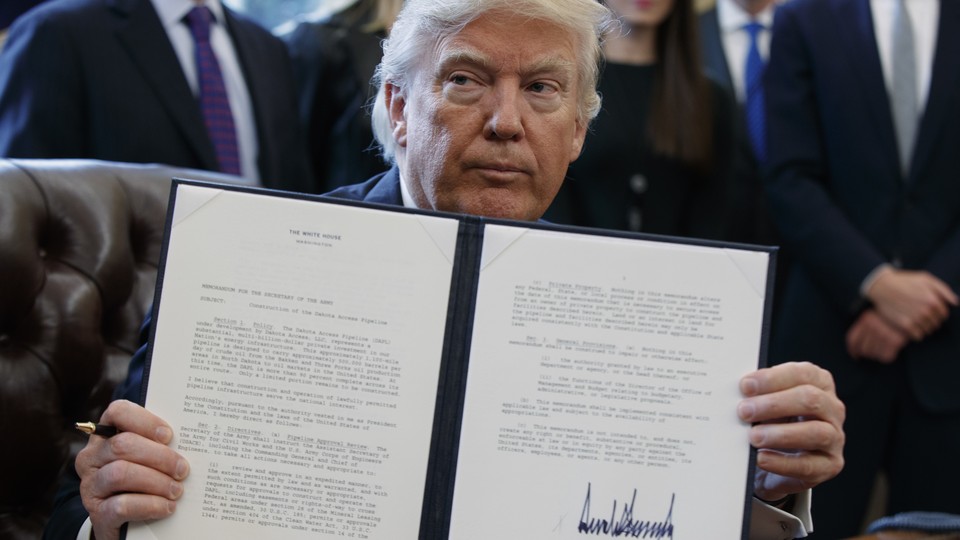 Updated on January 24 at 2:45 p.m.
On Tuesday afternoon, President Donald Trump signed a memorandum ordering the Secretary of the Army to expedite approval of the Dakota Access Pipeline, a 1,100-mile pipeline linking the North Dakota oil fields to a river terminal in Illinois. The U.S. Army Corps of Engineers denied final approval to the project late last year, after months of protests from the local Standing Rock Sioux tribe and from Native people nationwide.
The text of Trump's executive memorandum has now been made public. It can be found on Document Cloud. He also issued an executive order expediting the environmental-review and approval process as required by the National Environmental Policy Act.
For roughly four hours after these orders were issued, they only existed online in an image from an Associated Press photographer. That version was missing at least a page, and some words were so blurry as to be non-parseable. It also did not include the environmental-review order. At the time, I transcribed the visible text and posted it below for curious readers.
I've preserved that transcription below, but the most up-to-date and complete version of the order can be found on Document Cloud.
MEMORANDUM TO THE SECRETARY OF THE ARMY

SUBJECT: Construction of the Dakota Access Pipeline

Section 1. Policy. The Dakota Access Pipeline (DAPL) under development by Dakota Access, LLC, represents a substantial, multi-billion-dollar private investment in our Nation's energy infrastructure. This approximately 1,100-mile pipeline is designed to carry approximately 500,000 barrels per day of crude oil from the Bakken and Three Forks oil production areas in North Dakota to oil markets in the United States. At this time, the DAPL is more than 90 percent complete across its entire route. Only a limited portion remains to be constructed.

I believe that construction and operation of lawfully permitted pipeline infrastructure serve the national interest.

Accordingly, pursuant to the authority vested in me as President by the Constitution and the laws of the United States of America, I hereby direct as follows:

Sec 2. Directives. (a) Pipeline Approval Review. The Secretary of the Army shall instruct the Assistant Secretary of the Army for Civil Works and the U.S. Army Corps of Engineers (USACE), including the Commanding General and Chief of Engineers, to take all actions necessary and appropriate to:

(i) review and approve in an expedited manner, to the extent permitted by law and as warranted, and with such conditions as are necessary or appropriate, requests for approvals to construct and operate the DAPL, including easements or right-of-way to cross Federal areas under section 28 of the Mineral Leasing Act, as amended, 30 U.S.C. 185; permits or approvals under section 404 of the Clean Water Act, 33 U.S.C. 1344; permits or approvals under section 14 of the…

[…]

(c ) Nothing in this memorandum alters(?) any Federal, State, or Local process or condition in effect on this date of this memorandum that is necessary to require access from an owner of private property to construct the pipeline and facilities described herein. Land on an (?????)  or land for the pipeline and facilities described herein may only be acquired consistently with the Constitution and applicable State Laws.

Sec 3. General Provisions. (a) Nothing in this memorandum shall be construed to impair or otherwise affect:

(i) the authority granted by Law to an executive department, or agency, or the head thereof; or

(ii) the functions of the Director of the Office of Management and Budget relating to budgetary, administrative, or Legislative proposals(?).

(b) This memorandum shall be implemented consistent with applicable law and subject to the availability of appropriations.

(c ) This memorandum is not intended to, and does not, create any right or benefit, substantive or procedural, enforceable at law or in equity by any party against the United States, its departments, agencies, or entities; its officers, employees, or agents, or any other person.

Donald J. Trump