SpaceX Sticks the Landing in Triumphant Return
After a four-month launch hiatus, the company's Falcon 9 rocket successfully sent a communications satellite into orbit and returned its first stage to a floating robotic barge.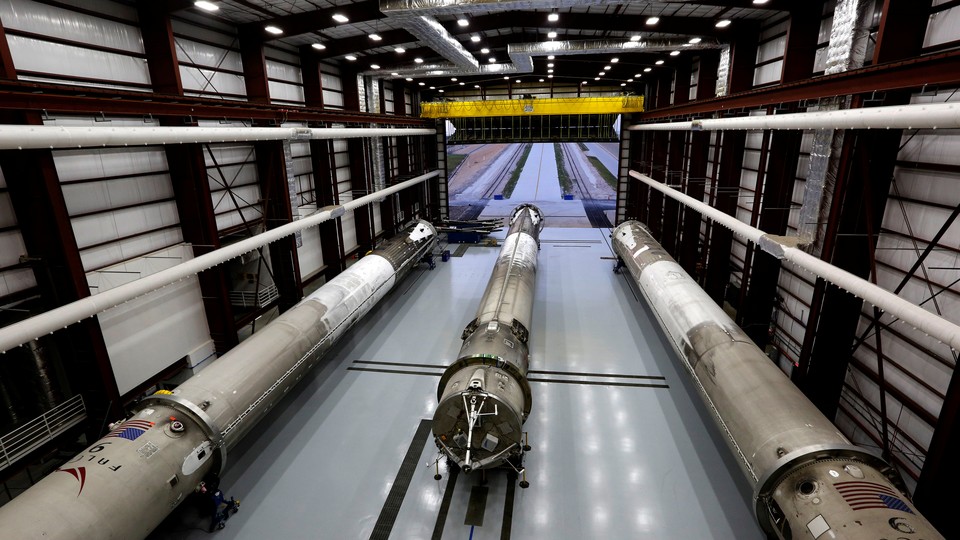 SpaceX successfully launched a rocket into orbit Saturday for the first time since a launchpad explosion last fall destroyed another rocket and its $200 million payload, just days before their scheduled flight.
The Falcon 9 rocket launched from a U.S. Air Force base in California's central coast, carrying 10 satellites for Virginia-based communications company Iridium. Its first stage then returned to Earth and landed on a drone ship in the Pacific Ocean, a maneuver the spaceflight company has completed several times already.
The successful launch restores some momentum for Elon Musk's SpaceX. The company went into hibernation after its rocket and the Israeli communications satellite on board went up in flames during a fueling process. SpaceX, along with several federal aviation and transportation agencies, spent four months investigating the incident. It announced the results earlier this month, saying the explosion was caused by a failure of the rocket's helium tanks.
SpaceX needed this successful launch to reassure NASA, which is expecting the company to begin flying astronauts to the International Space Station next year. Last week, a safety advisory group within the space agency called for scrutiny of SpaceX's rocket fueling process.
SpaceX previously lost a Falcon 9 rocket in June 2015, breaking a streak of successful launches for the company. The rocket exploded two minutes after takeoff, destroying the supplies it was supposed to carry to the International Space Station. "I think to some degree, the company as a whole became maybe a little bit complacent after twenty successes in a row," Musk said back then. A Wall Street Journal report published last week shows just how much that incident set SpaceX back. The explosion, together with the resulting delays in future launches, led to a $260 million loss that year and a 6 percent drop in revenue, according to internal financial documents seen by the Journal.
Saturday's launch is the first of seven SpaceX is scheduled to conduct for Iridium. It kicks off a potentially big year for the SpaceX. In addition to a dozen planned launches in 2017, Musk wants to test the Falcon Heavy, a rocket that can carry larger payloads to deep-space destinations like Mars, and the Crew Dragon spaceship that will eventually carry NASA astronauts to the International Space Station.