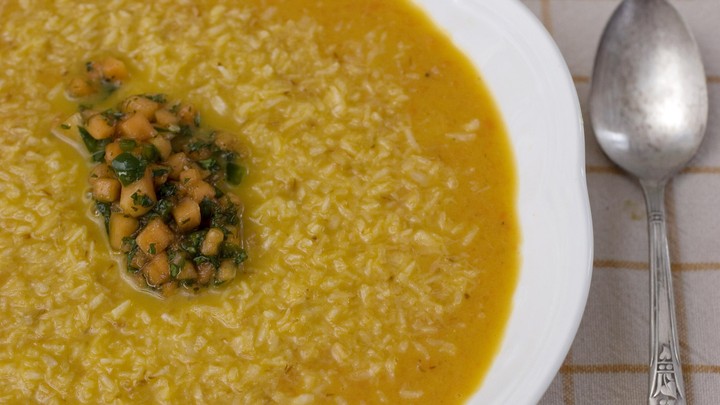 People traveling away from home, not to mention those without kitchens of their own, have always needed a place to eat. But, until 1760s Paris, those places were not restaurants. And indeed, even in 1760s Paris, originally a "restaurant" referred to a type of soup. In this episode, historian Rebecca Spang introduces us to the aristocratic entrepreneur who invented both the restaurant and the restaurant guide, cleverly marketing them under different parts of his double-barreled surname.
The restaurant offered diners something completely new: For the first time, this was a place you could visit when you were hungry, rather than at a set hour; you could choose what you wanted from a menu, rather than eating whatever the innkeeper had prepared; and you had the option to eat it privately, just with your small group, rather than at a big communal table. But they weren't anything like the restaurants we know and love. According to Paul Freedman, author of Ten Restaurants That Changed America, it took decades for the restaurant to arrive in America—and another century for the format to evolve the diversity celebrated today, in which all kinds of people are served all kinds of food, in all kinds of settings. We'll visit some of the restaurants that represent major milestones in that evolution, from Schrafft's to HoJos.
Finally, we take a peek behind the curtain of the famously secretive Michelin restaurant rating system, in order to understand its formula and, perhaps, its flaws. The New Yorker writer John Colapinto—the first journalist ever allowed to dine with a Michelin inspector—talks us through the grueling evaluation process, while chef Dan Barber, of Blue Hill New York and Blue Hill at Stone Barns, and Richard Coraine, of Union Square Hospitality Group, give us the inside scoop on how chefs try to game the system. Is there any science to the stars?
---
This article appears courtesy of Gastropod.
We want to hear what you think about this article. Submit a letter to the editor or write to letters@theatlantic.com.
Nicola Twilley is a co-host of the podcast Gastropod and a contributor to The New Yorker.
She is at work on two books: one about refrigeration and the other about quarantine.
Cynthia Graber is a writer and audio journalist based in Somerville, Massachusetts, and
a co-host of the podcast Gastropod. H
er work has appeared in
Scientific American
and
The New Yorker
.
Gastropod
is a podcast that covers food through the lens of science and history.