The Deadly Explosion Behind America's Whipped-Cream Shortage
Just in time for the holidays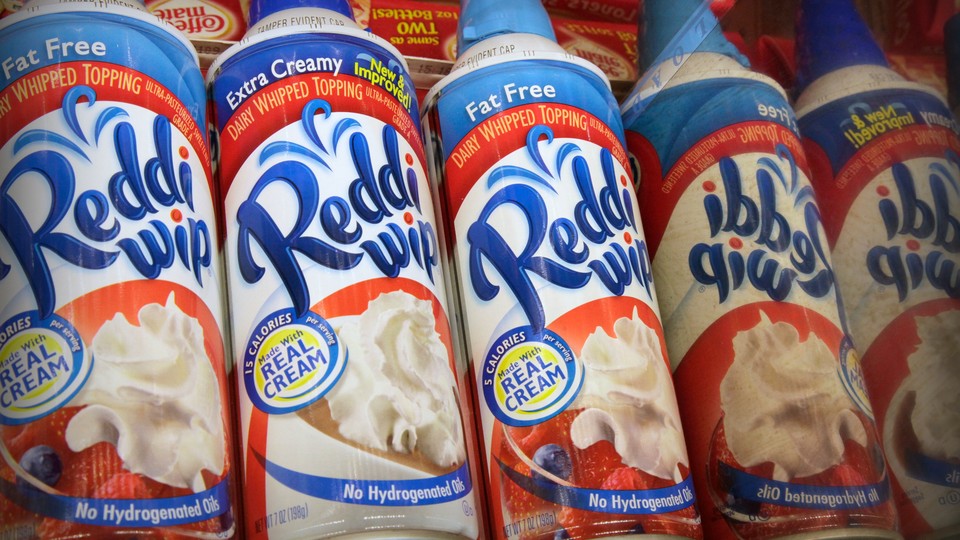 In August, a gas tanker exploded not far from a nylon factory in Cantonment, Florida. And this winter, just time in for the holiday season, the whole country is facing a sudden shortage of Reddi-wip. These two events are directly related, and their connection reveals the complicated mechanics of bringing sweet whipped dairy topping to your holiday pie.
Reddi-wip's key ingredient is neither sweet nor dairy but a gas: nitrous oxide, better known as laughing gas. Dentists use it to knock out their patients. Teenagers use it for whippets. And race-car engines use it for an extra boost, when nitrous oxide explosively decomposes into nitrogen and oxygen.
But most of the time, nitrous oxide is not exploding. It's sitting inertly in refrigerators and trucks and tanks. "Most people consider nitrous oxide to be very safe," says Dan Tillema, an investigator with the U.S. Chemical Safety Board. Tillema is investigating why that nitrous-oxide tanker exploded in Cantonment, Florida, one afternoon in August. The accident killed a plant operator, Jesse Graham Folmar, 32, who was filling the tanker at the time.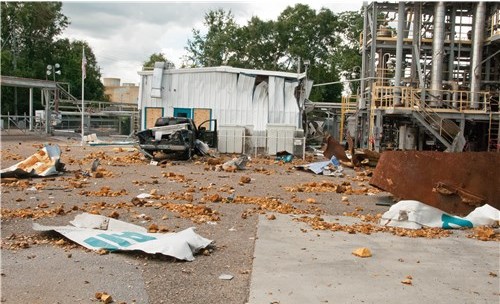 The explosion flung his body 50 to 75 feet. And it punctured a second tanker, already full of nitrous oxide. "It was like a bomb had gone off," a nearby resident told WEAR-TV at the time. Surveillance videos showed two clouds rising from the wreckage. One cloud was dark, stained brown with the color of byproducts made in the explosion in the first tank. The other was fluffy and white; it was cold nitrous oxide escaping from the second, punctured tank.
This facility operated by Airgas had until then been open for 30 years without a major accident. It is located right next to a nylon factory—which, surprisingly, is relevant. Nitrous oxide usually comes from ammonium nitrate, but some enterprising chemists realized they could also get it as a byproduct in nylon manufacturing. Hence a nitrous oxide purification facility, right next to factory that makes nylon large for car parts. Thanks to modern chemistry, the supply chain for car plastic is very much tied up with that for whipped cream.
So what happened that afternoon in August that was so different from the hundreds of other times nitrous-oxide tankers have been loaded?  Tillema began by looking for other nitrous-oxide accidents, though there was no such worldwide database. "I have to do the same thing you do," he told me. (Translation: Google.) He eventually found six previous accidents, and three of them—in California, the Netherlands, and Spain—had also occurred during the nitrous oxide loading process.
Tillerma now thinks the likely culprit is the pump used to get nitrous oxide into the tanker. (There is also a small chance it was stray static electricity, which is impossible to completely rule out.) Residual heat in the pump can heat up the nitrous oxide enough to make the gas decompose into nitrogen and oxygen. This reaction releases more heat, which in turn makes more gas decompose, and so on. Kaboom. Tillema's investigation will be published early next year, along with recommendations to prevent such accidents in the future.
The Florida plant has been closed since the deadly August explosion, and Airgas's two other facilities in North America have not been able to pick up the slack. "Airgas Nitrous Oxide is making all possible efforts to remedy the situation as quickly as possible," the company said in an statement. "Serving our medical customers is our first priority in this situation. We are providing reduced product quantities to customers in the food industry until supply has stabilized." In November, Con-Agra stopped all production of Reddi-wip, with hopes of restarting  in January.
Tillema says he has gotten questions about the accident's connection to the whipped cream shortage. But as someone who has lived and breathed this investigation for months,  he can't help but think of the man who died. "It's hard for me to worry about the whipped cream knowing that Jesse's family members and coworkers are thinking about a lot more than whipped cream this year," he says.
This is, let's admit, a downer. It's not the story you want to tell while hand-whipping your cream over the holidays. But consider this less a guilt trip so much as a plea to appreciate the vast network of people and machines that make it possible for us to find, say, Reddi-wip at nearly every grocery store in the country—from the nitrous oxide plant operators to ingredient buyers scrambling at the food factory. We tend not to appreciate it when it's all working. We only think of it when it breaks, when the Reddi-wip is gone from the dairy aisle.