Obama's Environmental Legacy, in Two Buttes
The Bears Ears National Monument captures much of what made President Obama inspiring to his supporters—and frustrating to his critics.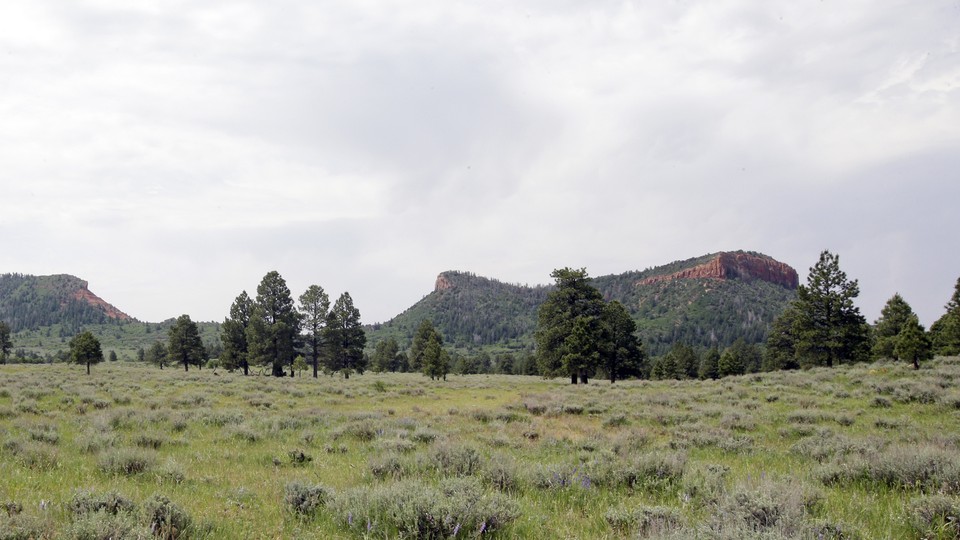 When historians go searching for the encapsulating symbol of President Obama's environmental legacy—and all the idealism and ire that accompanied it—they need look no further than two buttes rising from the desert in southeastern Utah.
On Wednesday, with a stroke of his pen, Obama created the Bears Ears National Monument. The monument grants federal protection to the twin geological formations that rise above the horizon, which are called "Bears Ears" in English and nearly every local Native language. It also protects the more than 2,000 square miles of desert and shrub that surround them—a land of hidden canyons, soaring peaks, and starry, silent nights.
For the coalition of environmentalists and Native leaders who had long sought protection for the land, it was a momentous victory.
"It actually brought tears to my face," said Eric Descheenie, a former leader of the inter-tribal group that had long lobbied for the monument. "It's so significant. It's so hard to even try to add up what this really means. At the end of the day, there's only a certain place in this entire world, on earth, where we as indigenous peoples belong."
Not everyone was as moved. Utah lawmakers had also long sought to protect most of the area, but they had hoped to avoid the creation of a national monument. A national monument is much like a national park, except that monuments are created unilaterally by the president under the authority of the 110-year-old Antiquities Act.
"This arrogant act by a lame duck president will not stand," said Senator Mike Lee, a Republican, in a statement. "I will work tirelessly with Congress and the incoming Trump administration to honor the will of the people of Utah and undo this designation."
A years-in-the-making victory, now poised to be undone by Trump and a Republican-led Congress—that description alone may characterize Obama's sizable environmental record. But the Bears Ears site captures so much of what made the president's legacy so inspiring to his supporters and so frustrating to his critics.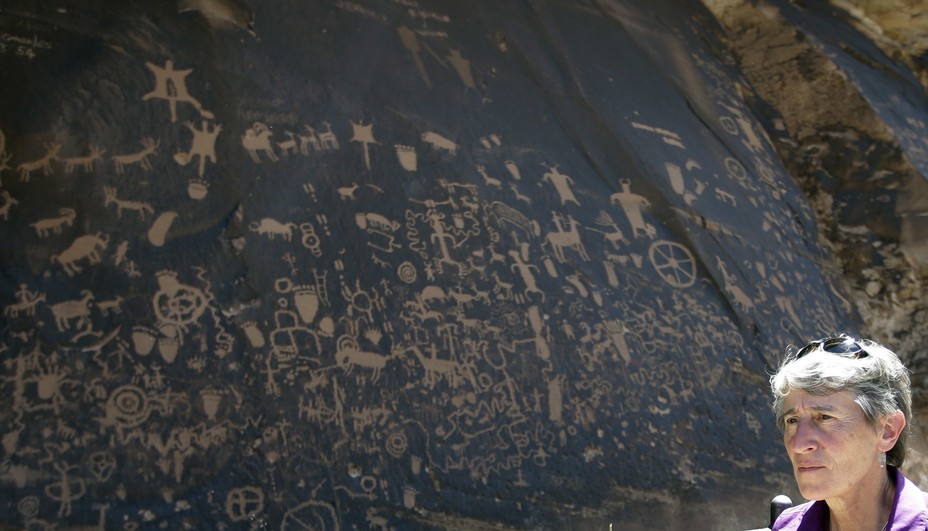 First, in protecting the land, the president extended federal protection to a beautiful and biodiverse part of the country while also broadening the "American story."
Five sovereign Native nations—including the Navajo, Hopi, Zuni, and Ute—had petitioned the president earlier this year to grant federal monument protections to the area. All five tribes attest that the area is dense with burial grounds and cultural sites. In the 19th century, Navajo leaders used the area's canyons to hide from the U.S. government's campaign of forced relocation, "the long walk to Bosque Redondo." Outside archeologists know the area for its unmatched record of rock carvings, which go back thousands of years before the common era.
Rebecca Tsosie, a law professor at the University of Arizona who is of Yaqui descent, said that one of the best aspects of the president's proclamation was that it recognized Native people still use and need public lands today.*
"The Antiquities Act was a statute that was very paternalistic toward Native people. It said that Native people are part of America's past, they're part of America's history," Tsosie told me. "If you read the president's proclamation, it extends the act toward contemporary people. It's a wonderful notion—it doesn't freeze anything in the past."
Second, the move was classic Obama in its executive ambition. Bears Ears is the 29th time the president has invoked the 1906 Antiquities Act to expand or create a new national monument. Obama has used the law more than any other president, and used it to protect far more acreage than any other president (though most of those acres are on the Pacific seafloor).
And that ties into its third quintessential Obama-era quality: The move immediately kicked off partisan rage.
This wasn't unforeseeable. Locals, lawmakers, environmentalists, and tribal representatives have argued over how to conserve and develop the Bears Ears area for years. Almost everyone agrees that most of the area should be protected. But they could not settle on how much, how that should happen, or what kind of protection the new park should receive. And many state Republicans wanted to see nearby acreage developed for commercial use or natural-gas extraction.
Jason Chaffetz, the Republican congressman whose district includes the new monument, castigated the president on Wednesday for "[politicizing] a long-simmering conflict."
"The midnight monument is a slap in the face to the people of Utah, attempting to silence the voices of those who will bear the heavy burden it imposes," he said. He promised to try to undo the monument however he could.
He was not alone in his opposition. Nearly every Utah Republican opposed a new federal monument on the site. In May, Utah Governor Gary Herbert signed a resolution, passed by the state legislature, that specifically opposed the creation of a national monument.
What irks Republicans so much now is that they feel like, on this particular issue, they weren't asleep at the wheel. Chaffetz and Rob Bishop, another House Republican from the state, invested three years in a bill meant to protect the Bears Ears area. That bill, the Utah Public Lands Initiative, would have also opened up thousands of acres nearby to mining or development.
It affected far more than the buttes, though. Bishop described it as a kind of "grand bargain" to decide the fate of 18 million acres in southern and eastern Utah. Under the bill, huge expanses of wilderness in the state would have received lasting federal protection, other expanses would be opened up to development and extraction—and, in return, the federal government would permanently lose the ability to set aside new national monuments in seven Utah counties.
This was intentional. As Bishop told my colleague Michelle Cottle earlier this year, he loathes the Antiquities Act and wishes to disarm it whenever possible. Talking to Western land managers last summer, he called it "the most evil act ever invented."
"If anyone here likes the Antiquities Act the way it is written, die," he added. He feels it both disturbs the balance of powers, delegating way too many powers to the president, and is out of step with the times. It was enacted "when there were [45] states and no environmental laws," he told Cottle.
The only problem: Bishop and Chaffetz never found a winning coalition for their Public Lands Initiative bill. No Democrat in Congress supported it. Many environmental groups in Utah found it made too many cuts to the conservation area. And the five tribal nations with cultural claims to Bears Ears walked away from negotiations more than a year ago, feeling unheard and unheeded.
None of those conditions individually would have killed the bill. But crucially, Chaffetz and Bishop, who are both Congressional Republicans, never seemed to get Congressional Republicans on board with the measure either. Over the summer, the Public Lands Initiative bill sped through the House Natural Resources Committee, which Bishop chairs. Then it stalled out. The House did not adopt it for a full vote during its September session. It did not raise it again during its lame-duck session after the election. And even if it made it through the House, the bill never had a Senate version.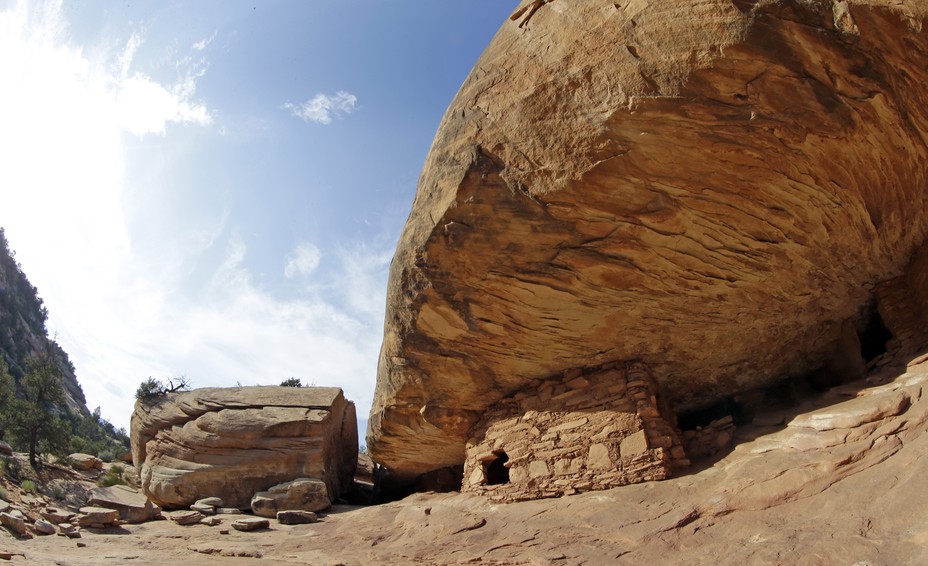 And here lies the rub of Obama's environmental legacy.
Throughout the long three years that Bishop and Chaffetz's bill was making it through the legislative process, the Bears Ears site was getting looted. As word of the site's archeological riches got out, "pot hunters"—that is, people looking for Native artifacts to sell on the private market—began raiding its canyons and burial grounds for goods.
In the spring and summer of 2016, there were six confirmed theft incidents from the Bears Ears area, according to The Washington Post. This vandalism could be shocking in its disrespect. In one case, someone erased an ancient carving from a rock face using an electric saw. In another, someone dug up a centuries-old ceremonial chamber that had been previously left pristine.
The Antiquities Act was written in part to preserve cultural sites like these. In 1906, Congress delegated the power to create national monuments to Teddy Roosevelt's White House because of the rise of "pot hunting"—that is, private raiders who were stealing artifacts (like pots) or disturbing burial grounds on federally owned land. These are the act's eponymous antiquities: Native cultural objects that the law designated should really belong in "reputable museums, universities, colleges, or other recognized scientific or educational institutions." (You can see why modern-day Native people like Tsosie find the law paternalistic.)
Since its creation, nearly every president, including Democrats and Republicans, has used the Antiquities Act to protect new sites of historical interest or natural splendor. The Grand Canyon was famously first protected under the Antiquities Act, as were the Muir Woods, the Petrified Forest, and all of Utah's "Mighty Five" national parks.
In that light, President Obama has arguably acted in the spirit of the law by extending national-monument protections to the Bears Ears area. He saw an urgent problem that Congress wasn't fixing and used his statutory powers to make things right.
In another light, Obama saw a problem that Congress was fixing, albeit slowly—and he didn't like how it looked like it might end. So he used his final days in office to impose his will on a skeptical and resistant local population.
Last month, this is more or less the scene that Senator Mike Lee of Utah painted in The Washington Post. A new national monument "would short-circuit an ongoing healthy debate, further sow distrust in government among the American public, and push us another step closer to an imperial presidency," he warned.
Tsosie has a different view. "Congress has been unable to act in certain ways in the recent months," she told me. "I think it's clear on many levels, and not just this, that there's many, many things that have just gotten bogged down there because of politics. [Bears Ears] was one of those issues that could have ended up in the political heap in the latter days of an administration." She was glad it didn't.
The fate of Bears Ears will depend largely on whether Utah Republicans can get the often sclerotic Senate to act. Under Article IV of the Constitution, Congress has the sole ability to manage "the Territory or other Property belonging to the United States." It delegated some of those powers under the Antiquities Act, but it could easily un-delegate them.
For instance, Congress could pass a law rescinding the Bears Ears National Monument in particular while establishing the Public Lands Initiative compromise. But Republicans might now be so irked that they try to repeal the Antiquities Act altogether. (The Heritage Foundation called for this last year.) At least under current rules, either of these plans would require a 60-vote supermajority in the Senate.
Opponents to Bears Ears would have fewer options in court or through executive action. The Supreme Court has broadly upheld the president's powers to establish big new national monuments under the Antiquities Act. And President Trump will discover that the act itself works as a kind of one-way chute, allowing him to set land aside for conservation but not to sweep it back in again. In other words, presidents can unilaterally make national monuments, but they can't unilaterally unmake them.
So there's the president's accomplishment: tremendous conservation amid tremendous controversy. Perhaps Obama has now permanently preserved an area of spectacular beauty and unparalleled cultural interest. Perhaps he has enabled Republicans to attack the legal architecture of federal conservation. Perhaps they would've done the latter anyway. Perhaps both will come true.
For now, it's the monument's supporters who are jubilant. Tsosie described a recent visit to the area with cultural experts from multiple nations. At certain places, she said, "one tribal representative and another tribal representative would come together and tell their own tribe's history of the place—and then find these new understandings of that history" in the sharing.
"That wouldn't be possible but for that place and but for that history," she said. "The Navajo, the Zuni, the Hopi, the Ute, they all have cultural sites and history there in that area—[the site] is the record of how Native people lived as peoples in places co-extensively with other people."
In recognition of this, Obama also established a tribal council to oversee and advise the federal government in maintaining the national monument. It's an inspiring idea. If the monument survives, and if the tribal council is able to co-manage the area with consenting local governments and federal administrators, then Bears Ears National Monument will be a jewel in the West—a historical treasure trove, a biodiversity hotspot, and a testament to the inclusive potential of American public life.
---
* This article originally stated that Tsosie is an enrolled member of the Navajo nation. We regret the error.